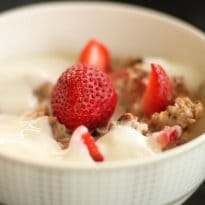 Here is an honest confession. For most of my growing years, breakfast always got a back seat. I ignored my best friend's advice amongst other things, about eating in the morning. I would leave the house on an empty stomach, and invariably I would begin to feel weak, drink loads of coffee on an empty tummy, or end up with a swimmy head by lunch time. The older I grew, the more convinced i became that i needed to pay respect to this meal.

So I would oscillate between eggs and packeted cereals. A fried egg has anything between 70 to 90 calories, and 2 whole wheat toasts with that makes for a wholesome fare. But the cereals were way more fattening. On my cereal box it says one serving is about 190 calories, but i realised that a bowl of cereal was more than a serving, so the calories were almost double. Anyway, soon there came a stage where i was sick of eating those extra sweet cereals. So i switched to Granola of various brands. Fancy packets, even fancier prices, but they tasted fine till i looked at the fine print. To my horror, it included large doses of Fructose syrup, corn syrup, a whole lot of ingredients that i could barely pronounce. After a bit of research, a few trips to the supermarket, and here's what i realised.

You can easily make your own granola from oats. You need to buy the big sized oats if you can, not the ready to eat variety. Pour orange juice and let it soak. Cereals get added crunch and nutrition from seeds, pumpkin seeds, sesame seeds, sunflower seeds, flax seeds, so add any or all. Bake in the oven, and you have granola ready. And even better, if you want to make a Bircher Muesli, just add hung yoghurt, and whatever fruits you can lay your hands on. i now have quite a blast playing around with my cereal flavours. Sometimes i add 1/2 a tsp of homemade marmalade from Chinese oranges, sometimes a rivulet of honey, or if i am feeling generous, a dollop of freshly made blueberry compote or jam.
What followed next was a guilt free version of the muffin, something i have enjoyed eating from my days in college.

It was a time magazine cover story actually that did the trick. It said that if you eat a muffin and a coffee drink at any starbucks, you would accumulate close to 600 calories, and would need to exercise for over an hour on a treadmill to get rid of it. That got me thinking. So first i substituted the all purpose flour in the recipe. i switched to bran. Then i did away with the white sugar and replaced it with brown. Then i took away the butter, and substituted applesauce for it. These were baby steps taken to make the muffin more wholesome and less calorie-dense. Now thanks to the bran, the texture became a bit too grainy. So I decided to ease off a bit. And added two tablespoons of vegetable oil, that was for 12 muffins. And it worked. My version of the bran apple sauce muffin was born in the kitchen.

And that's how breakfast saw a whole new sunny side.

Click here to watch the Guilt Free breakfast episode
Other Link(s):
I'm Now Guilt Free
For the latest food news and recipes, like us on Facebook or follow us on Twitter.