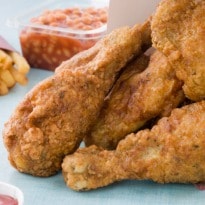 Fried chicken is the latest fast food to get a fastidious food-nerd makeover. What would you most like to see given similar treatment?


Is it time to retire "fast food" as a pejorative term? Quite possibly. First it was burgers, then hotdogs, now that most reviled and, yet, staggeringly popular of fast foods, fried chicken, is getting its gourmet makeover.

Finger lickin' food trucks Roost, Spit & Roast and imminent Brixton diner Wishbone are all - via the medium of fried chicken - seeking to debunk the myth that there's no such thing as junk food, just good food done badly.

Roost, when it opens at a permanent Soho site later this year, will serve all manifestations of chicken, using all of the bird, in everything from schnitzel to noodle soup, but, at the moment, it is Roost's fried wings and legs - slow-reared British free-range chicken, brined to keep the meat moist, marinated in buttermilk, coated in seasoned flour, deep fried then rested in a hot cupboard for about 10 minutes for maximum crunch (£5.50 a portion) - which are getting observers excited. Says Roost's Cass Titcombe:


"It's everybody's favourite dirty fast food, isn't it? So we thought we'd see if we could make it better. Whatever you call it, 'gourmet fast food', or just redoing these dishes with quality ingredients, without MSG, it's possible and, it seems to me, quite popular. My background's Canteen and we kind of went through the process with pies. You can make a really rubbish pie, so, OK, let's get a pie, do it as best we can and use really good quality ingredients. That seemed to strike a chord with people."


That Roost involves one of Canteen's co-founders, while Scott Collins, the business brain behind MeatLiquor and MeatMarket, is one half of Wishbone, tells you all you need to know about the current trajectory of the British "restaurant" scene. Its brightest minds have no interest in ploughing their time and talent into the often thankless task of fine dining. Instead, both culturally and financially, they are excited by crowd-pleasing fast-casual concepts, given a new foodist spin.

It's a win-win. You open with a relatively short menu, selling a product which everyone already knows and loves (McDonald's and KFC have already done all the marketing for you), but you deliver a version of unusually high quality, at a still affordable price. "People will always want to eat out," says Titcombe, whose Roost mains will all be priced under £10, "but how much they spend and how frequently they eat out is obviously changing."

You can sniff at this, complain that these trendy places with their tattoos and Twitter patter are the preserve of a metropolitan hipster clique, but that, wilfully, misses the point. The energy and ideas flourishing at the interface of street and fast food could, if it's not already happening, kick-start a much wider and deeper democratisation of good food than modern British cooking and its distribution network, the gastropub, ever did.

I say this as someone who is tat-free, doesn't use Twitter and who lives in Manchester, not London. The only immediate problem (beyond whether places with queues snaking into next week can really be described as serving "fast food"), is how many junk foods there might be left to save. From barbecue ribs to mac 'n' cheese, it seems any fattening American comfort foods that might translate, have been; so where next?

I'm saying kebabs. All the ingredients are there. Britain loves a 'bab, yet, as a dish, we sorely neglect and abuse it. At the same time, in London's best Turkish ocakbasi, we have a ready reserve of skill and knowledge to call upon. I can smell it already: rare-breed meats, mutton and free-range chicken; fresh thick pitta breads, like well cushioned insoles; fantastic eastern Mediterranean salads; homemade garlic and smoky chilli sauces; proper layered shawarma; long-marinated skewers being moved skilfully around a huge bed of glowing charcoal. And the kebab would partner perfectly with the currently obligatory list of craft beers - and why not?

But you may have other ideas. Do you dream of the dosa eclipsing the burrito? Are you waiting (in vain, I suspect) for Britain's first next-level waffle house? Could five-star falafel fly? What fast food would you like to see given a fastidious food-nerd makeover?

Photo Source: Thinkstock