Mid-day, Mumbai, Modified: March 26, 2013 12:07 IST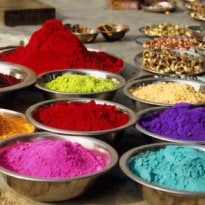 Traditionally, Holi fare has to be either cooling or energizing. As the festival marks the onset of summer, the food doled out during this period focuses on flavors that helps one sustain the sun-soaked days.

Take for instance mawa or lentil-stuffed gujiyas and puran polis that farmers chomped on the fields for their instant energy. Similarly, thandai was gulped down by peasants because the fennel-fragrant concoction had a natural cooling effect on the body.

Keeping these rules in mind and without meddling with the traditional essence of Holi, a lot can be done by simply adding new flavor notes to classic preparations.

An effortless experiment is stuffing gujiyas with varied fillings. A popular Holi staple in many parts of the country, this flour pastry-based dumpling packs-off almost all ingredients well. You can clog it with dessert cheeses such as comte or fruity stilton or infuse traditional mawa with real vanilla bean and orange extract before pushing it into the flaky dough and frying it until golden.

Similar attempts can also be made with malpuas whose filling can range from classic Belgian chocolate to salted caramel to peanut butter to fresh fruits.

Daring ones can also convert these desserts into salty treats by gambling with fillings such as minced meats or herbed-roasted vegetables such as bell peppers, zucchini, shitake mushroom, spinach and red amaranth.

This season, I took a spin on the quintessential thandai. While the North Indian coolant is known for its peppery aftertaste, I introduced a few sweet and fruity elements to make it friendlier for first timers attending our annual Holi bash.

I infused this drink with seasonal pieces of strawberries, petals of home-grown and dried rose and a spoonful of rose syrup to give this adult milkshake a cool pink colour and a summery, fresh zing.

To serve, while I stuck to traditional clay pots to add a rustic touch, you can go ahead with classy shot glasses, tall high balls or glass flutes.
Strawberry, Rose Petal and Peppercorn Thandai

Strawberry, Rose Petal and Peppercorn Thandai
Pic/Sameer Sayed Abedi


Ingredients
1 cup strawberries (halved)
1 1/2 Tbsp rose syrup
2 tsp black peppercorn
8 cups milks
1/2 cup almonds
1/2 cup pistachios
1/3 cup watermelon seeds
1/3 cup white poppy seeds (khus khus)
1 Tbsp fennel seeds
2 tsp dry rose petals
Few strands of saffron
Sugar as per taste
Fresh rose petals, to garnish
Method
In a blender, grind strawberries with two tablespoons of sugar and churn it into a fine puree.
In a bowl, soak almonds, pistachios, peppercorn, watermelon seeds, fennel seeds, rose petals and white poppy seeds in water (enough to cover the ingredients completely).
Allow it to soak for two to three hours and drain the water. Grind this into a fine paste and keep aside.
In a deep-bottomed pan, heat milk with sugar and bring it to a boil. Add saffron strands to this and mix until it gains a pale yellow colour.
Allow the milk to come down to room temperature and add the almond-poppy seed paste to it. Mix thoroughly until the coarse powder dilutes well. Do not do this while the milk is still warm or it will curdle.
Transfer the thandai into a jug and chill it in the refrigerator for four to five hours.
To serve, add strawberry puree and rose syrup to the thandai and give it a quick stir.
Garnish with fresh rose petals and serve cold.