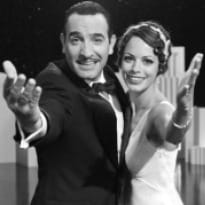 The Artist

The marvelous era of silent films set in luminous black and white is brought back beautifully and how. The Artist manages to draw in the crowds with its magnificent flow of story, unforced background score- ranging from subtle to dramatic, delightful humour, charming characters, pristine sincerity of emotions and impeccable acting, all of which simply moves you. The Artist follows George Valentin, the most adored silent movie star in 1927 Hollywood. However, the advent of talking pictures sinks his world while pushing forward Peppy Miller, an aspiring actress, a girl who owes her career launch to Valentin. The movie, with its portrayal of fame, the rise and fall, the reversal of fortunes, raw emotions, an evocative background score, powerful acting and the ingenious use of silence makes every Oscar nomination worth it.

The Artist-influenced Old Fashioned Menu-


Cheese and Ham Roll
A 15-minute wonder! Ham slices smeared with butter, cream, vodka and seasoning, rolled into logs, chilled and served. Fine tune this roll and make it your own! Use your favourite ingredients as filling and serve.
Quick Corn Chowder
Creamy puree made from potatoes, seasoning and corn, stirred in with soya milk and served. A light, easy and satisfying meal, any time of the day.
Apple Coleslaw
The good old, time tested apple coleslaw recipe. Make this refreshing salad by tossing in cabbage, onions, apples and carrot in mayonnaise and celery salt-ground black pepper seasoning.
Chicken Pie
Bring in the good old times with this classic. Pie dish filled in with creamy dough with chicken mixture in the middle, baked golden. Taste a mouthful of heaven with every bite.
Banana Split
An instant hit through the years. An absolute treat with ice cream, peanuts, warm chocolate sauce and bananas. Customize the banana split with your favourite flavours, confectionary and creativity.