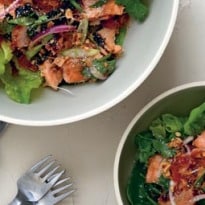 Two simple fish recipes for a relaxed weekend - snapper fillet with tomato sauce, and spicy salmon salad.

Snapper fillet with tomato sauce
This tomato sauce is a great all-rounder; it's delicious with any seafood or chicken, or even as a simple sauce for pasta.

Serves 4
snapper fillets 4, skin on, about 200g each
vine-ripened tomatoes 4, halved
red wine vinegar 60ml
extra virgin olive oil 150ml plus extra for brushing the snapper
mixed soft herbs (such as tarragon, parsley, oregano), leaves only 2 tbsp
sea salt and freshly ground white pepper
lemon 1

Grill the tomatoes for about 20 minutes, turning from time to time. They should colour and soften and the skin should blister and burn.

Place them in a bowl and use tongs to remove as much of the skin as you can. Don't worry if little bits get left behind. Mash the flesh with a fork, then add the red wine vinegar, olive oil, herbs, sea salt and white pepper to taste and mix well.

Sprinkle the fish with sea salt and brush with olive oil. Place the fish on the grill, skin-side down and cook for 3 minutes, then turn and cook for a further 2 minutes. Set aside to rest in a warm place for 3-4 minutes.

The cooking time will vary depending on the thickness of your fillets so be careful. The fish should be just slightly firm to the touch, but still tender.

To serve, place a couple of generous tablespoons of tomato sauce on each plate and place the fish, skin-side up, on top. Squeeze some lemon juice over the skin and finish with a sprinkle of sea salt and grind of white pepper.

Note: the more you char the outside of the tomatoes, the more smoky the flavour. The fish is cooked longer on the skin side to make sure it is crisp. It is then turned to seal the other side. Rest it and it will be perfectly cooked. A fine skewer will help you test if the fish is cooked. You should feel slight resistance when you push it into the flesh, and it will be perfect by the time it gets to the table.


Spicy salmon salad
Start this five hours before you serve it.

Serves 4
salmon fillet, pin-boned and skin removed 400g
small red onion 1, thinly sliced
coriander leaves 1 small handful
spring onions 2, cut into julienne, the green part as well as the white
small butter lettuce 1, leaves separated
pinch of ground roast rice (see note below)
roasted peanuts, crushed 2 tbsp
freshly ground black pepper

For the marinade
oyster sauce 2 tbsp
fish sauce 1 tbsp
palm sugar, grated 1 tbsp
sesame oil ½ tsp

For the dressing
lemon grass stem 1, tough outer leaves removed, chopped
long fresh red chilli 1, seeded and chopped
small green scud chillies 2, chopped
garlic cloves 3, chopped
caster sugar 1 tbsp
fish sauce 2 tbsp
limes juice of 3

To make the marinade, combine all the ingredients in a bowl. Add the salmon, turn to coat well, then cover and refrigerate for 3 hours. Remove from the refrigerator and stand for 2 hours to allow it to come closer to room temperature before cooking.

To make the dressing, pound the lemon grass, chillies, garlic and sugar in a mortar and pestle until a fine paste forms. Add the fish sauce and lime juice and taste for balance.

Heat a grill to high, wipe off excess marinade and cook the salmon for about 4 minutes on each side or until it forms an even crust and the flesh can be flaked. Set aside in a warm place to rest for 5 minutes.

Flake the salmon into a bowl. Add the red onion, coriander, spring onions and a little of the dressing. Arrange the lettuce and salmon mix on a serving plate and drizzle with the remaining dressing. Sprinkle with ground roast rice, crushed peanuts and a good grind of black pepper.

Note: ground roast rice adds great texture to many dishes. Toast jasmine rice in a dry, heavy-based frying pan over a low heat until each grain is opaque but not coloured. When cool, grind it into a coarse powder using a mortar and pestle or a spice grinder.

Extracted from Easy Weekends by Neil Perry (Murdoch Books, £20). To order for £14, with free UK p&p, click here


Spicy salmon salad. Photograph: Earl Carter/Easy Weekend