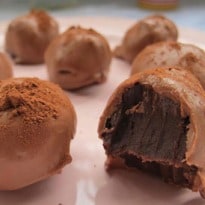 Easter brings a banquet of below-par chocs. Celebrate the good stuff instead by making some delicious truffles - but will you top them with sea salt, cocoa or yet more chocolate?


It's Easter, a time when we rejoice in the new life popping up all around us: those gaily gambolling lambs and chirping yellow chicks, the jaunty hymns and multicoloured eggs. But most of all, this is now the season of chocolate, an annual celebration of the most outlandish of cocoa confections. And while I like an edible ammonite as much as the next seven-year-old, it's sadly true that, as this time of year, more thought tends to go into form than flavour; Easter seems to have become little more than an international festival of crap chocolate. If that makes you happy, then by all means, gorge yourself silly. If, however, you fancy something a little more sophisticated, but lack the wherewithal for this $10,000 gold-encrusted number, try these homemade truffles instead. They may look rather ordinary, but, rather like the homely speckled egg, they have hidden depths. Pointless overpackaging and accompanying novelty egg cups entirely at your discretion.


Chocolate
This, of course, is the most important part of any truffle recipe - basically, if you don't like the chocolate, you won't like the truffle it makes. Perhaps that's why plain dark chocolate is as far as most recipes go in terms of specifics (indeed, Nigel Slater vaguely speaks only of "fine chocolate" in Real Food) - with the important exception of the classic truffles in Rococo: Mastering the Art of Fine Chocolate. Here, the company's own Grenada Chocolate Co 71% cocoa solids is cited as the only stuff that will do. Once I track some bars down, I find it has a very distinctive, fruity flavour, which divides my testers: some, myself included, love it, others find it too acidic. This experience confirms my suspicions: it's impossible to be prescriptive here - find a dark chocolate you like, and start from there.

Dark yes, but, as you'll be sweetening it, there's no need to go as far as American blogger Ree Drummond, also known as the Pioneer Woman, and use a mixture of semi-sweet and bittersweet chocolates. You need a generous hit of bitterness to prevent the finished product from being cloyingly sweet.


Fat
Possibly Drummond and I differ in the sweetness of our teeth, however, because, instead of the cream or butter the other recipes use to dilute the chocolate, she goes for condensed milk, which makes the truffles far, far too sugary for my liking - they're more like Fudge bars. (Definitely easier than making Easter eggs for your children though.)

Chocolatier Paul A Young and Slater both keep things simple by using only chocolate and cream for the base of their truffles - Slater uses whipping, Young double - while Rococo goes for a mixture of butter and whipping cream, and Delia Smith really thinks outside the box with her butter, thick double cream and Greek yoghurt combo. This gives her creations a tangy freshness and moussey texture that, while not unpleasant, is not quite what I'm looking for in a truffle. While the all-cream truffles have a delectable richness meanwhile, I prefer the melt-in-the-mouth texture of the less dense butter and cream versions.

Franco-American blogger Tartelette (or Hélène Dujardin), who adapts a recipe from a Parisian friend of her late grandmother's, uses butter and egg yolks instead. This makes them intensely rich and chocolatey - and after a couple of bites, I miss the moderating effect of the cream.


Sweetener
Both American recipes are too sweet for my taste: no dark chocolate could stand up to the sugary heft of Drummond's condensed milk or Dujardin's icing sugar. By contrast, neither Slater nor Smith employ any sweetener at all, and indeed, it's not necessary unless you use a chocolate with very high cocoa content, but I love the flavours that Rococo's honey, and Young's light muscovado sugar, bring to the confections. In the end, however, the latter's caramel flavour wins out for me.


Coating
I'm tempted by the easy option - Smith, Slater and Dujardin all simply roll their truffle mixture in cocoa powder to finish them off - but I love the crisp snap of Rococo, Young and Drummond's chocolate coating. Young doesn't specify what variety of chocolate to use, but I think Drummond and Rococo are on the right track with their tempered milk chocolate - it's a lovely creamy contrast to the bittersweet interior. A little cocoa on top helps to makes them look attractive, while adding an extra hint of bitterness.


Extras
Smith adds rum to her truffles - a good idea if you fancy it, but I'm going to leave it out for the classic version. Ditto Drummond's sea salt topping: I absolutely love the contrast in flavours, but it changes the character of the truffle completely.


Method
Everyone has a slightly different way of making their truffles; Smith uses a food processor, Rococo, Drummond and Dujardin a bain marie, and Slater and Young go for what is by far the easier option as far as I'm concerned, and let the hot cream do the hard work of melting the chocolate. Less washing-up too. On the subject of washing up, Rococo also pipes the mixture into "chocolate kisses" - mine, sadly, look more like chocolate cowpats, so I'm going to roll them by hand like everyone else.

Slater suggests whipping the chilled mixture if you prefer "a softer lighter" truffle - I quite like this idea, but it does make the truffles dangerous easy to eat, which means it probably isn't wise. After much thought, and even more testing, the rich, butteriness of the unwhipped version wins the day; after all, you wouldn't want to overindulge, would you?


The perfect chocolate truffles
Makes around 15

100ml double cream

40g light muscovado sugar

110g dark chocolate

25g butter, softened

250g milk chocolate

Cocoa, to dust

Heat the cream and sugar together over a gentle heat until it comes to the boil. Allow to simmer for a minute, then take off the heat and leave to cool for a couple of minutes.

Meanwhile, smash the chocolate into small pieces (slamming the bars against a work surface is a satisfying way to do this) and cut the butter into small dice. Put in a large heatproof bowl.

Pour the cream and sugar mixture on to the chocolate and butter and leave for a couple of minutes, then stir until smooth and glossy. Add a pinch of salt and allow to cool, then cover and refrigerate until set (about 2 hours).

Use a teaspoon to scoop out truffles, then roll them by hand into spheres. Chill your truffles while you temper the chocolate.

Put two thirds of the milk chocolate into a heatproof bowl over, but not touching a pan of simmering water and allow to melt. Remove from the heat and add the rest of the chocolate. Stir to melt, and use a thermometer to check when the temperature reaches 31C.

Once the chocolate has reached the right temperature, dip each truffle into it to coat, sprinkle with cocoa and place on a piece of greaseproof paper to set.

Give them away before you eat them all.

Photograph: Felicity Cloake for the Guardian