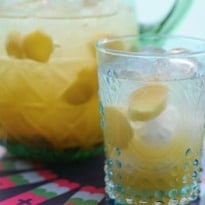 A tangy, non-alcoholic spritzer to accompany the imminent break in the clouds.


If the past few years are anything to go by, we are about to enter summer. March is where it's at these days. A month of unseasonal sunburn, happy outdoor office lunches and approving talk of global warming - followed by five months of ceaseless rain. So act now before the summer deluge. Buy your barbecue, flame your meat, down a few tinnies. This may be all there is. Here are my top tips for successful outdoor cooking:

1 Cook big stuff: a butterflied leg of lamb, a spatchcocked chicken, a large slab of beef skirt. They are easier to handle and cook well. If you try to juggle multiple items while drinking and chatting, you will create charcoal in all the wrong places.

2 Never light a fire on paving stones. They will explode and shower your guests with red hot shards of stone. Believe me, I have tried it.

3 Before you carve, make a herb or spice butter and smear it on to your chopping board. When you put the meat on top, it will melt into the juices. Parsley, garlic and butter blitzed in a blender is good.

4 Only have one (or a maximum of two) side dishes. A big salad and some new potatoes will do.

5 And finally, if you value your tomorrows, always have some kind of soft drink - like this one - to intersperse between the wine and beer.


Make your own citrus ginger sparkling punch
Serves 8-10

350ml water
175g sugar
100g fresh ginger, thinly sliced
Juice of 4 lemons
Juice of 6 limes
750ml unsweetened pineapple juice
750ml sparkling water
Lots of ice

1 Bring the water, sugar and ginger to the boil . Simmer for 10 minutes, remove from the heat and allow to stand for 30 minutes.

2 Pour the mix through a sieve and chill.

3 Mix the ginger syrup with the citrus juice and pineapple.

4 Pour over ice into a large punchbowl or jug and top with sparkling water. You can leave some ginger pieces in for show if you like.

• Recipe by Jane Baxter and Henry Dimbleby, co-founder of the healthy fast-food restaurant chain Leon (@henry_leon)


Photograph: Jill Mead for the Guardian