dwight-garner, The New York Times, Modified: June 16, 2014 12:03 IST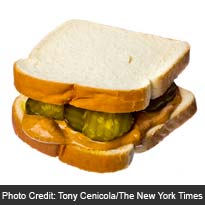 Like Krazy and Ignatz, Carville and Matalin, Cupid and Psyche or Alison Krauss and Robert Plant, the peanut butter and pickle sandwich is one of those unlikely pairings that shouldn't work, but does.

That's how I've always felt, anyway. I've been happily eating these distinctive little sandwiches for years. The vinegary snap of chilled pickle cuts, like a dash of irony, against the stoic unctuousness of peanut butter. The sandwich is a thrifty and unacknowledged American classic.

My father passed them down to me. Peanut butter and pickle sandwiches got him through law school at West Virginia University. I've come to consider them the work-at-home writer's friend. The ingredients are always there for you, waiting loyally in the pantry and ice box when more glamorous lunch options (cold cuts, leftovers) aren't returning your calls.

The PB&P has been a minority enthusiasm in America for generations, lingering just under the radar. The sandwiches appeared on lunch-counter menus during the Great Depression and in extension-service cookbooks in the 1930s and '40s in recipes that generally called for a few spoonfuls of pickle relish. A lot of people's grandmothers used to eat them.

These days, they're a cult item. Kinsey Millhone, the fictional private investigator in Sue Grafton's alphabet series of mysteries, is probably America's best-known devotee.

Below that, there's a consistent but low-level Internet buzz about the combination, just as there is about the other unlikely things people like to marry with peanut butter and place between bread slices: mayonnaise, olives, thick onion slices (this was Hemingway's favorite sandwich), horseradish, bacon, Marmite (in England) and Vegemite (in Australia), to name but a few.

Each of these concoctions has its merits, especially Hemingway's version, though it gives you breath that will chase away children, pets and all women who aren't Martha Gellhorn. The Elvis sandwich (peanut butter, banana and bacon) isn't a calamity, either. But compared with the PB&P, the ne plus ultra of the genre, all I can say about each of these pretenders is, as Elvis himself put it: return to sender.

Why can't the peanut butter and pickle sandwich get a little respect? A few weeks ago, I began calling and emailing smart food people - chefs, journalists, cookbook writers, editors - to get their take on the combination. I expected to get some high-fives from this crowd, the way I would in book circles if I had unearthed an unjustly neglected writer, another Dawn Powell.

Instead, I got crickets. Long, baffled silences. Not one of the people I spoke with had even tried a PB&P. A few reacted with outright disgust, the way people did when they heard that Julia Roberts had married Lyle Lovett.

"Eew," emailed Virginia Willis, the author of "Bon Appetit, Y'all: Recipes and Stories From Three Generations of Southern Cooking." Willis added, "Sounds kind of scary." A friend of mine, an editor at a major national food monthly, wrote me back to say, "Even at 7 months pregnant, I've never had that craving." Another well-known cookbook writer suggested I talk to Guy Fieri, the Sammy Hagar of TV chefs.

Guy Fieri? That's harsh, dude.

My desperation increasing, I reached out to two men who, between them, know pretty much everything there is to know about eating in America, at least east of the Mississippi: Ed Levine, founder of the website Serious Eats, and John T. Edge, the director of the Southern Foodways Alliance and the guru of Dixie eats. (He also contributes regularly to The New York Times.)

Neither of these guys had eaten a PB&P, either. ("Slackers," I muttered to myself.) Edge declared that, despite all the uncouth yet awesome preparations Southerners have for pickles (deep-frying them, coloring them with Kool-Aid flavor packets), the peanut butter and pickle sandwich is definitely not a Southern thing. Flipping through his mental Rolodex, he sounded stumped for a bit. He finally sent me to talk to a young chef in Minneapolis who does a peanut butter and grilled jalapeno appetizer, which sounds tasty but is not the same thing at all.

Unlike Edge, Levine volunteered to lose his PB&P virginity, pretty much right on the spot. About the peanut butter sandwich he made with bread-and-butter pickles, he declared, "I could see eating that again." About a peanut butter with garlic dill pickles sandwich, he said, "Not so much."

Levine is right: Bread-and-butter pickles are more sublime in a PB&P than kosher dills. Their sweetness adds a flavor bump; they function like a briny, sophisticated, adult version of jelly.
In my quest for the perfect peanut butter and pickle sandwich, I've made these things with expensive hipster pickles, homely farmers' market ones and my wife's artful homemade beauties. They're all pretty good.

My go-to ingredients, month in and month out, are Claussen pickles, the ones in the refrigerator section - they're crunchy and have a bright flavor - and Smucker's Natural peanut butter, which isn't sweet. (I'm agnostic about crunchy versus smooth.) I use whatever good bread is in the house. If I'm feeling decadent, I'll toast the bread first and spread some unsalted butter on each slice before adding the PB&P. That's genius, and the prelude to a tasty nap.

Many phone calls later, I still hadn't found a fellow peanut butter and pickle enthusiast. But Levine finally sent me to the right man: Lee Zalben, the founder and president of Peanut Butter & Co. in New York City, whose store in Greenwich Village sells a peanut butter and pickle sandwich it calls the Pregnant Lady.

Zalben was overjoyed to find another human being with whom he could geek out over the PB&P. We were like the last two survivors of a zombie apocalypse, accidentally finding each other while raiding a Whole Foods for supplies, and ecstatically dancing around for a little while.

"The first time I tried one, I had this incredible sense of tasting something really new for the first time," Zalben said. "I couldn't get it out of my head. I had one every day for a week."
Zalben, like every zealot, has a conversion story.

"Eleven or 12 years ago," he said, "a pregnant woman came into our store and said she had a craving for a peanut butter and pickle sandwich. I'd never heard of it. But we like to think we can take care of anyone's peanut butter craving. So I ran to the corner store and bought a jar of pickles. I made two sandwiches, one for her and one for me. That was all it took."
Peanut Butter & Co. makes its sandwiches with bread-and-butter pickles and good bakery white bread, which holds up to the crunch of the pickles.

"In the United States, we're used to peanut butter with really sweet pairings," Zalben said. "But in other cultures, combining savory with sour is more of a tradition. Look at Chinese, Indian and Thai food, for example, in curries and satays and moles. I'd put peanut butter and pickle roughly in that tradition."

The PB&P, I suspect, is never going to go mainstream. No matter. I'm hard at work passing this bit of culinary magic down to a new generation.

I promised my daughter, Hattie, who is 13, that she could skip some onerous household chores if she would, with the ice cream maker she got for Christmas, prepare me a batch of peanut butter and pickle ice cream. She leapt at the chance to escape changing the cat box.
Using my wife Cree LeFavour's recipe for vanilla ice cream, and after some trial and error, along with the assistance of her friend Anya, she nailed it. In a better world, this ice cream would be on the dessert menu at some beautiful barbecue joint, Daisy May's or Fette Sau or Blue Smoke.

After some prodding, I got Hattie to take a bite.

"Eew," she said.

Peanut Butter and Pickle Sandwich

Time: 90 seconds


2 slices of your favorite bread
Unsalted butter, if desired
Peanut butter
Bread-and-butter pickles
(To bump up the decadence level, you can toast the bread and spread butter on it before proceeding.)
1. Spread peanut butter on both slices of bread.
2. Place an overlapping row of pickles on one slice.
3. Cover with the other slice. Consume.
Yield: 1 sandwich


Peanut Butter and Pickle Ice Cream
Adapted from Cree LeFavour
Time: 3 1/2 hours, plus more if refrigerating custard
1 cup diced bread-and-butter pickles (about the size of pencil erasers)
2 cups heavy cream
1 cup whole milk
1/4 teaspoon salt
3/4 cup sugar
4 large egg yolks
1 tablespoon vanilla paste or extract
1/2 cup unsalted natural peanut butter
1. Line a plate with parchment or wax paper and spread diced pickles across it in a single layer. Freeze until solid, at least one hour.
2. In a medium saucepan, combine cream, milk, salt, sugar and egg yolks. Whisk to blend. Place over medium-low heat and whisk continuously, occasionally scraping the bottom of the pan with a rubber spatula, until the mixture is thick enough to coat the back of the spatula, about 10 to 12 minutes.
3. Pour mixture through a fine mesh strainer into a mixing bowl. Add vanilla and peanut butter, whisking until smooth. Cool custard by placing the bottom of the bowl into a bowl of ice water and stirring until chilled, about 20 minutes, or by refrigerating for 2 to 24 hours.
4. Freeze the chilled custard in an ice cream machine according to manufacturer's instructions. Just before ice cream is fully set and still churning, add diced frozen pickles. Transfer to a bowl, cover and freeze until firm.
Yield: About 5 cups, or 6 to 8 servings
© 2012 New York Times News Service