Felicity Cloake, guardian.co.uk, Modified: April 19, 2013 14:35 IST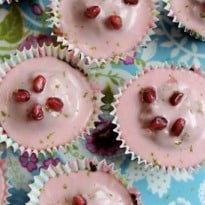 Felicity Cloake sifts through your surprisingly eclectic pink creations, and selects this week's winner.


Everyone I mentioned this theme to said the same thing - blancmange! But, to my sneaking regret, no one obliged. Clearly I really am the only person left who likes the stuff.

I was even more disappointed, however, not to be able to try out Mark Edwards' 10-day salt beef recipe, or indeed Neil Grayshon's intriguing "strawberry breasts". But the gorgeous selection below cheered me up no end. Even if you feel, as I do, that you never want to see another cupcake again, I beg you to give these a try. Pretty in pink personified.


The winning recipe pomegranate and lime cupcakes
I'm not necessarily a big fan of the cupcake craze, but I do have a soft spot for pomegranate and lime cupcakes. A moist, sour cream sponge, tangy with pomegranate and lime zest and topped with a vivid pink icing naturally coloured with pomegranate, these cupcakes definitely take the prize for the prettiest thing I baked all last year.
Claire Wilson, South Africa, underthebluegumtree.com
Makes 8
65g unsalted butter, softened90g caster sugar1 large egg, beaten100g plain flour½ tsp bicarbonate of soda60ml sour cream3 tbsp pomegranate juiceZest of 1 limePaper cake cases
For the icing
135g icing sugar2 tbsp pomegranate juicePomegranate seeds and lime zest 1
Preheat the oven to 180C/350F/gas mark 4 and line a muffin tin with 8 paper cases.
2
Cream together the butter and sugar until fluffy and very pale. Stir in the egg. Sift the flour and bicarbonate of soda together and add to the mixture, along with the cream and juice. Mix to make a soft, smooth batter, then fold through the zest.
3
Divide the mixture between the cases and bake for 20 minutes until risen and springy to the touch. Leave to cool.
4
Beat the icing sugar and juice together until smooth. Dollop a teaspoon on top of each cake and spread with a palette knife. Decorate with pomegranate seeds and a few shreds of lime zest.
Cherry buns
These are an attempt to recreate the sticky cherry buns from Bewley's Café in Dublin. I adapted an enriched dough recipe from Dan Lepard's cinnamon buns, but the flavours and the pink in this version are all mine. They are very good warm out of the oven, or allowed to cool down and buttered.
Aisling Cooke, Skerries
Makes 9-16
450ml milk, plus a little more to glaze500g strong white flourZest of 1 lemon50g salted butter150g glace cherries2 eggs (medium or large)50g caster sugar, plus a little extra½ tsp vanilla extract¼ tsp red food colouring7g sachet of dried yeast1 tsp saltOil, to kneadFlour, for dusting1
Pour 450ml milk into a pan with 2 tbsp of the flour and the lemon zest. Whisk together and bring to the boil. Pour into a mixing bowl and stir in the butter. Cool until warmish, but not so hot as to kill the yeast or cook the egg.
2
Meanwhile, chop the cherries finely and mix those in. Once cool enough, mix in 1 egg, the sugar, vanilla extract, food colouring and yeast, then the salt and remaining flour. It will be light pink and very, very sticky.
3
Leave covered for 10 minutes, then knead briefly with well-oiled hands on an oiled surface. Knead twice more at 10-minute intervals and then leave it for 45-60 minutes.
4
Grease and line a roughly 25cm square tin. Divide the dough into 9 or 16 roughly equal pieces (for large or small buns), cover in flour and place in the tin. Leave for 45 minutes. Preheat the oven to 220C/425F/gas mark 7.
5
Beat the remaining egg with a splash of milk and brush over the buns. Sprinkle liberally with caster sugar and bake for 20-25 minutes until dark brown on top.
Prawn cocktail
When I saw the theme for this week was to be pink, I immediately thought: prawn cocktail! Don't recoil at such a retro suggestion: just make it with fresh prawns and homemade mayonnaise. Make sure the ingredients are all at room temperature.
Bronwyn Wolfe, Oval, London
Makes 2, with leftover mayonnaise
2 egg yolks250ml groundnut or sunflower oil25ml extra virgin olive or walnut or rapeseed oil1 tbsp white wine vinegar or lemon juice½ tsp mustard powder2 tbsp tomato ketchup1 tsp Worcestershire sauceJuice of ½ lemon½ iceberg lettuce, shredded200g raw prawns, cooked in boiling, salted water then cooled and peeled½ tsp pink peppercorns1
For the mayonnaise, put the yolks in a mixing bowl and whisk for 2 minutes. Add a good pinch of salt and beat for 30 seconds until thick and sticky.
2
Begin to pour in the oils in a thin stream, beating continuously. Mix in the vinegar and mustard.
3
To make the marie rose sauce, take 2 tbsp of the mayonnaise - keep the rest for potato salad - and add the ketchup, preferably one that is not overly sweet, and Worcestershire sauce. Add a splash of lemon juice and season to taste.
4
Polish 2 martini glasses or similar till they gleam, and place them in the centre of 2 large, white plates. Dress the plate with an artfully folded (pink) napkin and a silver fork. Shred the heart of the lettuce finely and add about 1 tbsp to each glass. Pile all but 2 peeled prawns on top then add a generous dollop of marie rose sauce. Crush a couple of peppercorns and sprinkle on top. Finally, and this is the tricky bit, balance the reserved prawns on the edge of the glasses.
Hot pink beetroot and spelt flour bread
This is light and fluffy with a sharp, tangy taste from the beetroot. It's perfect toasted and spread with homemade chutney.
Rebecca Willmott, Lancaster
Makes one loaf
400g strong white bread flour, plus extra to dust100g spelt flour1 tbsp fresh yeast25g butter2 medium-size peeled and cooked beetroots, finely choppedA pinch of salt1 tsp brown sugar1 tsp cinnamon or crushed thyme (optional)350ml waterOil, for greasing1
Put both flours in a large bowl along with the yeast and mix. Crumble the butter into the mixture until it resembles fine crumbs.
2
Add the chopped beetroot, salt and sugar and mix thoroughly. You can also add cinnamon or thyme to make it sweet or savoury. Add enough water to make the mixture sticky, then mix until firm.
3
Lightly flour a clean surface and knead the dough for five minutes until it's firm.
4
Return the dough to the bowl, cover and leave for 1½ hours until it has doubled in size.
5
Preheat the oven to 180C/350F/gas mark 4. Knead the dough lightly, place in an oiled loaf tin and leave for 20 minutes, then bake for 50 minutes.
6
Leave to cool for a few hours to let the yeast settle down. Slice and enjoy!
Piggy's (pink) rainbow trout with rhubarb relish
The relish can be made a few days ahead if necessary, and refrigerated.
Piggy Fair, Monkton Farleigh, Wiltshire
Serves 2, with leftover relish
2 whole trout4 cloves of garlic, minced2 lemons300g butter
For the relish
90g brown sugar2 tbsp apple cider vinegar2 tsp fresh ginger, mincedZest of 1 lemon2 tbsp Dijon mustard2 fat stalks of rhubarb, roughly chopped100g golden raisins1
For the relish, stir together the ingredients from sugar to mustard with 2 tbsp water in a medium saucepan over a medium-high heat. Stir continuously until it boils, then turn the heat down low and simmer for about 10 minutes.
2
Add the rhubarb and raisins, increase heat to medium and boil the mixture again. Turn the heat down low and simmer for 5 more minutes. Cool and season to taste, adding honey if it's too tart for your liking.
3
To cook the trout, preheat the oven to 160C/325F/gas mark 3 and line a shallow tray with baking paper.
4
Clean the fish, cut off the top and side fins and trim the tail.
5
Score each fish 3 or 4 times on each side. Rub a clove of minced garlic and a generous amount of salt over each, making sure you get it into the cuts. Season and rub the rest of the garlic inside the fish, and stuff each with slices of lemon.
6
Heat 100g of the butter in a frying pan on a medium-high heat. Fry the trout for about 3 minutes on each side.
7
Transfer both fish to the tray and layer thin slices of the remaining butter on top. Bake for about 5 minutes.
8
Squeeze half a lemon over each fish. Spoon a generous amount of your relish on top or to the side of the fish, and serve.
Pink peppercorn and pistachio meringues with rose yoghurt cream
The following recipe is subtly pink in flavour rather than colour.
Amy Rogers, Dundee,
whatcanmehave.wordpress.com
Serves 4
2 large egg whites120g caster sugar1 pinch of crushed pink peppercornsSmall handful of pistachios, crushed 150ml double cream150g natural Greek-style yoghurt1 tsp rosewater150g mixed berries (optional)1
Preheat oven to 140C/275F/gas mark 1. Line a large baking sheet with parchment or silicone paper.
2
Whisk the egg whites until stiff. Add the sugar 1 tsp at a time, whisking well between each addition. Fold in the peppercorns and nuts.
3
Spoon heaped dessertspoonfuls of the meringue on to the baking sheet. Bake for 50 minutes, or longer if you prefer to have a drier meringue. Cool on a rack.
4
Whisk the cream until thick then fold in the yoghurt and rosewater.
5
Serve the meringues sandwiched with the yoghurt cream, and scattered with berries if desired.
Pomegranate and lime cupcakes. Photograph: Jill Mead for the Guardian