Mid-day, Mumbai, Modified: November 14, 2012 11:40 IST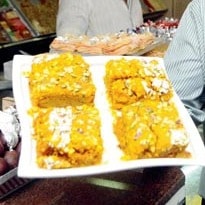 Diwali is incomplete without sugary indulgences, as mithai-binging hits the roof. Hassan M Kamal scoured the city's mithaiwalas, to bring you some of the most unique preparations that are bound to leave the sweet-toothed asking for more.








Anda Pak
Pic/Bipin Kokate

Why so special?
This seasonal sweet has been prepared at Suleman Mithaiwala for almost 25 years but very few are aware of it. And those who do, can't seem to have enough of it. A rare offering, this is prepared only during winter, but Irfan Mithaiwala will be preparing it for Diwali, only if pre-ordered. Combining the power of eggs, ghee, dry fruits, mawa, this sweet is sold at Rs 850 per kg and was prepared especially to help people beat the winter, as Irfan bhai says, "khate hi garmi aa jaati hai." Minimum order is for two kgs.
At Suleman Mithaiwala, Mohammad Ali Road, next to Minara Masjid.
Call 66366606/ 66335656
Rose Cake
Why so special?
The Rose Cake is a perfect example of beauty in simplicity. There are no special ingredients nor is a special process involved, what makes this dish that combines the essence of rose so great is the love with which it's made. Don't trust us? Go, indulge.
At Murlidhar Sweets and Farsans, CS Road, near Save Nagar, Dahisar (E)
Call 28482535
Almond Toast


Why so special?
The goodness of almonds, baked with very little amount of sugar, the Almond Toast is
a perfect option for those conscious about their
sugar levels.
At Chheda Dry Fruits, Bhanu Jyoti, LN Road, opposite Matunga Railway Station (CR).
Call 24141672
Jelly Sandwich
Why so special?
We love our jelly on ice cream; now the boring old kaju katri gets a jiggle with jelly stuffed in between.
At Nagrik Stores, Munshi Estate, SL Road, Mulund (W).
Call 25934060
Vegan Chocolate Bliss Balls
Why so special?
Made with vegan ingredients, this is not just a healthy but tasty option too. Expect a lot of tiny chocolate-y surprises in this treat.
At Vegan Bites, Khatijabai Chawl, opposite Deepak Talkies, Elphinstone Road (W).
Call 7666586430
Choconut Barfi
Why so special?
If Rose Cake was love at first sight, Choconut Barfi was love at first bite. We loved the crunchy nuts dipped inside the barfi.
At D Damodar Mithaiwala, Harganda Mahal, Khodadad Circle, Dadar TT.
Call 24144226



Date Cookies
Why so special?
Goodness of dates served as cookie, this vegan treat is another healthy option for the festive season.
At Vegan Bites, Khatijabai Chawl, opposite Deepak Talkies, Elphinstone Road (W).
Call 7666586430
Baked Yoghurt
Why so special?
With yoghurt taking over dessert stores, why leave the Diwali mithai behind? Opt for this baked variety of yoghurt, mixed with the goodness of dryfruits.
At Icing on Top, opposite Hira Mistan Sweet Shop, Masjid Bunder.
Call 9867013315