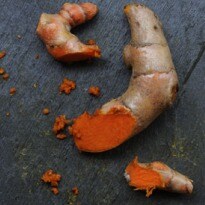 A powerful anti-inflammatory, this lively root is prized for its healing powers.


Fresh turmeric is as different from its more familiar dried equivalent as root ginger is from ground ginger. The root (or rhizome) looks like a smaller, thinner Jerusalem artichoke. When you peel it, the bright orange flesh releases a heady fragrance.

Fresh turmeric tastes unique: quite earthy, a little citrussy, with some of the tongue-numbing power of Sichuan pepper and a hint of bitterness. Used raw in tiny amounts, either grated or cut into thin matchsticks, it transforms a dull cabbage and carrot slaw into something positively exciting. Use fresh turmeric in Indian recipes that call for dried for a livelier result.

Be warned - fresh turmeric stains easily, so unless you want to turn your kitchen yellow, handle with care. In that event, all is not lost: lemon juice usually removes turmeric stains.


Why is fresh turmeric good for me?
Turmeric has long been used in India, where it is a venerable ingredient in Ayurvedic medicine, used to heal wounds and treat skin conditions such as psoriasis. Turmeric contains compounds that have powerful anti-inflammatory, anti-fungal and anti-bacterial properties. A growing body of research supports the notion that one such compound, curcumin, can inhibit the growth of cancer cells. Last year, one study found curcumin was more effective in treating rheumatoid arthritis than prescription anti-inflammatories.


Where to buy and what to pay?
You'll find fresh turmeric in Chinese supermarkets, and Indian and Thai food stores; look near the ginger and galangal in the chill cabinets. You'll pay about £1.25 for 100g, which is more than enough for most purposes.

• Joanna Blythman is the author of What To Eat (Fourth Estate, £9.99). To order a copy for £7.99 with free UK p&p, go to guardianbookshop.co.uk




Spiced rice and lentils
This is a great side dish to a curry or a very simple supper on its own. Add cooked veg for a one-pot dish or flaked mackerel and a soft-boiled egg to create a kedgeree.

Serves 4

1 tsp brown mustard seeds
6 whole cloves
4 cardamom pods
2½ tbsp flavourless oil
2 large onions, thinly sliced
5cm piece of fresh turmeric,
peeled and finely grated
5 garlic cloves, peeled and crushed
2 red chillies, deseeded and finely chopped
1 tbsp ground cumin
1 tbsp ground coriander
200g red lentils, washed
400g basmati rice, thoroughly rinsed
550ml chicken or vegetable stock
Small stick of cinnamon
2 bay leaves
Pinch of salt

To finish
40g butter
Juice and zest of a lime
Big handful of coriander, finely chopped

1 Heat a large heavy-based pan with a lid with 1½ tbsp oil. Throw in the mustard seeds, cloves and cardamom pods and cook for 2-3 minutes before adding the onion and letting it soften down for 5-7 minutes.

2 Turn up the heat and let the onions take some colour, before adding the turmeric. Stir for a few minutes, then add the garlic, chilli, cumin and coriander, and leave for a few minutes more before adding the rest of the oil and letting it heat up.

3 Add the lentils and coat well. Drain the rice, add to the pan and coat thoroughly. Then add the stock, cinnamon, bay and a pinch of salt.

4 Bring to a boil and stir thoroughly. Put a lid on the pan and leave it over the lowest possible heat for 25 minutes. Once cooked, the rice can sit like this for up to half an hour before serving.
5 To serve, taste the rice for seasoning, and add the butter, lime and coriander.

• Rosie Sykes is head chef of Fitzbillies (fitzbillies.com) and co-author of The Kitchen Revolution (Ebury Press, £27.50). To order a copy for £19.99 with free UK p&p, go to guardianbookshop.co.uk


Photograph: Jill Mead for the Guardian