Mid-day, Mumbai, Modified: February 26, 2013 17:51 IST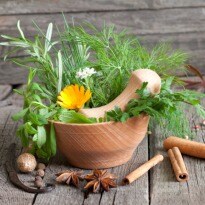 From locally available to foraged variety, flowers are increasingly being used to create interesting platters in restaurants. Sonal Ved puts a bottle of chamomile blooms to a taste-test and shares the results.

Cooking with flowers is not entirely a new concept. Truth be told, Indians have been biting blooms since time immemorial. I remember eating ghee-soaked temple sweets that came pressed with velvety petals of rose flower. There were summer afternoons when I spent drinking glasses of freshly brewed hibiscus sherbet. And occasionally, when my mother spotted white and pearly drumstick blossoms at Dadar's vegetable market, Konkani flower and potato cutlets were a definite hors d'œuvre that evening.

Flowers are indeed an integral part of many regional cuisines. Take, for instance, mochar ghonto, a dish made using the banana flower and coconut -- a Bengali delicacy. A similar position is occupied by vazhapoo thoran, a spiced stir fry that uses identical ingredients with a slightly different tempering, in Kerala homes.

But while these are fairly known, flowers such as geranium, nasturtiums and baby carnations are now the rage. Curious, I recently picked up a bottle of dry chamomile blooms from a mid-town gourmet food market and put them to some use. There are two ways of cooking with flowers. You either throw them raw on salads, soups, appetizers or, you steep them like herbal tea infusions. While the former is apt for beginners, the latter is more complex since it allows the flavours to seep in better and brings out better results.

To put my theory to test, I dabbled with cold chamomile lemonade. I emptied the blooms into a bubbling pot of hot sugar syrup. Once the flavours were picked well, I discarded the molasses and added a sharp dash of tart lemon juice to this syrup. I then allowed both conflicting flavours to battle it out in the refrigerator overnight and sipped on the drink next morning. The result? A complex lemonade with a mild heady aroma of the florals and a sweet and herby aftertaste.

If you can't get hold of chamomile, try the same recipe with easily available shoots of lavender, marigold petals, rose buds and hibiscus. Just ensure that your choice of flower is of edible variety.

Cold Chamomile Lemonade


Ingredients:
>> 300 ml water
>> 6-7 Tbsp sugar
>> 4 Tbsp fresh or dry chamomile flowers
>> 3/4 cup lemon juice
>> 2 tsp salt
>> Pinch of cumin powder
Method:
>> In a soup pot, boil water and add sugar. Bring the liquid to a boil and continue to stir until all the sugar has evenly dissolved. Add chamomile buds to this and let it simmer for six to seven minutes.
>> Remove the pot from fire and strain.
>> Discard the molasses and allow it to come down to room temperature.
>> Add lemon juice and one teaspoon of salt and mix well. Let it chill in the refrigerator overnight.
>> To serve, in a large bowl mix cumin with a pinch of salt.
>> Dip the rim of a martini glass in water and place it on this dry mixture. Once the rim is evenly coated, pour the lemonade in it and serve cold.
>> This drink lasts in the refrigerator for three to four days days.
(Picture: Cold Chamomile Lemonade/Bipin Kokate)