Mid-day, Mumbai, Modified: December 20, 2012 11:46 IST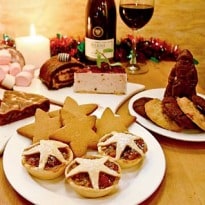 Christmas is round the corner and the celebrations have kicked in. Treat your tummies to some good food that restaurants and hotels across the city have to offer

Tart Bakery

What :Glazed Gingerbread Men Cookies to Christmas Pudding Truffles, Tart is geared to tempt your taste buds. They have introduced Green and Red Velvet Cake and Whisky Carrot Cake.

Where: Opposite St Stanislaus High School, 9, Hill Road, Bandra West

Call: 65284457



Spaghetti Kitchen
What: Spaghetti Kitchen is giving a chance to sample authentic gourmet Italian for as little as R299 along with a free massage, when you dine at the restaurant.
Where: 201, Fortune Classic, Junction Of CD Road & 15th Road, Khar (west)
Call: 65886040
IPQ
What: Le Pain Quotidian's festive menu includes Chocolate Pavalova, Ginger Cookies and Mince Meat Pies. Orders require 24 hours prior booking.
Where: Dhanraj Mahal, CSM Road, Colaba
Call: 66150202
Flames
What: The seasonal poolside restaurant at Hilton Mumbai International Airport has reopened till March 2013. Indulge in kebabs and biryanis inspired by Awadhi spices and flavours. It is open from 7.30 pm to 11.30 pm
Where: Hilton, Sahar Airport Road, Andheri (e)
Call: 2838 0000
California Pizza Kitchen
What: California Pizza Kitchen is currently hosting Feast on Dessert Festival at all city outlets. The menu includes Tiramisu, Apple Crumble, Banana Cake Chocolate Souffle and Red Velvet Cake. What you craving?
Where: California Pizza Kitchen, BKC and Palladium, Lower Parel
Call: 65588888, 65606560