Mid-day, Mumbai, Modified: December 27, 2012 10:45 IST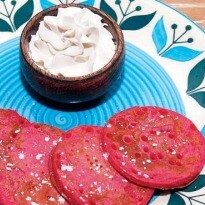 It looks like a quaint cottage or countryside cafe from the outside, but once you step into the little wooden door, Jamjar Diner, opens into an aesthetically designed expansive space that serves scrumptious food.

Let's begin with a story. There was a man named Mr Kejriwal (before you jump the gun, we aren't talking of the anti-graft crusader-turned politician, Arvind Kejriwal). This Mr Kejriwal was a Marwari and hence, non-vegetarian food was a complete no-no at his house. However, his love for eggs used to take him to a nearby joint everyday where the staff was acquainted with his preference. Daily, Mr Kejriwal would dig into an omlette, laden with chillies along with toast. This routine went on for years, and was known to the owners of Jamjar. Inspired by the fable, they introduced this dish at the newly-opened Versova restaurant as Eggs Kejriwal.
(The Red Velvet pancake is a great breakfast option. Pics/ Sayed Sameer Abedi)


Jamjar DinerFood:
Tasty
Service:
Slow
Ambience:
Inviting
When we entered, Jamjar Diner for breakfast one Saturday morning, our first reaction was that of surprise. The place is bigger than it appears from the outside, and is divided into three levels -- the lower, upper and al fresco. The creative interiors with wooden furniture, twisted bookshelves, cabinets and interesting knick-knacks like pickle jars, candles and ceramic pots added quirk to the ambiance.
Settling ourselves in the al fresco seating, which was bold and bright owing to its mosaic floor, we scouted the menu. After hearing the story from the owners, Eggs Kejriwal (Rs 267) was on top of our list. Fresh Watermelon Juice (Rs 140) and Chicken Sausages (Rs 140) were ordered as well. While our order was getting prepared, bands like The Beatles and The Carpenters kept us company in the background. Although we enjoyed the music, the wait for our breakfast was long. After a few polite reminders, our breakfast arrived. The piping-hot sausages, garnished with herbs pampered our taste buds while the juice was a lovely refresher. As far as Eggs Kejriwal was concerned, the omlette with chillies and cheese toast was satisfactory too.
After gobbling our first course, we went into experiment mode. Our second round consisted of a Fluffy Egg White Omlette (Rs 124) and Red Velvet Pancake (Rs 140). This round took longer than the first one; we were beginning to lose patience by now. But, when the manager informed that they needed time to adjust, we played patient reviewer.
When the Red Velvet Pancake arrived, it looked different from a regular pancake; one bite into it, and we were sold. The accompanying cheese cream added to its taste. The fluffy egg white was yum too, but the pancakes were the winner. It's an ideal space to sit for hours and relax, whether it's a lazy evening, a Sunday brunch or a dinner.
At:
7A & B, Aaram Nagar 2, JP Road, Versova, Andheri (W).
Call:
26368880
Jamjar Diner didn't know we were there. The Guide reviews anonymously and pays for meals.