Braised Cumin Chicken Recipe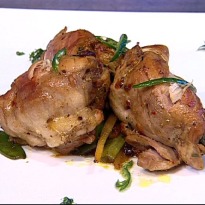 Aromatic chicken, marinated and cooked in a hot tomato sauce, served on a bed of greens with a coriander mash.
Ingredients of Braised Cumin Chicken
5 tsp white cumin
3 tsp red chilli flakes
2 tsp fennel seeds (saunf)
3 cloves (laung)
2 tsp coriander seeds
2 tsp black pepper
5 potatoes
3 Tbsp yogurt
8 medium-sized tomatoes
Salt to taste
8 pieces chicken thigh, boneless
1 cup cooking oil
3 medium-sized onions
2 tsp garlic, chopped
4 Tbsp butter
3 lemons
1/4 cup olive oil
2 bunches fresh coriander
10 green chillies
1/2 cup milk
1 cup single cream
1/4 kg string beans (gwar ki phalli in hindi/ urdu)
1/4 kg sugar snap peas
4 carrots
1 tsp turmeric powder
3 tsp red chilli powder
2 tsp brown sugar
2 tsp spice mix (coriander seeds, white cumin, black pepper, cloves)

How to Make Braised Cumin Chicken
Make a heavy spice mix.

Put potatoes onto boil.

Brown onion, garlic, cumin, red chilli, salt and saute them in the pan. Add a dash of water and
then add the chicken. Braise with half the butter till chicken has color on all sides. Add 2
cups water to the pan and place a lid on to cook chicken with the steam.
Once potatoes have boiled and are cooked all the way through, mash well. Add lemon juice (1
lemon), yogurt, olive oil, slightly crushed fennel seeds, fresh coriander, green chillies and a
dash of milk.
Braise veggies with turmeric powder, red chilli powder, brown sugar, butter and salt, spice mix
of coriander seeds, white cumin, black pepper, cloves. Cook till veggies are soft. Add water as
required through the cooking process.
Layer with the potatoes and chicken and serve.

Key Ingredients:
paprika
,
fennel
,
cloves
,
coriander seeds
,
black pepper
,
potatoes
,
yogurt
,
tomato
,
salt
,
chicken
,
vegetable oil
,
onion
,
butter
,
lemon
, oilve oil,
coriander leaves
,
green chillies
,
milk
,
cream
,
french beans
,
carrot
,
turmeric
,
red chilli
,
brown sugar
, coroan