Prepare the damp napkin as in picture.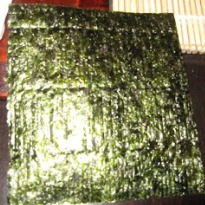 Place 1/2 sheet of nori (Right: The pic only has a quarter).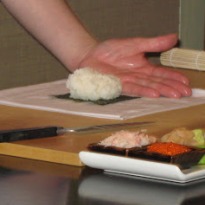 Please cut half shiny side down on the center of the damp napkin (horizontal lines on the sheet should face you.) Now spread the sushi rice on the sheet with damp fingers evenly.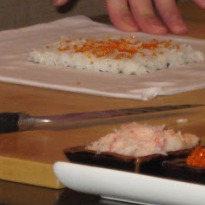 Spread the tobiko over the rice and flip the sheet so rice is on the other side and the sheet is facing you with its horiziontal lines.
Place avocado in center and line with crab meat. Take the bottom edge of the sheet with both fingers on each side and roll over the top of crab and avocado leaving about 1 cm of nori protruding out.roll again so the joint is now at the bottom.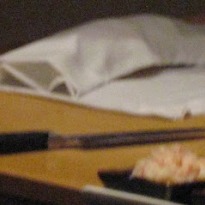 Place the entire roll back on the center of the napkin and roll the napkin from the bottom edge over the roll.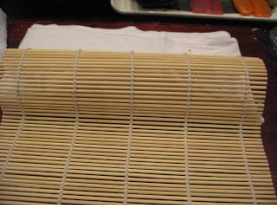 Place the top half of rolling mat over the napkin and roll. Using the thumb and middle finger, pinch sides of roll while applying even pressure over the top of the roll with the index fingers.
While lifting both the mat and napkin up by the corner, gently roll the roll through a 1/4 turn so it is lying on its next side, replace napkin and mat and repeat the pinching process as described earlier.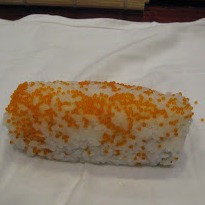 Remove mat and unfold napkin and replace roll in center again. Cut roll in half with a slightly damp sharp knife with a sawing action.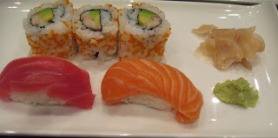 Line up two halves and cut again into three pieces of equal size leaving you with six equal size portions. Serve the California roll with wasabi, soya and ginger. Enjoy.

Tips:
Never put the sushi rice in the fridge.You will ruin the consistency.
Always try consuming sushi on the same day.
Always wet you hands slightly while handling sushi rice or it will stick to your hand.
As you get better,experiment with your own choice of interesting fillings.
This sushi tastes great if topped with a small dollop of chilli mayo (1 tablespoon mayo mixed with 1.4 tsp of chilli garlic sauce)