Guilt Free Watermelon and Feta Cheese Salad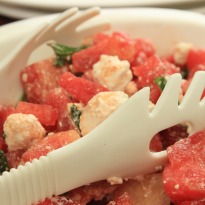 A cooling watermelon salad with crumbled feta cheese and a handful of mint leaves. Very summery, very refreshing!
Ingredients
6 cups watermelon, diced
Handful of mint leaves
1/4 cup crumbled feta cheese
3 Tbsp extra virgin olive oil
2 Tbsp balsamic vinegar
Method
Serve the salad cold.