Kaju Mysore Paak Recipe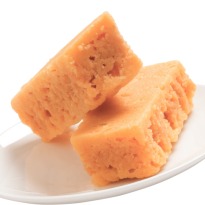 Nutty Indian sweet and a variation to the popular dessert, Mysore Paak, this version is made with cashew nut, besan and ghee. This sweet is native to Karnataka and is known for its softness and great taste. According to the legend, Mysore Paak was first created in the Mysore Palace and was popular as the 'Royal Sweet'.
Ingredients of Kaju Mysore Paak
1 and 1/2 cup sugar
2 cups water
1 cup besan
1/2 cup kaju, chopped fine
2 cups ghee
How to Make Kaju Mysore Paak
Sift the besan and keep ready.
Add 1 tablespoon besan and stir to mix well. Continue till all the besan is added, at a tablespoon at a time.
Mix in the kaju. Add the ghee, one tablespoon at a time till all of it is used. The color and texture will change by now. It will get more brown and crumbly.
Set in a thali, patting to level. Do not remove ghee that may float on top, pat it back.

Cool, cut and serve.