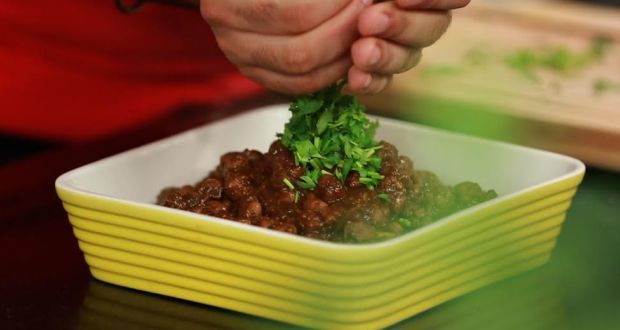 Chef Kunal Kapur brings authentic dhaba food to your dinner table. Chole are soaked overnight and cooked in a host of local, aromatic masalas without any onion or tomatoes!
Ingredients
250 gms pindi chole
1 Tbsp tea leaves
1 Tbsp cloves
3-4 cinnamon
5-6 Green cardamom
5-6 Black cardamom
2-3 Bay leaves
5-6 Ginger
2-3 Green chillies
1 tsp turmeric powder
1 tsp dried mango powder
1 tsp kasuri methi powder
2 Tbsp ajwain
4-5 garlic pods
1 Tbsp tamarind water
Black salt and regular salt
1 tsp Red chilli powder
1 tsp dhaniya powder
1 tsp jeera powder
1 tsp Pomegranate powder

How to Make Pindi Chole (My Yellow Table)
Soak chole overnight,
Take a clean cloth and put tea leaves, cinnamon, cloves, green & black cardamom, bay leaves in it and make a bundle (potli) out of it.
In a pan put soaked chole along with the bundles spices, salt add water and allow this to boil for at least an hour.
Once boiled, add turmeric powder, dhania powder, jeera powder, red chilli powder, pomegranate powder, dried mango powder & kasuri methi powder and keep aside without mixing or stirring.
Heat oil in a pan, saute ajwain, ginger, garlic & green chillies,
Now, pour the mixture over chole.
Add water, pinch of black salt, one Tbsp. tamarind water, salt to taste and cook it over low
flame.
Once cooked garnish with chopped coriander.

Key Ingredients:
tamarind
, chole, pindi chole,
chickpeas
,
salt
, black salt, cumin,
ginger
,
garlic
,
green chillies
,
raw mango powder
, amchur, red chilli powder, pomegranate powder,
coriander powder
,
carom seeds
, kasuri methi,
turmeric
,
bay leaf
, cardamom,
black cardamom
, g