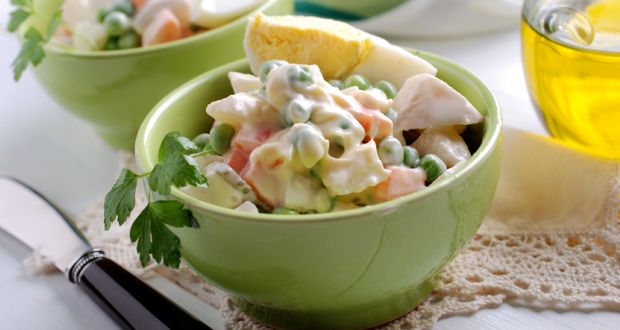 A popular Russian entree made with diced vegetables and mayonnaise dressing. It is also known as the Olivier salad as the original version was invented by Lucien Olivier.
Ingredients of Russian Salad
1 cup shelled peas
125 gm carrots-peeled and diced
125 gm french beans- stringed and cut
1 large potato- boiled, peeled and cubed
3 cups mayonnaise sauce
1 Tbsp salt or to taste
1 Tbsp black pepper- freshly powdered
1 Tbsp mustard powder
How to Make Russian Salad
Boil or steam the chopped vegetables, to bite like consistency, drain and chill.

When cool, mix the sauce, salt, black pepper and mustard powder.

Chill and serve.

Note: The combination of vegetables can vary, and even fruit like apple and pineapple can be added. Cooked chicken or fish can also be used.
Calories: 250 Kcal, Fats: 56 grams, Protein: 150 grams Fiber: 25 grams, Iron: 22 mgs, Carbohydrates: 66 grams