Mid-day, Mumbai, Modified: November 03, 2012 15:07 IST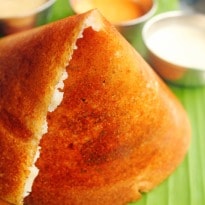 Plato once said art is an imitation of an imitation. Sonal Ved finds a common link between crepes in France, injera in Ethopia, pancakes in America, blinis in Russia and dosas in India.

Food historians have credited the French for coming up with crepes. But if you look at the preparation closely, you will see how this disc-shaped dish is a worldwide phenomenon. While at home we call it dosa or dosai, abroad, its name differs from one cuisine
to another.

At a recent event, The Melting Pot, hosted by The Oberoi, Mumbai, we got a chance to dig into an Ethiopian Injera. The grey-coloured crepe was yeasty and punctured with tiny holes. It had a slightly sour taste and a texture that was noticeably similar to an Indian rawa dosa -- only spongier.

Likewise, Italian cuisine has its version of a crepe known as crespelles, the Russian's binge on blinis, and a Hungarian's favorite dessert comprises palacsintas topped with raspberries. The only thing that connects these dishes is a common cooking principle -- flour-based batter, doused in butter, cooked on a griddle and topped with fillings.


Something borrowed

According to Chef Nikhil Chib from Colaba-based Busaba, these similarities are an indirect result of foreign interrelations. He says, "The Asian crepe, banh xeo, is a result of French settlers in Vietnam. Since the former region is famous for its crepes, the Vietnamese adapted it and created their own version." Similarly, other crepes such as Swedish platta and Finnish lettu use the same ingredients as a traditional French crepe and look alike as well.

In addition to the fact that well-traveled diners relish international crepes, pan-cooked food hits a spot with Indians because it is served piping hot. Baker Sabina Gupta from Not Just Desserts by Sabina, says, "Being a hot dessert, crepes and pancakes deliver a satiating eating experience." The Wadala-based chef personally loves a hearty breakfast of banana and chocolate pancakes or nutella-smeared crepes and feels that since diners can see pan food being cooked live, it gains reputation.

For Chef Paul Kinny from Inter Continental, Marine Drive a good way to enjoy crepes is to merge Indian and Western flavors together. "If you have the zeal to experiment, find a foolproof crepe recipe and top it with a variety of Indian stuffings such as freshly-grated coconut, dates, oranges, tomato relish, onion and garlic chutney or serve Indian uttapam and appams with ratatouille and ragouts."

For health enthusiasts, a crepe can double up as a healthy lunch alternative too. Since any dosa is light in terms of texture and sparingly flavored, it is ideal for those looking for a nutritious meal. "This is especially true when your batter is made using healthy flour bases such as bajra, millet, multi-grain and nachni flours, as they are high in fiber content," says chief dietician Richa Anand from Dr L H Hiranandani Hospital. However, if you want to indulge in sweet pancakes or chocolaty crepes, stick to breakfast time, she insists.


German Reiberdatschi
German reiberdatschi at the Peshwa Pavilion, ITC Maratha, Andheri (east) by Executive Chef Rajdeep Kapoor. Pic/ Omkar Gaokar


Reiberdatschi (pronounced rae-bur-dashi) is a potato-based pancake that is popular in colder European regions. The dish, made by grating starchy potatoes directly on a hot griddle, looks strikingly similar to the Swiss rösti, owing to its textured exterior. Though ideally a reiberdatschi is topped with turkey and chicken pieces, at Peshwa Pavillion it is available with vegetarian-friendly options such as mushrooms, artichokes, baby corn and peppers. The dish tastes essentially like baked potatoes seasoned with salt and pepper and needs to be spiced with house mustard and ketchup. The dish is available as a part of the Sunday brunch menu, but one can order it separately as well.
At: Peshwa Pavilion, ITC Maratha, Andheri (E)
For: Rs 500
Pancakes at the Pantry
American Red Millet Pan Cake at The Pantry. Pic/ Atul Kamble
There is no better way to kickstart your day than with breakfast at The Pantry. The newly-opened restaurant does a healthy version of the classic American pancake by replacing
maida
with nutritious
ragi
. The dish is ideal for vegetarians and weight-watchers since the batter contains no eggs and uses only
one-fourth of butter than what goes into making an average pancake. Their plating consists of two spongy discs that need to be drenched with generous helpings of vanilla custard and homemade apple-cinnamon compote before being savored. A quick tip to all diners -- round off the experience by
teaming your cakes with a tall glass of fig and banana milkshake and you won't feel hungry until noon.
At: The Pantry, Fort
For: Rs 175
Vietnamese banh xeo
Banh Xeo at Busaba in Lower Parel. Pic/ Neha Parekh
Due to the historical connect between French and Vietnam, the local cuisine of the latter has heavy European influences. One such development is the Bánh Xèo Crêpe. Made on the lines of a traditional French crepe, the yellow pancake at Busaba is light and thin as paper. It has crispy edges and gets doughy as you bite your way to the centre of the preparation. Though traditionally a crepe is made with refined flour, the Bánh Xèo batter is made by diluting rice flour in turmeric tainted coconut milk. As filling, the crepe carries an assortment of meats and vegetables such as tofu, mushroom, shrimp and chicken flavored with soy sauce, oyster sauce and garlic.
At: Busaba, Colaba and Lower Parel
For: Rs 395
Recipes by Chef Dhaval Ajmera, ITC Grand Central
Morroccan Msemen

Ingredients:
3 1/2 cups of flour
1 cup semolina
2 tsp sugar
2 tsp salt
1/4 tsp yeast
1 1/2 cup warm water
1 1/2 cup vegetable oil
Method:
Activate yeast and keep it aside.
In a bowl, mix flour with diluted yeast, semolina, sugar and salt.
Add warm water to the dry mixture and bind all the ingredients together.
Knead the mixture into soft dough. If the dough is too sticky, add one spoon of flour at a time and knead until it becomes less sticky.
Transfer the dough on a lightly floured tabletop and knead it for about five to 10 minutes.
Leave the dough aside for half an hour.
Divide the dough into multiple small roundels.
Roll the dough into thin rotis using a rolling pin or the tips of your fingers.
Fold in the circular edges of the roti on all four sides to make a square piece.
You can use extra flour for dusting the dough, so it doesn't stick too much.
Apply vegetable oil in between the folds and roll it out further.
Heat a pan and brush it with some oil.
Cook the msemens on a hot griddle on both sides until brown specks begin to appear on its surface.
Serve it hot with butter, honey, almond powder and cinnamon powder.

Russian Blini
Ingredients:
2/3 cup refined flour
1/2 cup buckwheat flour (optional)
1/2 tsp salt
1 tsp yeast (activated)
1 cup milk
2 Tbsp butter
1 egg, assortment of toppings (caviar, sour cream, cheesy dips)
Method:
In a large bowl, mix flour with salt and diluted yeast.
Make a well in the centre of the flour mixture and pour milk into it.
Using your fingers, swirl the flour in circles until you have mixed all the ingredients.
Once you obtain a thick, smooth batter, let the batter rest for an hour.
When the mixture doubles-up in size, add butter and egg into it. Stir and let the mixture stand for further 20 minutes.
Heat a non-stick pan and pour a ladle of this batter to make small dosas-like pancakes.
Allow the batter to cook for one minute on each side and serve it hot with mashed potatoes, spiced cottage cheese, ground and spiced meat, chopped mushrooms, sprouts or shredded and spiced cabbage