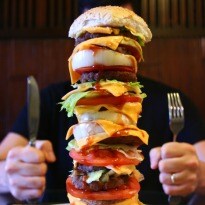 Moeena Halim goes sniffing out restaurants in Mumbai that serve plus sized burgers, biryani in a bucket and metre-long pizzas -- large enough to be shared by a gang of hungry diners.

Mumbai is no stranger to delectably large portions of food -- family-sized paper dosas at the local Udipi joint, the giant chhole bature at Bombay Blues or the sinfully large chocolate avalanche at Mocha. But imagine cutting a dosa three-ways or managing to look dignified while sharing a chhole bature at the dinner table! So we went specifically in search of grub that could be shared, even if you were wearing a black tie! Apologies if all this talk of food has made you hungry on a Sunday morning. But if it has, go right ahead and gobble a giant!



Bigfoot's Burger

Café Sundance in Churchgate returned to the city with a big bang last year. And an even bigger burger! The Sasquatch Burger (Rs 900) at Sundance has a 20-ounce (over 500 gms) beef burger patty cradled in a 5-ounce burger bun, topped with Canadian crispy bacon, cheddar cheese, and a fried egg. Whoa!

"The entire burger weighs about 1½ kg," says Chef Amit Bhatia, adding with a hint of pride that this is the largest burger available in the city. "We recently got a phone call from a city-based rugby team -- 12 of the players wanted to take up our challenge, which involves finishing the Sasquatch Burgers within 25 minutes. Burly as they were, they couldn't complete the challenge," laughs Bhatia.

Although it was first introduced on the menu solely for individuals who wanted to take it on as a challenge, the restaurant has now decided to allow patrons to share the burger. The Little Door at Andheri too has a giant community burger, though not quite as large as the Sundance one. Enter the XL Burger Off challenge on March 30 at the restaurant and you will get 30 minutes to devour the five-inch burger that packs a 200 gm meat patty with house coleslaw, lettuce, tomatoes, and pepper cheddar.


The Sasquatch Burger at Sundance Cafe. Pic/Neha Parekh


The Metre-Long Pizza

Not that long back, when the foot-long subway sandwich first showed up in Mumbai, it was an exciting time for 'wich lovers. Pizza Metro Pizza, (The Notting Hill store has just opened its first branch in India at Bandra) has now upped the ante with a metre-long version of the Italian open pie. This pizza (Rs 2,500 to Rs 3,500) comes with four different choices of toppings.

"Serving the metre-long pizza promotes sharing. It allows a group of people to try different varieties of pizza toppings, it is a great talking point and everyone at the table gets the pizza at the same time," say co-owners Arja Shridhar and Sam Malde. Even though there's just one pizza chef who works on the metre-long at a time, Shridhar says it doesn't take longer to make than a regular 12-inch pizza. The restaurant even throws a challenge your way: Eat the giant pizza alone within 30 minutes and you walk out without paying a paisa.


The metre-long pizza at Pizza Metro Pizza. Pic/Neha Parekh



Balti Biryani?

We had heard of Balti Chicken. But biryani in a bucket? Buckets & Tuckets at Infinity Mall (Andheri and Malad) does exactly that. Their Party Bucket (Rs 545-810) version of biryani, says Chef Chetan Sethi, serves six to eight people. As the name suggests, the bucket of about a kg of biryani, is meant to be shared by a family or a group. Since they began their delivery service, the outlet has been getting orders from offices and for house parties.

When Sethi and his partners decided to set up this Indian fast food joint, they knew they wanted to serve Indian food in a non-messy, convenient way. That's how the bucket was devised for the biryani. "Indian food is all about community eating, but none of the Indian restaurants offer convenient options," says Sethi. BNT, as he calls it, serves Malai, Haryali, Teekha and Kheema Biryani (both vegetarian and non-vegetarian).



Muchos Nachos

According to Chef Rahul Kulkarni of Irish House (Lower Parel and Colaba), no one knows how to live life better than the Irish. "At Irish House we want to offer our patrons the complete Irish experience. That's where the idea of serving a giant portion of nachos, which goes best with a glass of beer, came from," he explains. Their Grande Nachos have a huge fan following -- on an average they serve over 130 giant portions a night on weekends.

"People tend to come in large groups and sit at the pub for hours. The nachos, which come with a generous portion of cheese, tangy salsa, guacamole and sour cream, really adds to their experience," says Kulkarni. Everything from the nacho chips to the tangy salsa sauce is made in-house on a daily basis. The portion, double that of a regular one, is usually shared by three to four people. "As far as I know, no one has eaten an entire portion all by themselves," he says.




Grande Nachos at Irish House, Lower Parel and Colaba


Heard this?

Smell like a pizza! Pizza Hut has introduced limited edition of a pizza scented perfume.Win this appetizing perfume by participating in the Facebook contest "Pizza Heart Couples". Upload an image with the one you would share your special heart-shaped pizza with along with the reason. The entry with the maximum likes wins this limited edition perfume.


Year of the snake

Ming Yang at Taj Lands End welcomes the year of the Snake with some authentic Chinese cuisine like Steamed Chilean, Sea Bass in ginger and spring onion sauce, Steamed octopus in oyster sauce, Ei Mein Noodles and Fukien fried rice today.

At: Bandstand, Bandra West
Call: 66681234