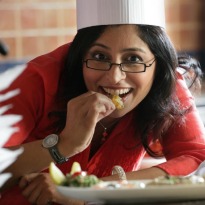 After converting the British into loyalists of Indian cuisine, Manju Malhi, reputed cross-over gourmet, returns the favour by setting up kitchen in India to whip up near-authentic British cuisine with a delectable desi tadka. Raised in North West London, Manju grew up surrounded by Indian culture and traditions and several years of her childhood were spent in India.

In her cooking, she draws on her past and combines the realities of urban western life and has come up with her own unique Brit-Indi style of food. She won the BBC Food and Drink's competition in 1999, and cooked with Antony Worrall Thompson on BBC2 and was invited back a second time. Manju has also been asked to create the concept of a 'British' restaurant in Delhi. She loves hosting cookery theaters around the country promoting the easy ethos of Indian home cooking.

In her show, Cooking isn't Rocket Science, she teaches viewers how to prepare classic British dishes with readily accessible local ingredients in India while retaining the original essence.