Who doesn't wish for a wholesome lunch? But the times we live in today, getting even 15 minutes off to savour our meal seems like a distant reality. As such we tend to quickly grab a meal without caring much about the calories or the nutritional content, and this is where we go wrong, causing harm to ourselves. The lunch hours of the day are when our metabolism is at its peak. You're partially burned out and are looking forward to the first long break of the day. You might huddle in front of a television, eat at your desk or at the small table in your office cafeteria, but what you need to remember is that lunch helps you recover from the first half of your day and recharge you for what's about to come. Which is why it needs to be the ideal balance of protein, fiber, sugar and fat - basically all things good.

According to Rev. Benita Francis Chemnitz, author of the book How to Maximize Your Brain, "the calories you consume at lunch should have fewer carbohydrates and more protein. Increase your intake of protein foods like seafood, turkey, tofu and legumes. And eat them before you eat the carbohydrates because they'll wake up your brain!" A light and lean source of protein helps provide your muscles with amino acids they need to continue rebuilding and reshaping themselves.

Add some vegetables to this mix and we promise you'll feel healthier than ever. Some basic dishes you could try are healthy chickpea and corn salad, chicken sandwich, a bowl of quinoa, poha or a big bowl of soup and chicken. Roger Troy Wilson, author of the book 'Let's do Lunch' says, "adding vegetables and fruits in your lunch provides lots of valuable vitamins and minerals to a person's overall eating plan. This includes potassium, folate, niacin, vitamin A, vitamin B6 and B12, vitamin C, minerals and phytochemicals." He also suggests that you lose potato, rice and foods made from flour. This means no rolls, buns, bagels, pasta, noodles or crackers. Not unless they're made with whole wheat flour.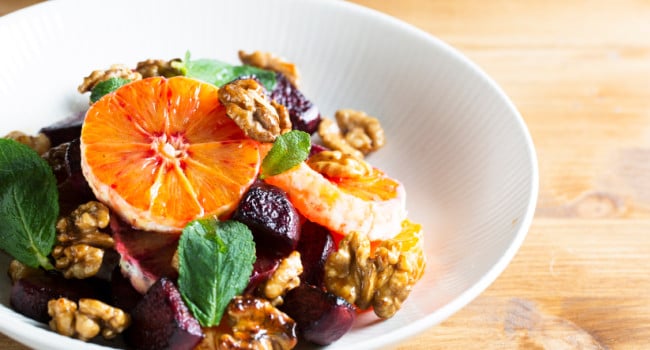 So, learn to cook. Food that's new and the kind that you'll want to savour. Don't sweat the meal prep and just follow our lead. Take a look at ten heart-stoppingly delicious recipes. find an apron and get cooking!
A delicious dish made with freshly bought okra. Grab some mustard oil, cumin seeds, fennel seeds, finely-chopped onions, ginger and a pinch of amchoor. We promise you'll make this recipe a regular affair in your weekly menu.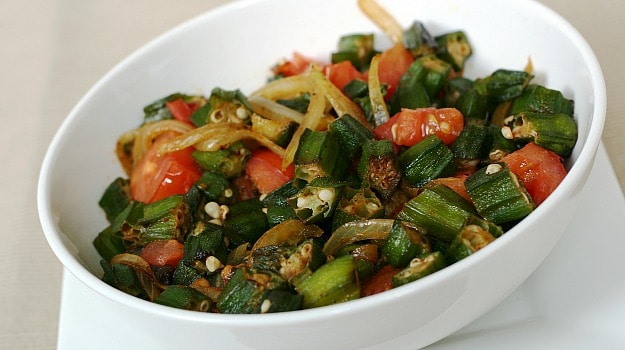 Masala Bhindi

2. Chana Kulcha
A classic dish that never goes out of style. The quintessential chana kulcha needs only a few ingredients - cumin powder, ginger, coriander powder, carom powder and some mango powder, which is what gives the chana it's sour and tangy taste.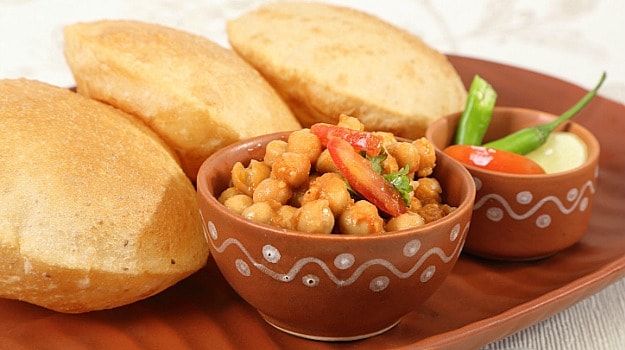 Chana Kulcha

3.Beans Thoran, Potato Curry & Rice
A gorgeous Keralan dish with beans, lamb, potatoes and a whole lot of coconut. It's best had with a bowl of steaming rice.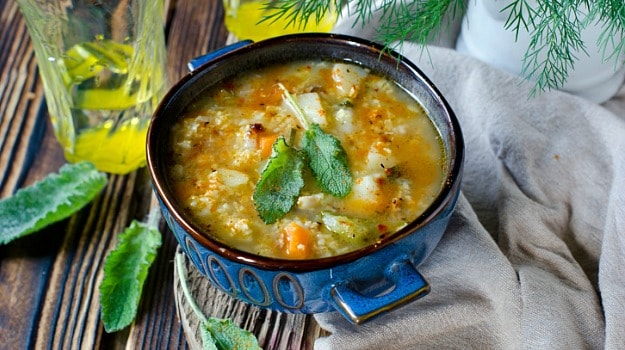 Potato Curry and Rice

4. Gujarati Kadhi
It's simple, it's light and it's very easy to make. A lovely Gujarati-style kadhi made with yogurt, gram flour, curry leaves and ginger.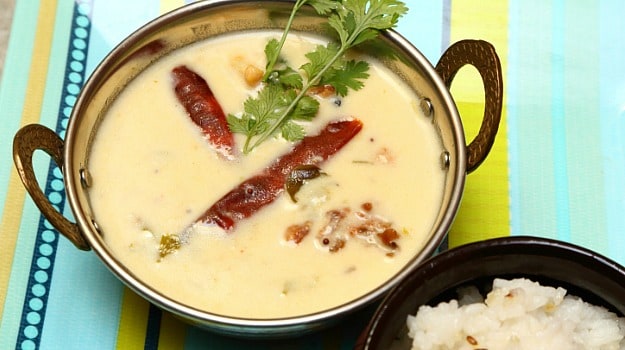 Gujarati Kadhi

5. Allahabad Ki Tehri
Also known as vegetable pulao, this one pot rice meal is unique to the rich state of Uttar Pradesh. It's made with a lot of bright vegetables, fiery masalas and topped with desi ghee.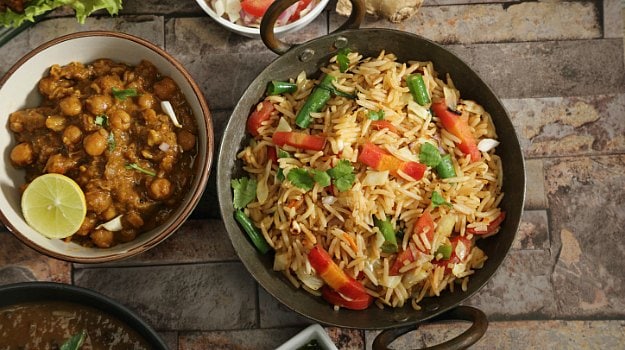 Allahbadi Tehri

6. Low Fat Dahi Chicken
A low-fat chicken curry made with marinated pieces of chicken, turmeric, red chilli, garlic paste, green chilli, tomatoes and fresh coriander.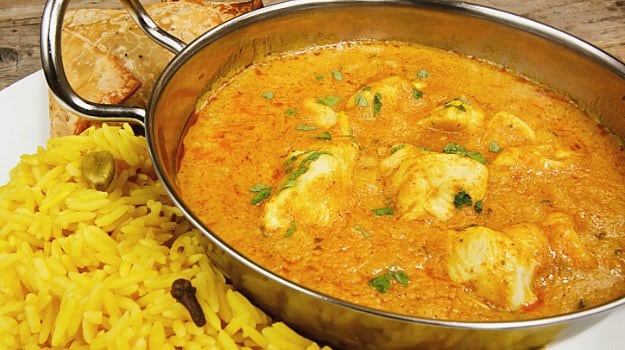 Low Fat Dahi Chicken

7. Kolhapuri Vegetables
A vegetarian dish with its root in Maharashtra, Kohlapuri vegetables are made with a string of glorious vegetables, ginger-garlic paste, grated onion, cinnamon, cloves and a lot of coconut.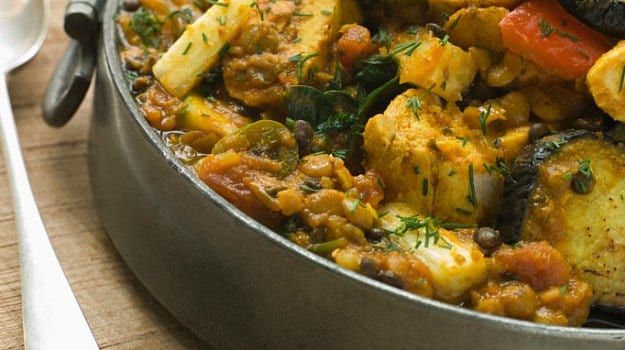 Kolhapuri Vegetables

8. Black Channa and Coconut Stew
A light stew which brings together delicate vegetables like zucchini, eggplant, bottle gourd and black channa, is one you should be having. Especially if you're looking for a healthy quick fix.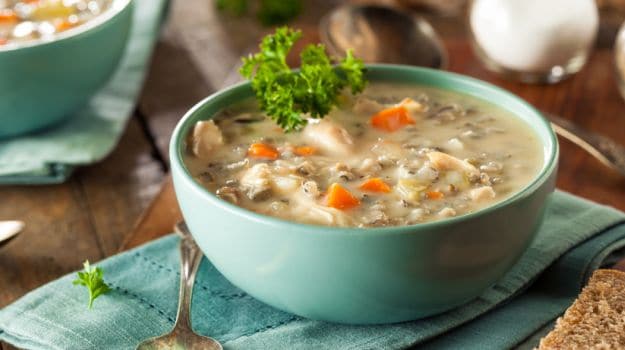 Black Channa and Coconut Stew
9.
Urlai Roast
Oh, this one's a real delight! Perfectly boiled baby potatoes cooked in a peppery Chettinad masala, onions and tomatoes.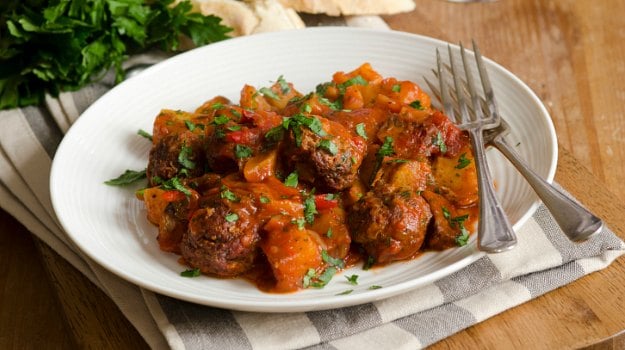 Urlai Roast

10. Paneer Achaari
Don't get intimidated by the list of ingredients because not only are already in your kitchen cabinet, but also because all they'll need is 20 minutes of your time. Chunks of cottage cheese cooked in some exciting spices, yogurt and a pinch of sugar.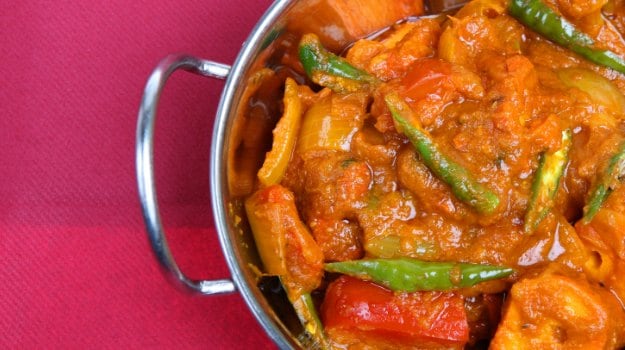 Paneer Achaari

CommentsSome of you might find cooking lunch to be a daunting task. With an exhaustive list of chores, pending work and an untidy house, who has the time to wake up early and pack lunch? And even if you were able to drag yourself off the bed, you'll usually end up cooking what you already know. Where's the fun in that? If truth be told, there's a war on health going on and the only way to make it through is to ditch packaged and processed food. And also the local restaurant that's on your speed dial.