Story Progress
Back to home
Beetroot and Vodka Cured Balik Salmon Croissant Canapé रेसिपी (Beetroot and Vodka Cured Balik Salmon Croissant Canapé Recipe)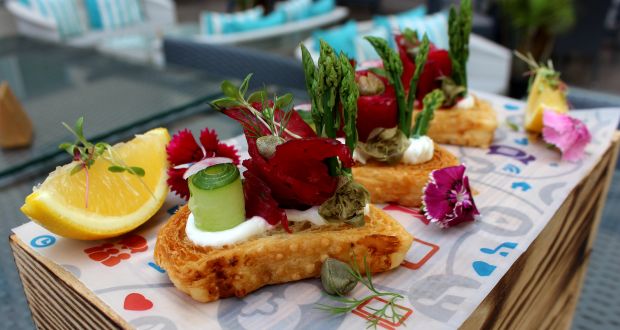 Beetroot and vodka cured salmon is a great elegant starter. Along with a hit of vodka, this classic recipe gets a new edge and involves no actual cooking.

Beetroot and Vodka Cured Balik Salmon Croissant Canapé की सामग्री
10 toasted Croissant slice
3 Tbsp Philadelphia cheese
1 cucumber
1 dz asparagus
1 Tbsp capers
For Salmon Marination:
1/2 cup dill leaves (chopped)
60 ml vodka
1 fillet salmon
1/2 cup rock salt
1/2 cup sugar
1/2 cup whole coriander
1 cup beetroots (puree)
Beetroot and Vodka Cured Balik Salmon Croissant Canapé बनाने की वि​धि
Hide

Show

Media
1.
Crush the coriander seeds and make a blend with the rest of the ingredients.
2.
Remove the Salmon skin and apply the blend on the salmon generously forming a thick crust.
3.
Leave it to rest in a tray and cover with some weight.
4.
After every 6 hours remove the excessive moisture that has drained from the salmon fillet.
5.
After 24 hours remove scrape of the crust and cut thin slices and shape like flourettes.
For Assembling:
1.
Cut the cucumber into thin slices and roll them in to cigarillos.
2.
Toast the croissant bread and slice. Apply the Philadelphia cheese.
3.
Put the salmon flourettes, poached asparagus and cucumber rolls and garnish with capers, red onion and dill leaves.