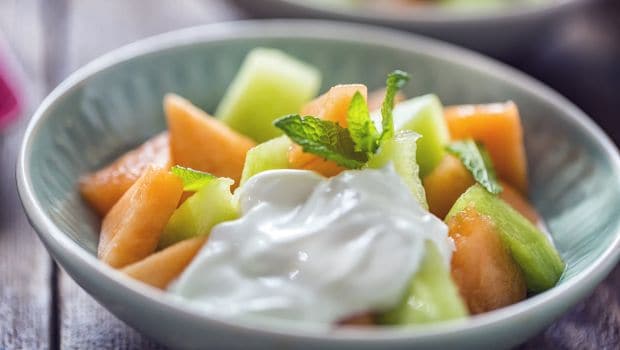 beat the heat is through one's diet. It is the time to let go of fatty foods and greasy gravies, and instead switch to light meals and seasonal veggies. You will be amazed how easily your diet choices can help you stay refreshed throughout the season. And who says summer meals need to be boring? There are many ways you can spruce up lauki, cucumber, squash, melons and fruits like mangoes, pineapples, litchis and jamuns to delight your taste buds like never before.

An important point to remember during the summer months is to stay hydrated. Therefore, include a lot of body cooling beverages and rehydrating soups that will also help in providing your body the much needed vitamin and mineral doses. Picking seasonal veggies and fruits is also crucial because they are needed to keep the body cool. So toss up refreshing salads and even light curries using vinaigrette, hung curd, honey, lemon, fruit juices, etc for the dressing. You can also have fun in the kitchen with the little ones by making interesting popsicles, flavoured water, ice creams and sorbets. Dare to explore with different flavours to tickle your senses and make the most of the season. To help you get started, here are our 10 best summer recipes -

1. Sol Kadi (Konkani Kokum Drink)
Recipe by Meenu Nageshwaran

This is a famous drink from Maharashtra's Konkan region. Sol Kadi is made from Kokum or Aamsol and coconut milk. It cools down the digestive system after eating spicy food. It is a natural digestive, and supposed to be an excellent antidote for acidity.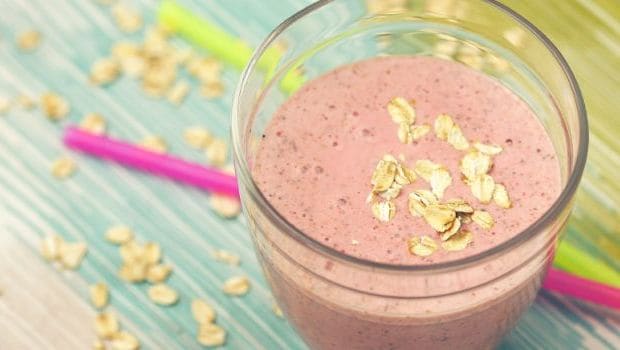 2. Spicy Watermelon Soup
Recipe by Meher Mirza

A fruit soup! What is more summery than a crisp, chilled watermelon? This is a fairly easy recipe but for the laborious deseeding of the watermelon.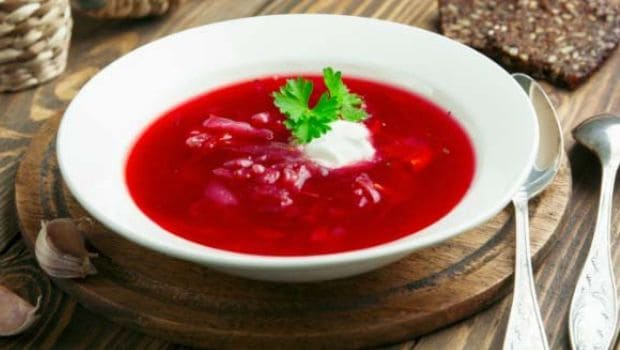 3. Stuffed Lauki
Recipe by Chef Roopa Gulati

Bottle gourd is one of those green veggies which are not loved by many but with this interesting twist, you are sure to garner a few fans. Blanched bottle gourd marinated in lime, stuffed with cottage cheese and baked beautifully.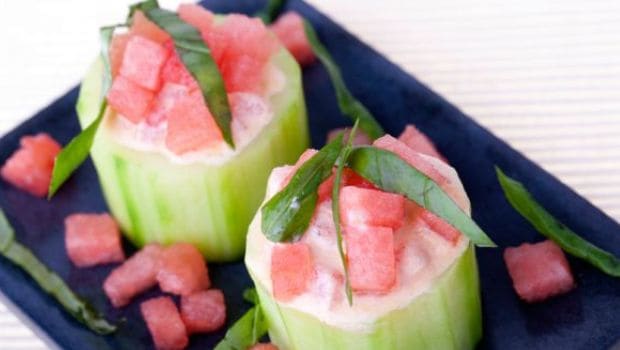 4. Prawn and Litchi Salad
Recipe by Meher Mirza

This one is an extremely easy salad, quick to put together and perfect for those days when you just can't be bothered.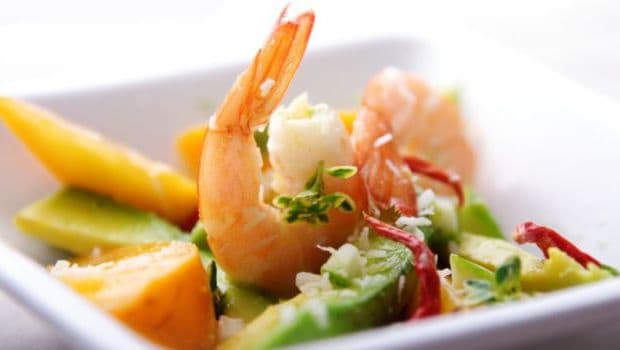 5. Four Melon Salad with Canola Mint Chutney Pesto
Recipe by Chef Romil Zaveri

Here's the weekly winning recipe of the Guilt Free Contest. A chunky salad with refreshing melons drizzled with a sweet and minty dressing.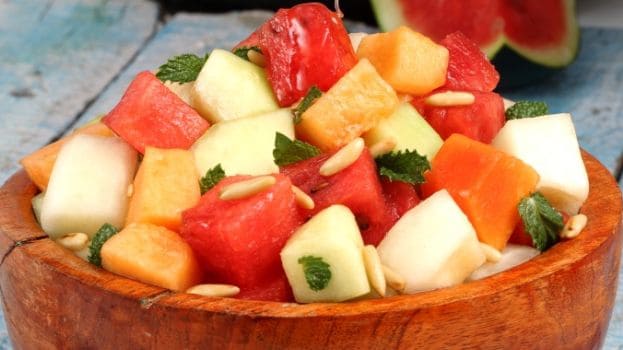 6. Drunken Salmon Cucumber Rolls
Recipe by Plavaneeta Borah

Easy to make, this refreshing treat is guaranteed to be a big hit in any party. Smoked salmon, sour cream and cucumber slices are spiked with gin to give it a heady twist.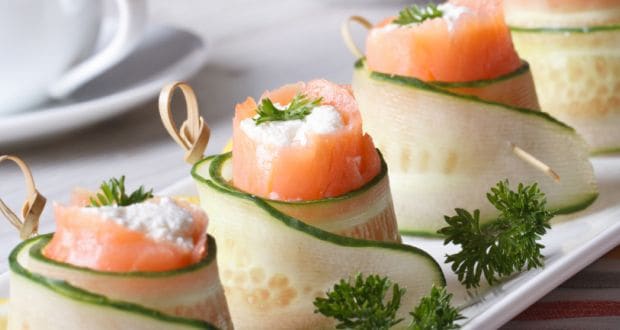 7. Yellow Squash Spaghetti
Recipe by Chef Vicky Ratnani

Thinly shredded yellow squash and bottle gourd, stirred in with green chilies, basil leaves and herbs, and sprinkled with cheese.


8. Mango Curry
Recipe by Chef Roopa Gulati

A lovely Indian curry made with yogurt, mango, gram flour, and jaggery.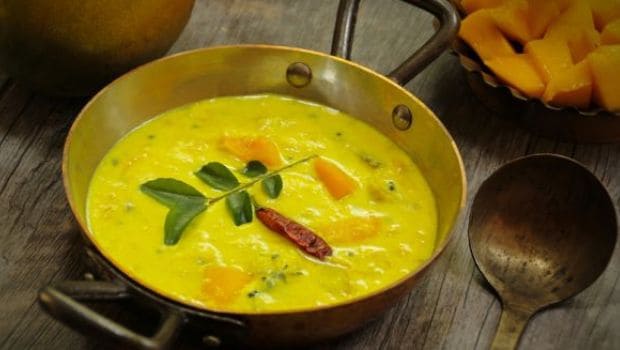 9. Mango Kulfi
Recipe by Chef Niru Gupta

Popular kulfi recipe but with a twist, flavoured with mango. Summer is never complete without indulging in mangoes.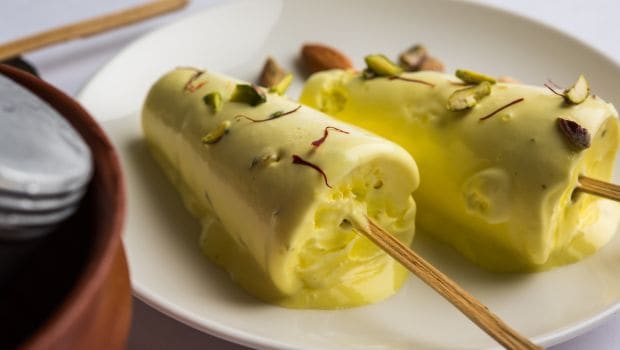 10. Jamun Mint Popsicles
Recipe by Plavaneeta Borah

Use the tarty summer fruit to create pretty purple-hued popsicles to impress your friends. Ridiculously easy to make, you can sprinkle some black salt or chaat masala too for a desi twist.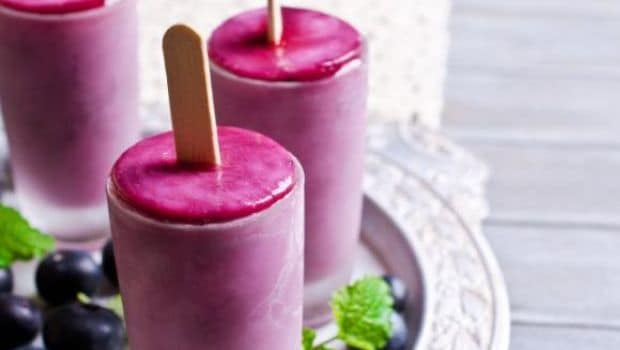 Summer is here and the best way to