Wondering why rose water has found a place in every Indian household? It's simple. Rose water benefits are a aplenty as it is undoubtedly beauty's magic potion, and also remarkably versatile. The fact that it is so easily available and make also makes it a staple across several households. Whether you have oily, dry or combination skin, rose water can be added to your beauty regime. That's what makes it a beauty secret or rather a secret weapon of women all over the world, not just India. While purchasing rose water, you must make sure you buy only 100% pure rose water i.e. the distilled water of roses sans the chemicals, the by-product of rose oil production. The usage of rosewater dates back to early Egypt, when Cleopatra (yes, Cleopatra) used the natural product in her skincare regime. And how can we not follow the footsteps of the world's most legendary beauty queen? We know rose water is great for skin and hair but why it's good and how exactly must you use it, is key! Here are 10 amazing skincare and hair care uses of rose water you'll thank us for.
Rose water is prepared by steeping rose petals in water. Sometimes, a by-product of the process of extracting rose oil is also used in the place of rose water. There are a number of rose water benefits which make it a popular ingredient in cuisines and religious rituals. Rose water for skin and rose water for face are two of rose water's most well-known uses. (Also Read: How to Make Rose Water from Rose Petals: An Ingenious Way to Prepare the Magic Potion)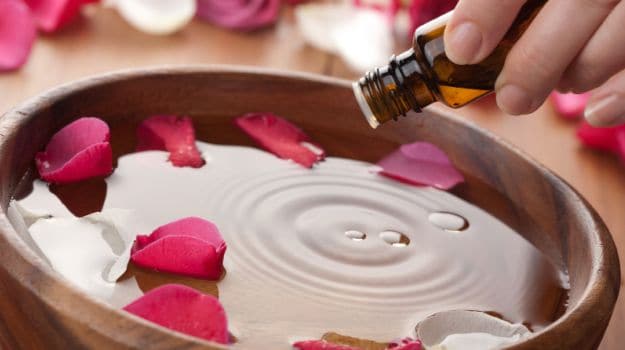 Benefits of rose water: Rose water is undoubtedly beauty's magic potion
10 Rosewater Benefits For Skin & Hair

1. Rosewater helps maintain the skin's pH balance, and also controls excess oil.
2. "Rose water has
anti-inflammatory
properties that
can help reduce the redness of irritated skin, get rid of acne, dermatitis and eczema.
It is a great cleanser and
aids in removing oil and dirt
accumulated in clogged
pores
", says Dr. Deepali Bhardwaj, Skincare Expert.3. Rose water
helps hydrate, revitalise and moisturise the skin
giving it with that refreshed look.4. Due to its
antibacterial
properties, rose water also
aids in healing scars, cuts and wounds
.5. The
antioxidant
properties of rose water
help to strengthen skin cells and regenerate skin tissues
.6. Due to the astringent like properties it possesses,
rose water helps clean pores and tone the skin
. Applying rose water after steaming
tightens capillaries, reduces redness and blotchiness
.7. The aroma of roses is said to be a powerful mood enhancer. It
rids you of feelings of anxiety and promotes emotional well-being
, thereby making you feel more relaxed.8. The nourishing and moisturising properties of rose water enhance the quality of hair. It is known to
treat mild scalp inflammations and get rid of dandruff
. Rosewater works wonders as a
natural conditioner and revitalises hair growth
.9. The scent of rose water on your pillow also
helps you sleep better
after a long day, making you wake up refreshed.10. It also helps aging skin,
keeping fine lines and wrinkles at bay
.(Also Read:
Here's How Rose Water Can Do Wonders For Your Eyes
)
Benefits of rose water: The best and easiest way to use rose water maybe to apply it at night
Not many know that rose water can be used in a myriad fun and refreshing ways. Here's a list you should keep handy!
How To Use Rose Water | 10 Uses of Rose Water

The best and easiest way to use rose water maybe to apply it at night, to clear all impurities the face has collected through the day; but we've listed other surprising uses which are so quick and easy, you'll be shocked.1. Spritz Away! "A great way to use rosewater is by spritzing it on your face. Rosewater can also be sprayed over makeup to work as a makeup setting product, the mist will leave your face radiant", suggests Delhi-based makeup artist, Mrignaina Kumar. Fill an empty spray bottle with rosewater and spritz once you're done with your morning beauty routine to keep your face fresh and hydrated.2. Dry and Frizzy Hair? You've come to the right place. Mix equal parts rosewater and glycerin, apply on the scalp with the help of cotton pads and massage for 10-15 minutes. Let it stay for another 30 minutes and wash off with shampoo. (Also Read: Rose Tea: 5 Weight Loss Benefits And Easy Ways To Make It At Home!)


Benefits of rose water: Post shampooing, use a cup of rose water as a final rinse
3. Facial Cleanser: Rose water can be used a cleanser on all skin types. After washing your face with a mild face wash, all you have to do is add a few drops of glycerine to 1 tbsp rose water and apply it on your face.4. No More Tired Eyes: If you have tired, inflamed eyes - soak a cotton pad in chilled rose water and apply. It helps reduce puffiness under the eyes and get rid of redness.5. Hair Conditioner: Post shampooing, use a cup of rose water as a final rinse. It helps condition the hair deeply, adding a healthy shine you'll just love.6. Facial Toner: Wet a soft cotton ball with chilled rose water and dab it on cleansed skin. Its mild astringent properties help tighten the pores and gently tone the skin.7. Goodbye Acne: "Mix 1 tbsp of lemon juice with 1 tbsp rose water, apply it on acneic skin and let it stay for 30 minutes. Wash with fresh water and reap the benefits", says Dr. Rahul Nagar, Dermatologist, Max Hospitals. You can also apply a speedy facepack of fuller's earth (multani mitti) and mix it with rose water. Once it dries, wash it off. This helps cleanse pores, control excess oil and prevent acne.

Benefits of rose water: rose water helps de-stress
8. Makeup Remover: Tried and tested, this is the best makeup remover ever. Add a few drops of coconut oil to rosewater on a cotton pad and cleanse your face. The mixture works wonders to wipe off makeup and nourish your skin deeply at the same time. Note: Rub gently to avoid being harsh to your skin.9. Fair and Lovely: Add 2 tbsp gram flour and mix it with rose water plus lemon juice to make a smooth paste. Apply for 15 minutes to get rid of tanning.10. Pamper Yourself: Mix rose water with almond oil or regular cream and moisturise your body. "For some extra indulgence, draw yourself a rose-scented bath. It's considered the best antidote to stress", recommends Dr. Deepali Bhardwaj, Skincare Expert.
Do make sure you practice moderation while applying rose water, excess use of rose water could also trigger a reaction. If you feel allergic towards it, it is possible that the brand is not suitable or your skin is very sensitive.
(This content including advice provides generic information only. It is in no way a substitute for qualified medical opinion. Always consult a specialist or your own doctor for more information. NDTV does not claim responsibility for this information.)