"Nature alone is antique and the oldest art a mushroom." - Thomas Carlyle





Mushrooms can easily be regarded as nature's hidden treasure. It was once considered an exotic ingredient but is now rated as a new superfood. What's so super about them? Mushrooms are one of the few natural sources of Vitamin D. They contain no fat and are a valuable source of fiber. They are also packed with selenium which you don't find in most fruits and vegetables. According to a latest study, lentinan found in shiitake mushrooms may increase the survival rate in cancer patients.

Slowly but surely mushrooms are gaining prominence on an Indian platter. All the goodness along with its unique earthy texture is reason enough for you to let them adorn your dinner table more often.

The versatility of mushrooms can work its magic in almost any dish. Not only are there a number of varieties to cook with, but the culinary possibilities are almost inexhaustible. You can choose to grill, bake, stir-fry, sauté, stuff, roast or experiment with something new. With more than 90 percent water content, the best way to cook mushrooms is to allow them to release all their moisture. Pick a pan with a wide surface area because you should be able to spread them out which will make the moisture evaporate quickly.

Another thing that you must keep in mind is - when to add the salt? Salt is one of the most important ingredients that makes a dish come alive. In case of mushrooms, it is recommended that you salt at the end. If you add it in the beginning, it will draw out all the juices quickly and leave you with limp and chewy mushrooms. (More on mushrooms)

Finally, you'll know you're done when the mushrooms start turning golden on the outside with juicy interiors. While making curries, its nice to saute the mushrooms before adding them to the gravy. This helps in bringing out its flavours to the fullest.

With our ten best Indian mushroom recipes, we have something for everyone. From aromatic curries to masaledar stir-fries, the burst of desi spices will leave you thrilled.

1. Kombu Barthad (Mushroom Chilly Fry)
Recipe by Chef Bala Subramanian

Kombu Barthad is a surprisingly simple stir-fry with mushrooms chillies, coconut vinegar and curry leaves. It is a Coorg dish and is enjoyed in large parts of Karnataka.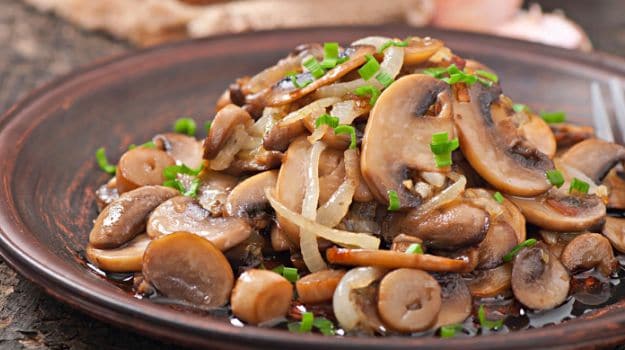 Kombu Barthad (Mushroom Chilly Fry)

2. Shahi Mushroom
Recipe by Chef Aditya Bal

As princely as it sounds, this recipe offers a burst of deep, rich flavours. Button mushrooms bathed in a hearty gravy with a freshly made shahi garam masala.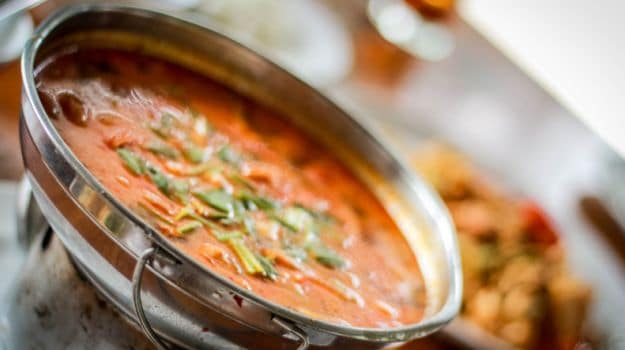 Shahi Mushroom

3. Kalan Milagu
Recipe by Chef Roopa Gulati

A simple mushroom stir-fry brightened with black pepper. It is a popular South Indian side that is best served with hot steamed rice.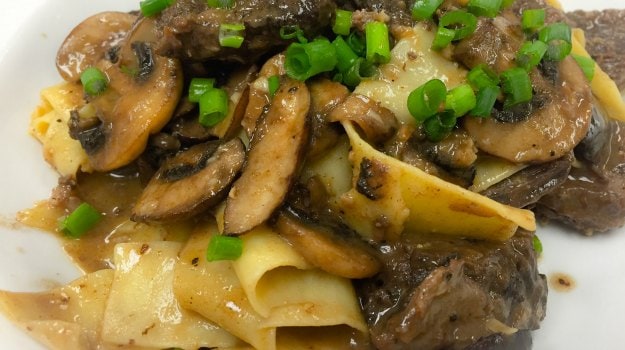 Kalan Milagu

4. Mushroom Chettinad
Recipe by Chef Aditya Bal

If you are a spice lover, this one is not to be missed. Chettinad from Tamil Nadu is one of the spiciest cuisines in India. Mushrooms tossed with coconut, tamarind, chillies and pepper.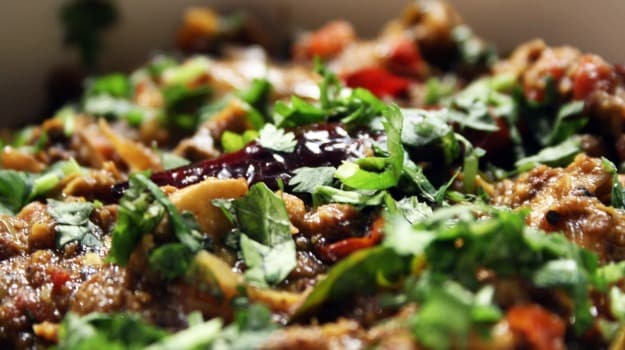 Mushroom Chettinad

5. Mushroom Kofta in Tomato Gravy
Recipe by Chef Marut Sikka

This one's a complete crowd-pleaser with a combination of distinctive flavours. Spinach and cottage cheese batter stuffed with mushrooms and fried golden, dip them in a tangy tomato gravy and serve hot. (Mushroom Kofta in Tomato Gravy Recipe Video)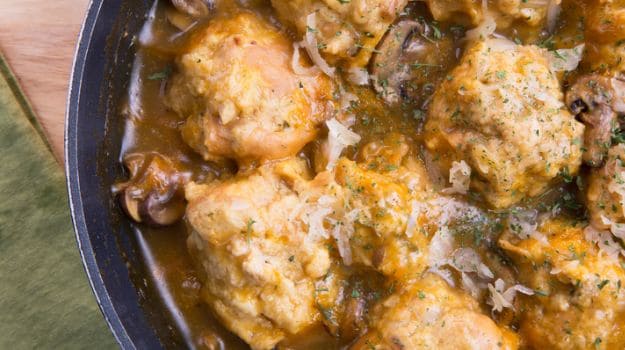 Mushroom Kofta in Tomato Gravy

6. Potato and Mushroom Kebabs
Recipe by Chef Mehmood Akhtar, Foodistan

This dish highlights the versatility of mushrooms. An entertaining snack made with potatoes, mushrooms, cottage cheese and spices, all battered and shallow fried. Serve with a homemade mango pickle sauce to lend an extra kick.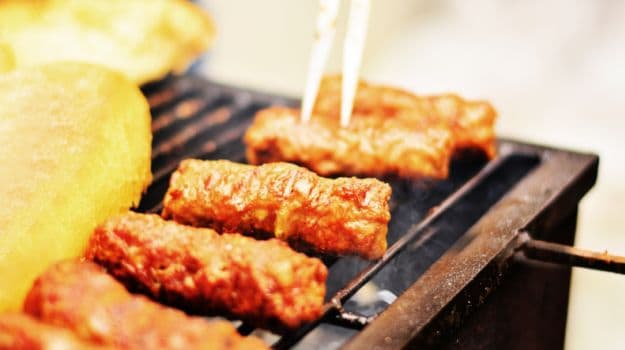 Potato in Mushroom Kebabs

7. Stuffed Dhaniya & Pepper Mushrooms
Recipe by Chef Sunil Chauhan, Foodistan

A quick snack for those last minute dinner parties. Mushrooms caps stuffed with an aromatic filling of coriander leaves, pepper, garlic and cheese. The fresh tomato chutney brings the dish alive.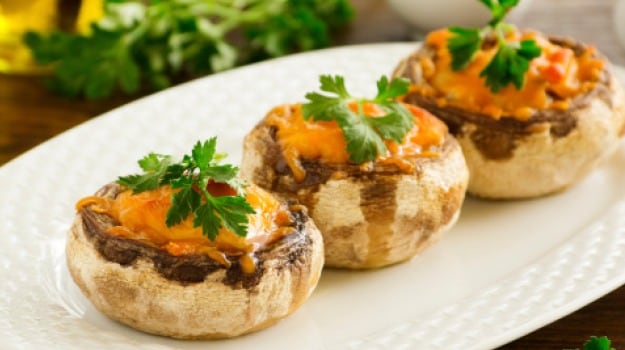 Stuffed Dhaniya & Pepper Mushrooms

8. Mushroom Utthapam
Chef Kuldeep Panchal

This Southern favourite gets a new twist with the addition of mushrooms, spinach and corn.(Mushroom Utthapam Recipe Video)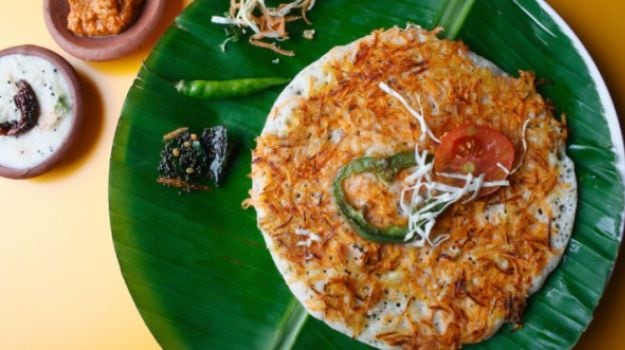 Mushroom Utthapam

9. Matar Mushroom Sukhe
Recipe by Chef Niru Gupta

Mushrooms cooked with peas and mild spices. A simple recipes that releases their charm.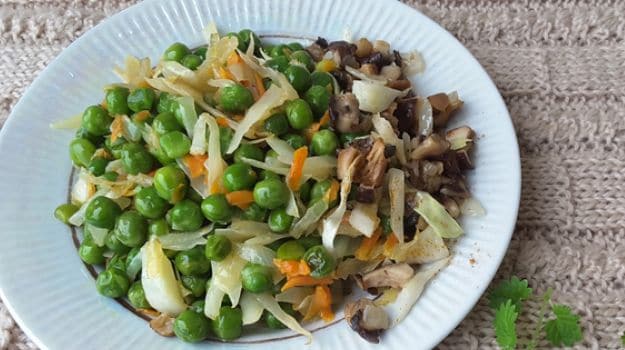 Matar Mushroom Sukhe

10. Mushroom and Potato Xacuti
Recipe by Chef Aditya Bal

A Goan favourite with classic flavours of coconut oil, tamarind, kokum and Goan vinegar. (More Mushroom Recipes)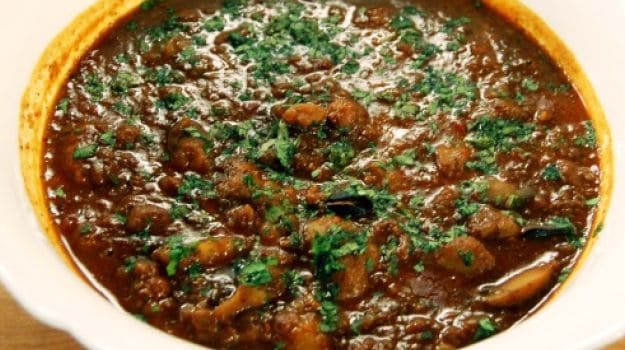 Mushroom and Potato Xacuti
Mushrooms make for a lovely vegetarian meal as a whole and can be made in so many ways. Try these recipes to balance the health and taste quotient well on your lunch or dinner table.