Ever heard of a food item that promises health and exhibits an exciting play of flavour and colour on our plates? We speak of a humble vegetable that boasts of its unparalleled taste, irresistible ruby-red colour and is loaded with nutrients. Beetroot is much more than just a vegetable, it easily fits into your culinary adventures and when added to preparations, it brings alive even the most mundane affairs.
Bundled with health benefits
The radiant beetroot has been identified as a superfood due to its immense nutritional value. According to health experts, regular consumption of beetroot can benefit our health in a multiple ways. It's low in calories (45 calories per 100 gm.) and has almost negligible fat content. Not only this, it helps reduce blood pressure, aids in the production of red blood cells and is a natural blood purifier. Beetroot is an excellent source of iron and is great for maintaining healthy hemoglobin levels. It has anti-ageing properties and assists in maintaining glowing skin and lustrous hair. It is also believed to inhibit cancer cell mutation, prevent DNA damage, boost metabolism and strengthen the digestive system.
How to Buy
While buying beetroot, go for small and firm ones with a dark ruby blush. The vegetable should have an unblemished surface with bright hued leaves and an intact taproot. Avoid hairy taproots as they are indicative of the veggie being old and tough. To ensure freshness, buy the ones that are attached to their leaf stems. Since its leaves are also edible, they can be used in a variety of recipes.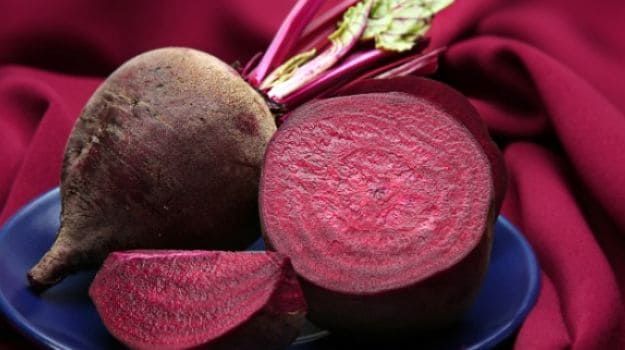 How to store
Store it in a cool and dry place, ideally refrigerated for 7-10 days. For an enduring storage, the leaves need to be cut 2 inches from the root.
Tip: To ensure that the nutrients and colour of the beetroot remain intact, do not remove its skin before boiling it. Once cooked, rub off the skin under cold running water.
So, what are you waiting for? You now have enough reasons to be munching on this ruby delight. Chomp and toss it in garden fresh salads or make a wholesome, filling beetroot soup; from curries, sandwiches, to dips, chutneys and even desserts - beetroot is fairly versatile, you may cook it as you please.
And Just in case you run out of ideas, we have an exciting list of recipes that you can easily pull off.
1. Beetroot Kebab
Recipe by Chef Seema Chandra
Here is a healthy spin to your regular kebabs. Mix together beetroot and tofu to arrive at these sensational patties.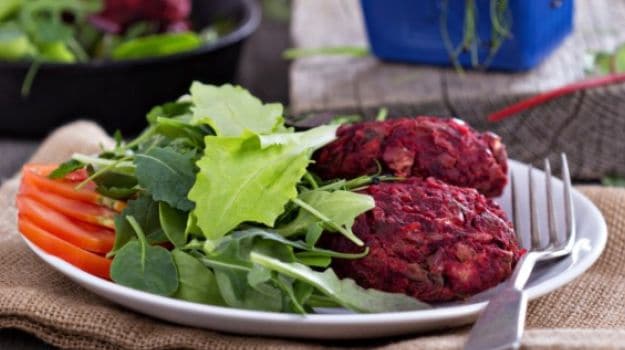 2. Roast Beet, Feta and Cucumber Salad
Recipe by Chef Prem Kumar Pogakula, The Imperial
Enjoy a delightful salad of oven roasted beetroots combined with the crunchiness of snow peas, carrots and cucumbers. An addition of feta cheese and a zingy salad dressing seals the deal.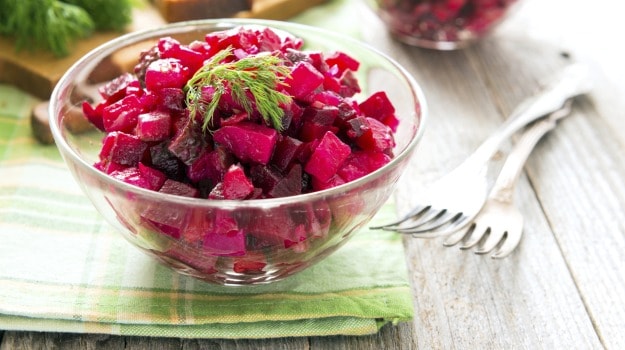 3. Open Beetroot Sandwich
Recipe by Chef Roopa Gulati
An ensemble of beetroot and mushrooms to serve you with an interestingly delicious sandwich.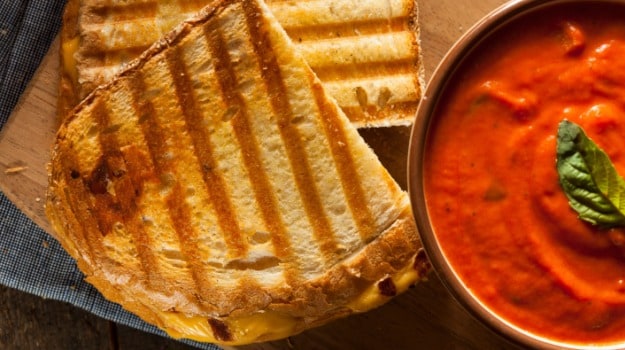 4. Beetroot Pachadi
Recipe by Chef Aditya Bal
Chef Aditya Bal whips up a South Indian style accompaniment with a generous helping of lovely beetroots, coconut oil herbs and aromatic spices.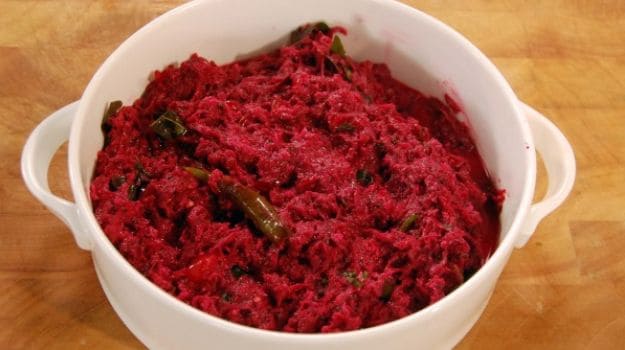 5. Beetroot Milkshake
Recipe by Chef Devraj Halder, Executive Chef, Uppals Orchid
An exciting blend of beetroot, cinnamon and vanilla ice cream. This is a healthy deception to strawberry shake.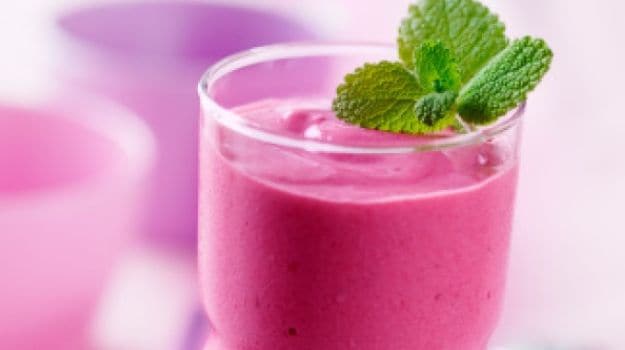 6. Beetroot and Berry Shots
Recipe by Chef Ritu Dalmia
Get crazy, get experimental! Cocktail shots prepared from beetroots and berries. The addition of salt, pepper and vinegar gives it an extra punch.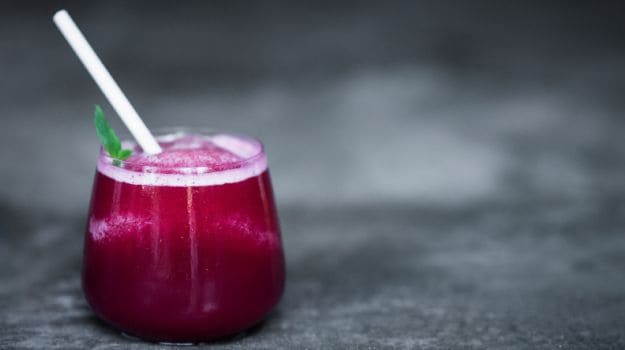 7. Beetroot and Coconut Soup
Recipe by Chef Vicky Ratnani
A heart-warming bowl of beetroot-coconut soup is apt to get you curling cozy in the nippy weather.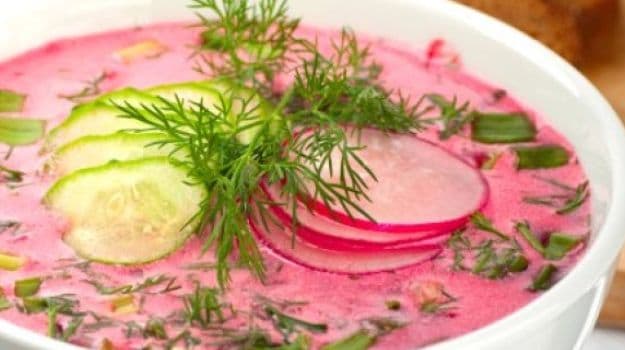 8. Beetroot Crusted Rawas
Recipe by Chef Vicky Ratnani
A beautiful relish of fish fillet stuffed with beetroot, jalapenos paste and olives. Topped with a starfish garnish, this is an exotic sea food delight.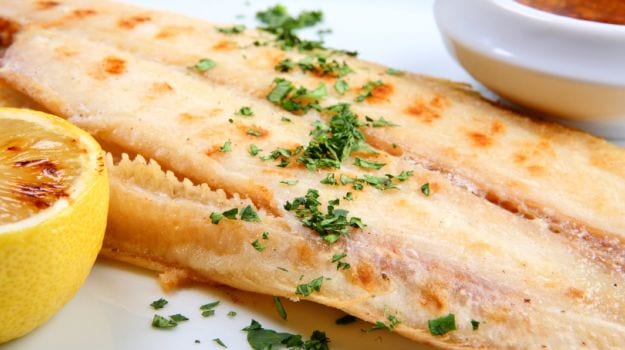 9. Beetroot Kurma
Recipe by Srividhya Kumar (User recipe)
A quick accompaniment prepared with beetroot, coconut and mild spices. The rich flavours of the recipe will bring alive your mundane, everyday munchies.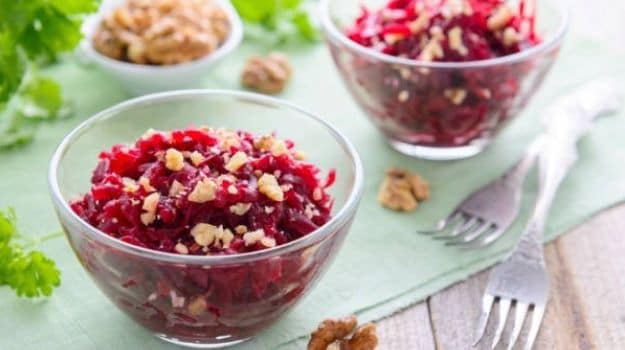 10. Beet and Arbi Falafal with Housemade Pickles
Recipe by Chef Vicky Ratnani
Presenting, the Middle Eastern classic with a lovely twist to it. Chef Vicky Ratnani prepares a brilliant combination of falafel - made of beetroot and colocasia - with homemade pickles.

Comments