Coriander Leaves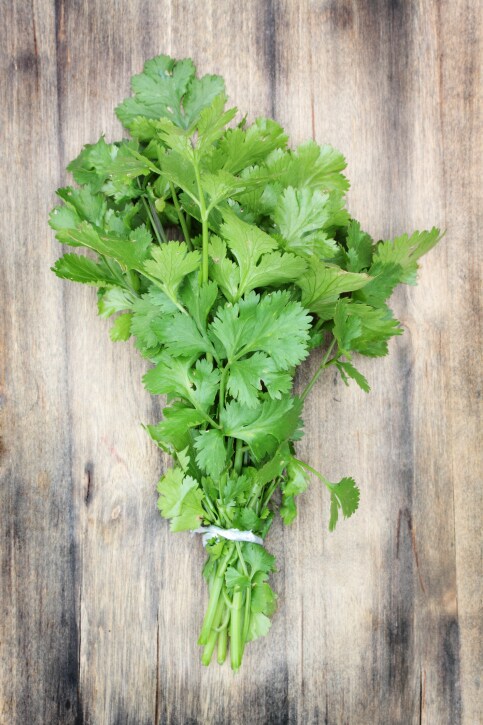 Hindi Name: Hara Dhaniya

Aromatic green leaves that are largely used to flavour and garnish food. Belonging to the same family of Cilantro, the leaves, dried seeds and powder are widely used in the Indian cuisine. There has always been a debate if coriander is more an herb or spice.

Coriander is one of the world's oldest spices tracing back to 5000 B.C. Almost available all throughout the year, coriander leaves stay fresh and usable not more than a week. Apart from the leaves and the seeds, the roots of the coriander plant are also edible. The roots however have a deeper and much more intense flavour compared to the leaves. They are commonly used in a variety of Asian and Thai dishes.

Coriander leaves have a strong odour. They also have a bit of citrus overtone differing from the aroma of the plant's seeds. When added to heated dishes, the leaves lose their flavour, and are often used raw or garnished just before serving.

Being a good source of antioxidants, coriander, like all other spices, prevents the spoilage of cooked food. Coriander is widely regarded as a traditional medical remedy for type 2 diabetes.

Nutritional value

1. Coriander contains no cholesterol. However it is a rich source of antioxidants, vitamins, essential oils and dietary fiber.
2. Coriander is a rich herbal source of Vitamin K.

Did you know?

In ancient Egypt, coriander is believed to be a food used in the afterlife.
Coriander has been used since biblical times and is a part of parsley family.
It can be easily grown from its seeds and it should be harvested in summer as it ripens.

Recipes using Coriander Leaves