Sev(सेव)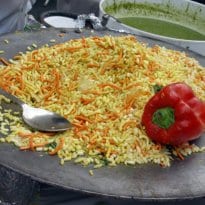 Hindi Name: सेव

It is a deep fried snack made from chickpea flour. Gram flour/chickpea flour noodles are shaped through a machine which has a disk with fine holes and the flour is passed through and then fried to get Sev. The flour is mixed with salt, turmeric, pepper, oil and lemon juice to give the tangy taste. It can either be prepared at home or bought in packets from supermarkets or local stores. Be sure to buy fresh and it loses its crunch quotient with time. Keep in airtight containers away from moisture.

Usage

It is very popular as a snack food by itself or as a topping on sev-puri and bhel puri (Indian snack foods). It can also be mixed with onions, tomatoes and chilies to make chaat (Indian snack). Farsan is also made by spicing Sev using garlic, mint, chillies, rice flakes and potato chips. It can be sprinkled over a variety of dishes, mixed with yogurt to add an extra crunch.

Nutritional Value

Sev is a high fat and calorie product, best used in moderation.