Star Anise(चक्र फूल)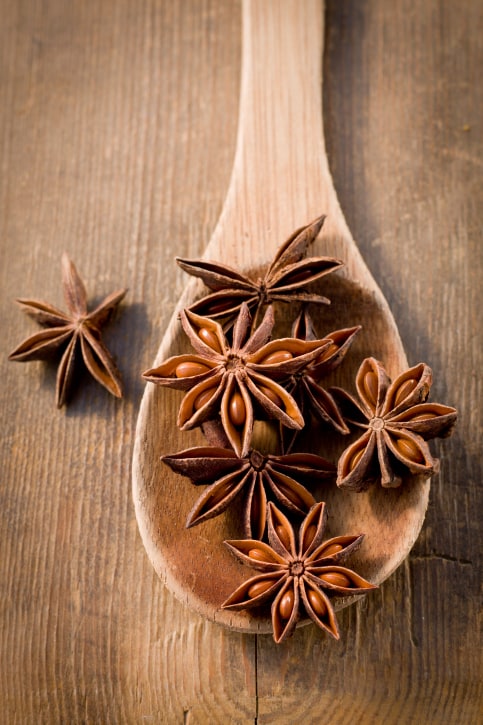 Hindi Name: चक्र फूल

As the name suggests, star anise is a fruit in the shape of a star which is native to South China. It is brown in color and has an aroma similar to that of a fennel seed. It has a strong licorice taste, more intense than regular anise. The fruits are picked up just before the harvest. Star anise contains an essential oil that is responsible for its flavor. Rust colored and tough skinned, they have widely used aromatic properties. If kept away from sunlight and stored in an airtight container, it can last up to a year.

Usage

It is used in Oriental cooking. In Chinese medicine star anise is known to be a digestive aid. It is usually added whole to the dish and discarded before serving. Both its seeds and husk is used as a spice for cooking. This fruit goes well with chicken, seafood, pork and a variety of vegetables. Star anise is either used as a whole or in grounded form. Star anise seeds are popularly used as flavoring agents for tea, soups and marinades.

Star anise is known to enhance the meat flavor and is an essential spice while preparing biryani and other masala items in the Indian subcontinent. It is used by confectioners instead of sweeteners. It blends well with the ingredients and imparts a sweetened flavor. It is used whole or as a powdered spice. It is also the dominant flavor in the five spice Chinese blend. It is used to lend a unique aroma to savory dishes. Chinese cooking favors star anise and it is found in many soups and stocks.

Nutritional value

1. Star anise seed has many medicinal values. Traditional Chinese medical practitioners regarded star anise as a digestive aid.
2. It has been used since ancient times to relieve abdominal pain, cramps, indigestion, gas, bloating and nausea.
3. Star anise contains diantheole and photoantheole which help to improve lactation in nursing mothers.
4. The oil extracted from Star anise has been popularly used to cure acne and other skin related problems.

Did you know?

Star Anise is one of the essential ingredients in Chinese five-spice powder.
Star anise oil is used to add fragrance in soaps and other cosmetic products.

Caution

The Japanese star anise is similar to the star anise but must be differentiated as the seeds and husk from this plant are not edible for human consumption. It is highly toxic in nature and is burned as incense in Japan.

Star anise oil must be consumed sparingly, excessive intake which may be as little as 1 to 5ml can cause severe nausea and vomiting.