Story Progress
Back to home
Beetroot Puri Recipe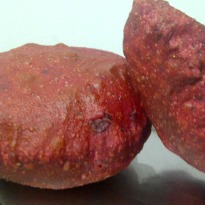 How to make Beetroot Puri
About Beetroot Puri Recipe: Give the good old puri a twist. Red and nutritious, this beetroot puri brings color to your meal. Serve with some curried potatoes and a cool raita.

Ingredients of Beetroot Puri
1 beetroot (peeled and pureed), boiled
2 cups atta (whole wheat flour)
1 1/2 tbsp oil / ghee
2 tsp ajwain
to taste salt
Oil (for deep frying)
1.
Mix together atta, salt, ajwain, 1 Tbsp oil and pureed beetroot. Knead the dough with water till a little stiff. Rub the kneaded dough with some oil and keep aside.
2.
In a kadhai / wok add oil to deep fry puris.
3.
Now take small portions of the dough and roll it out in a flat round. (Smaller and thicker than a roti.)
4.
Once the oil is hot immerse this into the oil and fry till it puffs.