If you have grown up eating Chinese food in India you'd know how amazing these delicacies are; and no we aren't talking about the authentic Chinese food. Here, we are referring to the Indianised version of the Chinese cuisine. The addition of extravagant flavours in schezwan rice, noodles, vegetable and paneer make the Indo-Chinese delicacies special. Interestingly, no Chinese person would be able to identify these dishes as their own, most of which appear to be made from a mix of soya sauce, chili sauce, tomato ketchup and schezwan sauce. These dishes developed right here in our country only to satisfy our palates that love hot and spicy food. Authentic or not, the food has definitely grasped our taste buds and refuses to let go. You can now spot tiny Chinese vans, cafes and even thelas selling off those amazing hakka noodles and manchurians; and we must say; they are to die for. There are numerous vegetarian Indo-Chinese recipes that have become quite the superstars of the country.

We suggest 15 best vegetarian Chinese recipes that you'd love to try making at home. You can totally thank us later.
These amazingly delicious vegetarian Chinese balls loaded with veggies will perfectly cater to all your snack cravings and leave you wanting for more. This quick and easy dish made with cabbage, carrot, spring onion, capsicum, ginger, garlic, corn flour, maida, et al can be enjoyed with fried rice and noodles.

(Also Read: 5 Things You Should Never Do While Eating Chinese Food)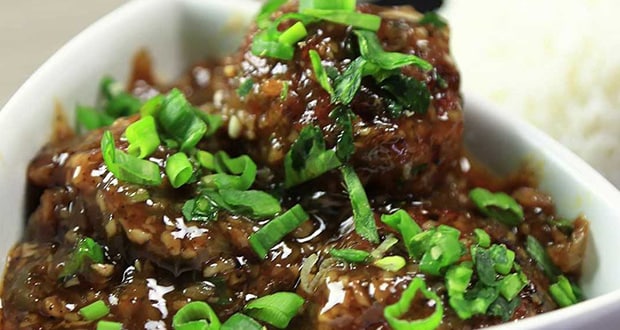 Vegetarian Chinese Recipes: Veg Manchurian.
One of the easiest veg Chinese dishes is fried rice. Load the rice with lots of veggies like carrot, capsicum, cabbage, spring onion, et al and make it super tasty. Go on, it is super quick to make too.
Honey chili potato can be added to any party food menu as veg Chinese starter and is a sure-shot paradise for potato lovers. Made with fried potatoes, honey and chili sauce, this snack is crunchy, flavourful and irresistible.


(Also Read: Indian Chinese Food: How Hakka Noodles and Manchurian Started a Cult Cuisine)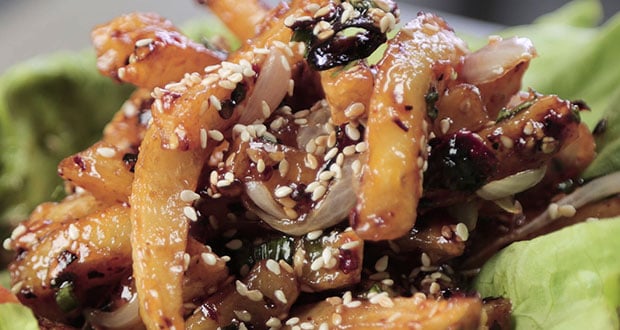 Vegetarian Chinese Recipes: Honey Chili Potato. Image credits: iStock
Noodles tossed with sautéed vegetables and seasoned to perfection. This veg Chinese dish makes for a dish that can be paired with vegetable manchurian. Also, this recipe comes with a twist, so do try.
Infused with a range of flavours, crisp vegetarian spring rolls are stuffed with cheese, bell peppers and sundried tomatoes. It is served with a basil dip made with olives, parmesan, mayonnaise and a hint of garlic. Mouth-watering much?



(Also Read: 10 Most Popular Chinese Restaurants in Bangalore)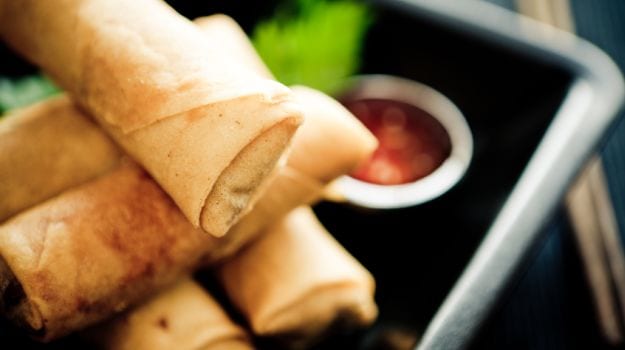 Vegetarian Chinese Recipes: Spring Rolls. Image credits: iStock
An easy vegetarian Chinese recipe laden with soya sauce that helps flavour it up. It makes for an interesting mix of lemon grass, shallots, red onion, chili paste, et al. This one's surely a perfect dish for vegans.
If you are a mushroom lover, then this vegetarian Chinese recipe is for you. Shiitake mushrooms, green chilies and water chestnuts stir fried with celery and topped with seasoning is exactly what you want for a perfect snack.



(Also Read: 10 Best Vegetarian Dinner Recipes)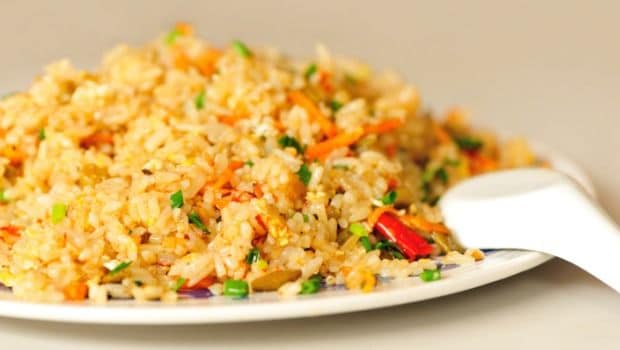 Vegetarian Chinese Recipes: Fried Rice. Image credits: iStock
Healthy vegetables tossed in with chestnuts, mushrooms, black bean and garlic paste; this vegetarian Chinese recipe is exactly what food paradise is made of.
An authentic Chinese fare without an ever-so delightful soup? Cant happen. Wont happen. Savour the hot and spicy flavours of this Chinese vegetable manchow soup that wouldn't take much of your time.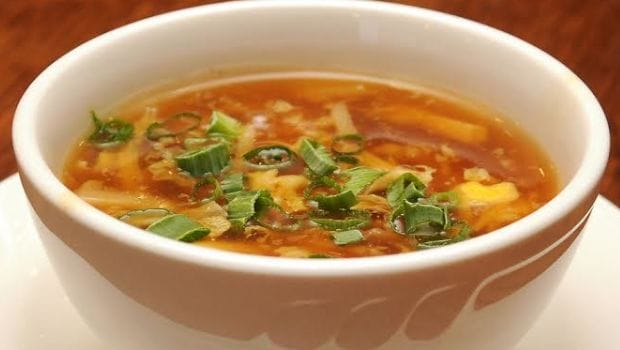 Vegetarian Chinese Recipes: Veg Manchow Soup. Image credits: iStock
If you thought this one's a tough recipe, then you are wrong. Saucy vegetables like carrots, cabbage and capsicum topped with crisp fried noodles; this one's going to leave you asking for more. An all time classic Chinese dish that never fails to delight, you can serve this chopsuey for brunch, lunch or a casual party with your friends.
Love Hakka noodles? Now make the best of Chinese cuisine right in the comforts of your kitchen. You can have it for a light brunch or a party. The recipe is a hit with children too! Toss up your favourite veggies like capsicum, carrot, spring onions and cabbage in the eclectic mix of sauces and you have a winner!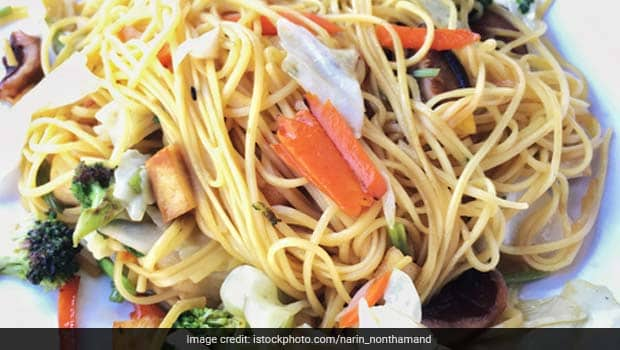 Vegetarian Chinese recipe: You can have this Chinese delight for a light brunch or a party.
There's no such thing as too much of paneer we believe. One of the most loved Indo-Chinese starter uses paneer in an avatar that is sure to impress. It is tangy, chilly and all things yummy. This restaurant style recipe of chilli paneer is makes for a great addition to your dinner party with friends and family.


Pamper your taste buds with this phenomenal iceberg dumpling recipe, packing the fresh and juicy goodness of asparagus, crunchy water chestnut and corn kernels these dumplings are sure to leave an everlasting impact.
If you are a fan of baby corn, then you must try this chili baby corn recipe. Ready in just thirty minutes, this chili baby corn recipe will instantly become your favourite.
A delicious Chinese dish with the goodness of mixed vegetables, eggplant, cottage cheese and a host of spices that would instantly spruce up the dish. It makes for a perfect side dish for a dinner party.
So what are you waiting for? Put your chef's hat and make these amazing vegetarian Chinese dishes and impress your family and guests and even your tummy!