Story Progress
Back to home
Bread with Tomatoes and Olives Recipe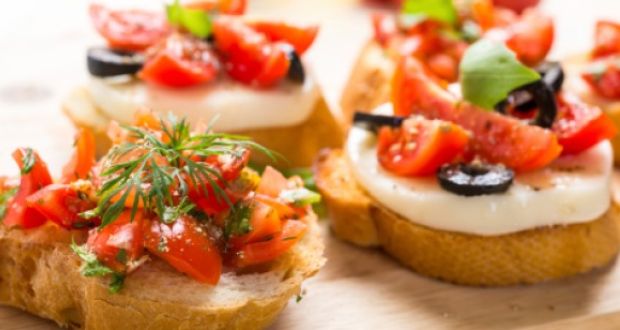 How to make Bread with Tomatoes and Olives
About Bread with Tomatoes and Olives Recipe: Toasted bead topped with a mildly seasoned tomato sauce and stuffed olives for a light snack.

Ingredients of Bread with Tomatoes and Olives
1/2 French bread loaf (cut diagonally)
2 Tomatoes (grated), blanched
1 tbsp Extra virgin olive oil + To drizzle
A pinch of Sea salt
A pinch of Pepper
Parsley, chopped
7-8 Stuffed green olives, sliced
1.
Toast the bread diagonals at 180 degree C for 6.5 minutes.
2.
In a bowl mix together the grated tomatoes, olive oil, salt, pepper and parsley.
3.
Spread this sauce on the bread. Top with olives. Bake for 2-3 minutes.
4.
Drizzle with some extra virgin olive oil before serving.