Story Progress
Back to home
Eggless Ravioli Recipe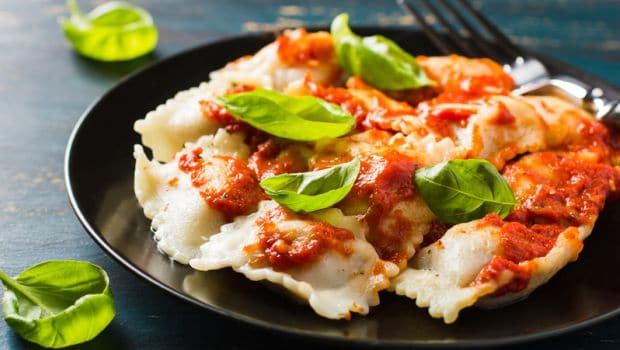 How to make Eggless Ravioli
Pasta filled with a delicious mixture of pumpkin, potatoes, cheese and seasoning. Cooked in a zingy tomato sauce.
Total Cook Time

1 hr 20 mins

Ingredients of Eggless Ravioli
1 cup of white flour
1 cup of semolina/suji
225 ml luke warm water
10 ml olive oil
A pinch of Salt
For the filling:
250 gm pumpkin, roasted with salt pepper & olive oil
2 medium sized potatoes, baked/boiled
1/2 tsp minced ginger
1 Tbsp white bread crumbs
1 Tbsp ricotta cheese
1 Tbsp mascarpone cheese
1 Tbsp grated parmesan cheese
A few thyme leaves
1 tsp chopped chives
Salt and pepper to taste
For the sauce:
3 tomatoes
6-8 basil leaves
2-3 Tbsp olive oil
2 cloves of garlic
2-3 Tbsp tomato puree
Salt and pepper to season
1.
Combine the flour, semolina, salt, olive oil and water together to make a semi stiff dough.
2.
Cover and let it rest for 30-40 minutes.
Prepare the filling:
1.
Mash the pumpkin and potatoes together.
2.
Season it with salt, pepper, grated ginger, chopped chives, breadcrumbs, ricotta cheese, mascarpone cheese and Parmesan cheese.
3.
Mix all the ingredients together nicely and rest it in the fridge for a few minutes.
4.
Knead the dough on a floured surface and cut in half.
5.
Use only half of the dough.
6.
Roll out the dough or pass it through a pasta roller till it is about 2 cm thin.
7.
Use a ravioli cutter or any other round cutter to make the outer shell.
8.
Brush a little milk on the ravioli shells.
9.
Put the filling in a piping bag or use a spoon to put the filling in the pasta.
10.
Use your fingers to fold the pasta into a crescent shape.
11.
Make about six crescents and cool in the refrigerator.
Prepare the tomato sauce:
1.
In a mixer add chopped tomatoes, bashed garlic, basil leaves, red chilli flakes, salt and olive oil.
2.
Blend into a nice thick paste.
3.
Pour the sauce into a hot pan with olive oil and cook nicely.
4.
Add the ravioli in a pot of boiling salted water and let the ravioli cook for a few minutes.
5.
Once cooked add it to the sauce.
6.
Serve on a nice plate and garnish with Parmesan cheese, cracked black pepper and basil leaves.