Story Progress
Back to home
Lamb Burger with Radish Slaw Recipe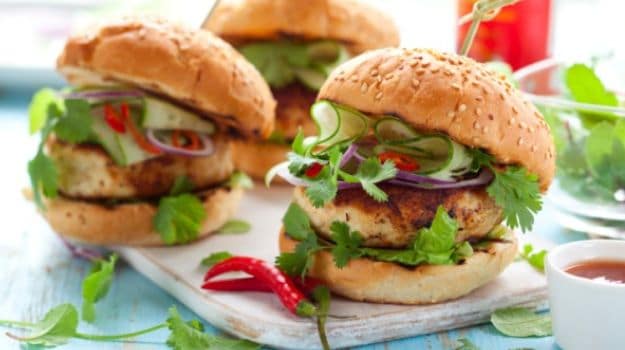 How to make Lamb Burger with Radish Slaw
Crisp and juicy lamb pattie sliced between burger buns. A classic burger for all the lamb lovers! Served with a radish slaw.

Ingredients of Lamb Burger with Radish Slaw
For the burger:
500 gms lamb leg (minced)
2 tsp butter
1 onion (chopped)
3 cloves garlic (chopped)
1/3 cup parsley (chopped)
1 tsp rosemary (chopped)
1 egg yolk
to taste Salt
to taste Black pepper
1 tsp thyme
1/3 cup parmesan cheese
For the radish slaw:
1 mediun white radish (julienne) 1 medium
1 tsp parsley (chopped) 1 tsp
1/2 cup green apple (julienne) 1/2 cup
1 stalk spring onion 1 stalk
1/2 lemon juice 1/2 lemon
A pinch of sugar (a pinch)
Olive oil and salt to taste
to taste Pepper
For green chilli aioli:
1 green chilli
1 cup coriander
1/2 cup mint leaves
1 cup mayonnaise
Salt to taste
Sugar to taste
1/3 cup coconut milk
1 tsp balsamic vinegar
For lamb burger:
1.
In a bowl take lamb mince, break in an egg, grate some parmesan cheese, rosemary and thyme.
2.
In a processor blend some onions and garlic.
3.
Saute the onions and garlic in some butter on a pan.
4.
Add all the contents to lamb mince and mix well. Keep in the fridge.
For the radish slaw:
1.
In a stainless steel bowl, mix all and toss well.
Green chilli aioli:
1.
Blend all the ingredients.