Story Progress
Back to home
Melon and Papaya Salad Recipe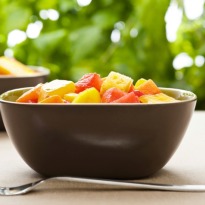 A refreshing salad of melons, papaya, onions and tomatoes drizzled with a lemony dressing.

Ingredients of Melon and Papaya Salad
1 hot green chilli-halved lengthwise and de-seeded
100 ml fresh lime juice
250 ml water
2 ripe papayas
1 large melon
For the tomato & onion salad:
2 blanched, sliced tomatoes
1 onion, blanched and cut into rings
2 Tbsp olive/salad oil
1 Tbsp lemon juice
1 tsp mustard paste
Salt and pepper to taste
1.
Combine the chilli, lemon juice, sugar and water in a saucepan.
2.
Bring to a boil, cool and strain.
3.
Skin, de-seed and cut the papayas and melon into cube.
4.
Combine the fruit with the cooled syrup, season and chill.
5.
Arrange the blanched onions and tomatoes on a plate.
6.
Whisk all the dressing ingredients, season and spoon over the salad. Chill.
7.
Serve the papaya and melon salad with the onion and tomato side dish.