While most restaurants are experimenting with innovative themes to attract customers, some are working to offer food for thought and make an impact. These seven cafes across the country are setting a wonderful example by giving the disabled, underprivileged and abuse victims an opportunity to rise and shine. They not only serve great food but also have meaningful stories to share. So, the next time, when you're out of ideas of where to hang out, pick one of these and there's a possibility that may walk out with a life-changing experience.
1.Sheroes Hangout cafe, Agra
This café in Agra empowers acid attack victims. Located a few blocks away from the Taj Mahal, Sheroes is run entirely by female acid attack survivors, and is being supported by 'Stop Acid Attacks', a non-profit organization, which launched the venture in 2014. The cafe aims to foster confidence and empower women who have survived these life-threatening attacks and give them a new lease of hope. Along with serving an impressive spread of South-Indian, North-Indian and Chinese starters, the café also sells artwork made by its employees and has a gathering space for cultural performances and talks. The walls of the café are lined with pictures of the survivors along with their handprints.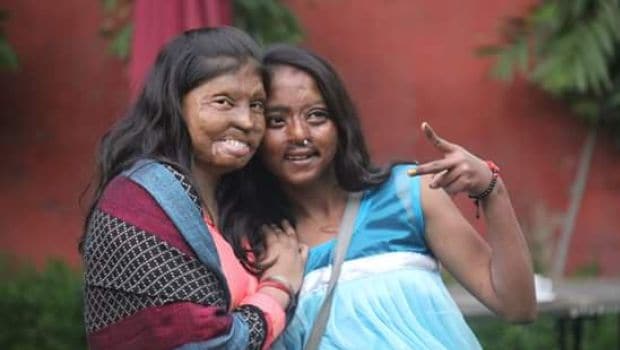 Where: Fatehabad Road, Opposite The Gateway Hotel, Taj View Chowraha, Tajganj, Agra, Uttar Pradesh
2.Cafe Toto, Kolkata
The exquisite French Café, not only serves some lip smacking European delights but also works as a sweet and comforting haven for homeless, domestically abused, disabled or abandoned children from across the streets of Kolkata. The café also runs a school where young adults are trained to become entrepreneurs. In the one-year course, these underprivileged children are trained in English, IT skills, communication, personal skills and cooking in order to make them capable to start their own businesses. Café Toto has a vegetarian menu that includes exotic European and French dishes and is open to general public around two or three times a week but only for lunch.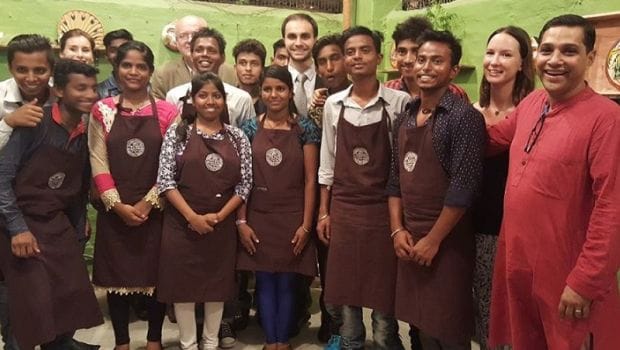 3.Tihar Jail Food Court
The Tihar Jail Food Court generated quite a stir as one of the most important rehabilitative efforts taken by the Government for prison inmates. The canteen is situated in the premises of South East Asia's biggest Jail and serves north Indian dishes like rice, flatbreads, samosas and Chinese delicacies like chilly chicken, Hakka noodles, and honey chillli potatoes. The modest eatery with outdoor seating has space to accommodate about 50 customers at once, and has walls lined with paintings and artwork made by the prisoners. The staff consists of a manager who is a police constable, and convicts who have displayed good behaviour during their tenure of imprisonment. Interestingly, the inmates walk or ride a cycle to work every day completely unsupervised, without an escort, as the authorities trust them enough. The revenue collected from the restaurant is set aside for the welfare and vocational training of the prisoners. Before the launch of the eatery, the selected inmates were put through a special course designed by a reputed Hotel Management institute in the capital to master cooking skills.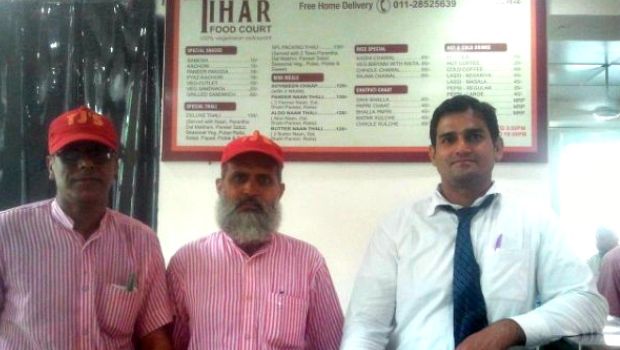 Where:Tihar jail food court, Tihar Jail Complex, Opposite Indraprastha Gas Station, Jail Road, New Delhi
4.Echoes Café, Satya Niketan, Delhi
By bringing in an entirely deaf and mute staff in the domain of service , café echoes is breaking barriers set by speech and language. The unique way to place an order in Echoes, will compel you to rethink about the idea of communication. You need to write your order on a notepad, after which you press the light switch right next to your table which signals the staff that you have decided your order. For additional requirements like extra spoon, tissue or the bill, you have a set of placards on your table that you can show your bearer who will then help you with what you need. You must try their chicken lasagna, oreo shake, waffles and fried chicken.
Where:Echoes, Satya Niketan, South Moti Bagh, New Delhi, Delhi 110021
5. Writer's Cafe, Chennai
Writer's café in Chennai is giving a new lease of life to burn survivors. The little Swiss bakery lined with books and compact interiors, employs about seven burn victims who have been trained by a renowned chef and baker from Switzerland. Along with their training, they also have counselling sessions, that encourages them to live a life with greater self-esteem and dignity. The women coming from varied backgrounds. Some have survived attacks by others, some attempted self-immolation to escape a bad marriage, and some were involved in accidents. Here, they come together and find a place of belonging and respect.
Where:127, Peters Rd, Peters Colony, Royapettah, Chennai, Tamil Nadu
6. Seva café, Ahemdabad
The Sanskrit word 'seva' translates into "selfless service" or work performed without any thought of reward or repayment. True to its name, Seva café is lets you extend your generosity to strangers you don't even know. In a homely environment, Seva café offers you a humble spread of food prepared by volunteers. It works on the pay-it-forward or gift economy system. This means that your meal has been paid for by the customer who visited before you, and you will be paying for the next patron. You receive a hand-made folder , which says, 'Pay from your heart', and no one ever questions the amount. You can also help with other voluntary work as cooking, cleaning, serving and organizing.
Where:Shopper's Plaza, 4th Floor Opp Municipal Market, Chimanlal Girdharlal Rd, Ahmedabad, Gujarat
7. Hearken's café, Shahpur Jat, Delhi
Tucked away in a quiet corner of the bustling lanes of Shah Pur Jat in Delhi is a pretty café employs deaf servers. The brainchild behind the venture is Smriti Nagpal who has been running an NGO named Atulyakala for the past three years. Hearken's is also a social enterprise that empowers deaf artists through design partnerships and creative collaborations. Their summer mango mixer shake, beetroot galettes, chicken quesadillas, and olive pizza are a must try.
Where:119, 5th Floor, Sishan House, Asian Games Village Road, Shahpur Jat, Siri Fort, New DelhiTake a trip to any of these cafes and restaurants and you will definitely with a new perspective on life.
About Sushmita SenguptaSharing a strong penchant for food, Sushmita loves all things good, cheesy and greasy. Her other favourite pastime activities other than discussing food includes, reading, watching movies and binge-watching TV shows.