Burgers and Books: Why McDonald's is Serving Books in its Happy Meals
Husna Haq , The New York Times | Updated: February 05, 2016 16:33 IST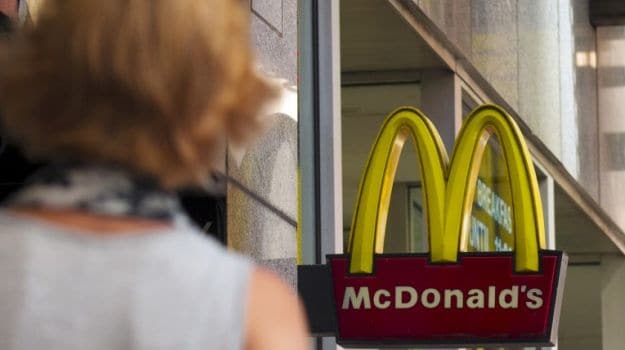 How's this for a literary surprise? For the next two weeks, kids opening their McDonald's Happy Meal won't find a toy inside – instead they'll get a free book.

From Feb. 2 through Feb. 15, McDonald's will be replacing its usual Happy Meal prize with a children's book. The fast food chain is partnering with the literacy nonprofit Reading is Fundamental to distribute more than 17 million books this way.

"Reading Is Fundamental is pleased to partner with McDonald's again this year and provide much-needed books to children who have limited access to them," Carol H. Rasco, president and CEO, said, according to the Los Angeles Times. "Books are the building blocks for a better future. They foster the imagination, expand our understanding of the world and fuel a lifelong love of learning. We're pleased McDonald's is helping millions of children discover the joy of reading."

Hungry readers will find one of four books in their Happy Meals, including the classic "Paddington" by Michael Bond and illustrated by R. W. Alley, and three titles with Valentine's Day themes: "Clark the Shark Takes Heart" by Bruce Hale and illustrated by Guy Francis; "Happy Valentine's Day, Mouse!" by Laura Numeroff and Felicia Bond; and "Pete the Cat: Valentine's Day Is Cool" by Kimberly and James Dean.

The books are all "petite" paperbacks, which are about 4½ by 5½ inches, and Spanish versions of the books will be available at some stores, as well. According to the 2011-2012 National Survey of Children's Health, 34 percent of American children from families whose incomes were below 100 percent of the poverty threshold were read to daily, compared with 60 percent of children from families with incomes 400 percent of the poverty level.
Nearly 65 percent of fourth graders read at or below a basic level and more than 75 percent of children who are poor readers by the end of third grade fall behind in school, according to Reading is Fundamental.

"To help fix this, we must get books into more young readers' hands. Numerous studies confirmed the number of books in a home directly predicts a child's proficiency at reading. In fact, a child who grows up with books in his or her home reaches a higher level of education than those who do not," wrote Ms. Rasco in a blog post.

"Reading regularly with young children stimulates optimal patterns of brain development and strengthens parent-child relationships at a critical time in child development, which, in turn, builds language, literacy, and social-emotional skills that last a lifetime," the American Academy of Pediatrics said in a 2014 policy paper, which recommends parents read aloud to their children to build early literacy skills.

This marks the third year that McDonald's has served up books to kids instead of plastic toys. The fast food chain's ran similar programs in 2013 and 2015. By the end of this year's Happy Meal book giveaway, the Golden Arches will have distributed 50 million books. Nonetheless, some, including the group Corporate Accountability International, have criticized the program for aiming advertising at children, as Molly Driscoll pointed out in The Christian Science Monitor.

"Even with the books in Happy Meals, this is still fundamentally about marketing to kids," CAI organizer Sriram Madhusoodanan told NPR in 2013. "And it's undermining the authority of parents and health professionals."

© 2016 New York Times News Service