Delhi HC concerned over pesticides in vegetables
IANS , New Delhi | Updated: May 23, 2014 10:55 IST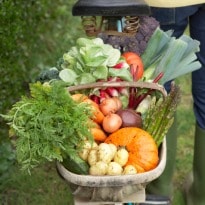 The Delhi High Court has expressed concern over a recent report on pesticide residues found "beyond permissible limits" in vegetables and edible items sold across the country. A division bench of Chief Justice N.V. Ramana and Justice Rajiv Sahai Endlaw, taking note of the report filed by amicus curiae Sanjay Jain, issued a notice to the central and city governments regarding this matter.

It sought response from the department of agriculture and cooperation, department of agriculture research and education, department of chemicals and petrochemicals, department of biotechnology, ministry of environment and forests, food safety and standards authority, and department of food safety. The court will hear the case on March 5.

According to the report, pesticides are being used in a "growing number of vegetables which have the potential to cause serious neurological problems, kidney damage, skin diseases, cancer and other diseases".

After going through the report, the court declared: "India is not a country to allow such chemicals to be used in vegetables and fruits. The central government has to make the effort. It has to be a pan-India effort." Jain told the bench that the issue required efforts from all stakeholders, including various government departments.

Appearing for the Delhi government, advocate Zubeda Begum told the court that the Delhi Agriculture Marketing Board found "no pesticides residues beyond permissible limit" on 1,134 samples reviewed last year, from January 2013 to January 2014. The samples collected and tested by the government were very small and did not reflect the actual ground figures, said the amicus curiae, who was assisting the court in the matter. He further said that there was no effective public campaign to educate the farmers, despite the fact that the ignorance of farmers was the fountainhead of the pesticide problem.

The high court had earlier taken suo motu cognizance on an NGO report claiming that the amount of pesticides used by farmers in India was as much as 750 times higher than European standards.