About Dum Pukht: One of Asia's premier North Indian restaurant Dum Pukht was started in the year 1988. Winner of Asia's first Golden Fork award, Dum Pukht has successfully lived upto its aim of reviving India's royal culinary traditions, from the courts of Awadh to Kashmir in its three decades of business.By bringing the ancient tradition of Dum cooking, refined at the Royal Courts of Awadh, Dum Pukht brought alive the great taste of the erstwhile Nawabs, who took their food as seriously as their administration. 'Dum' means to 'breathe in' and 'Pukht' to cook. The ancient Dum style of cooking uses a round, heavy - bottomed pot, a handi, in which food is tightly sealed and cooked over a slow fire, the expertise of which is displayed in the cooking of Dum Pukht. There are two aspects to the Dum style of cooking: bhunao and Dum or 'roasting' and 'maturing' of a prepared dish. Herbs and spices play their own unique role in Dum style of cooking by lending their characteristic flavours and aroma to the dish. The slow-cooking of Dum Pukht , pushes the spices, meat and vegetables used to give the maximum flavor and cook gradually in its juices.

(Also Read: Bukhara Restaurant Delhi, Bukhara Menu, Restaurant Review and Rating)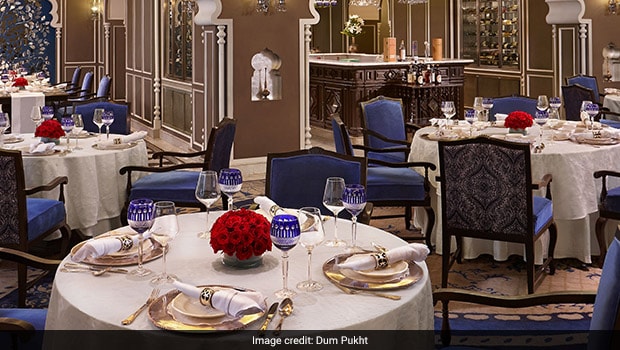 Signature Dishes
Renowned for its set menu of five courses, the exquisite line-up presenting the best of Mughlai Shorba, Kebab, Qorma, Qaliya, Salan & Nehari, Naan, Biranj and Meetha preparations is bound to leave you spoilt for choice. One must try Dum Pukht's Biryani, Shahi Nehari(prime cuts of lamb cooked overnight, with aromatic masala , then assimilated with extract with basmati in milk and almond paste), Kakori Kebab, Koh-E-Awadh(Chef's special qorma recipe with lamb shanks, dum cooked in their own cardamom tinge juices and finished with saffron), for a true tryst with the royal taste of Awadhi Kitchens.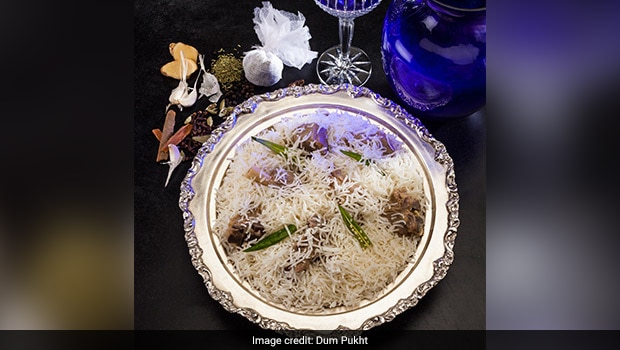 Dum Pukht's Yakhni Pulao

The vegetarians also have so much to savour, be it the Harra Kebab Awadhi( Kebabs of spinach and chana dal, stuffed with cottage cheese) or Kham Khatai(Patties of green moong dal and blades of mace and saffron) or Dum Pukht Badin Jaan( slices of round brinjals, marinated, shallow fried and topped with tomato concasse and garlic and glavoured with yogurt. Finished on Dum)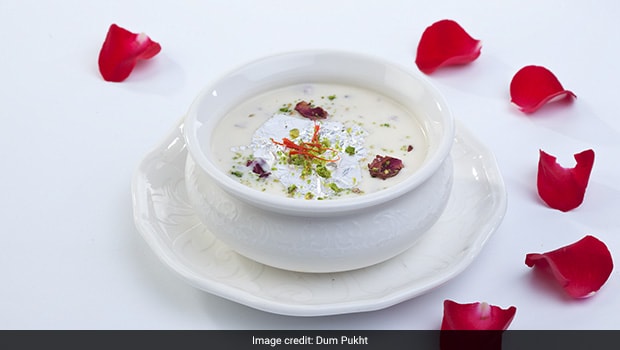 Chef
Gulam M. Qureshi, Senior Master Chef - Dum Pukht
Joining the team of ITC Maurya in 1977, Chef Qureshi has played an instrumental part in the inception and bringing together Dum Pukht. From delighting world leaders and influential celebrities both home and abroad, with his specially curated meals, replete with the finer nuances of slow cooking. Chef Qureshi learned the secrets of dum cooking from his father, to further perfect his knowledge in the ancient art of cooking he also studied ancient Urdu manuscripts.
The Ambience and Decor
Dum Pukht combines together the royal glory of the Awadhi courts with the art of Indian fine Dining. The décor of Dum Pukht further complements the majestic flavours of Dum cooking. White walls delicately laced with gold leaf and crystal chandeliers makes for a visual delight. The royal blue and gold furnishings and the marble flooring is hard to miss for anyone who appreciates good taste and knack for all things vintage an exotic. The artfully designed blue and white crockery, placed intricately on the silver 'Dastrakhan' at each plate setting is regal and magnificent.
Menu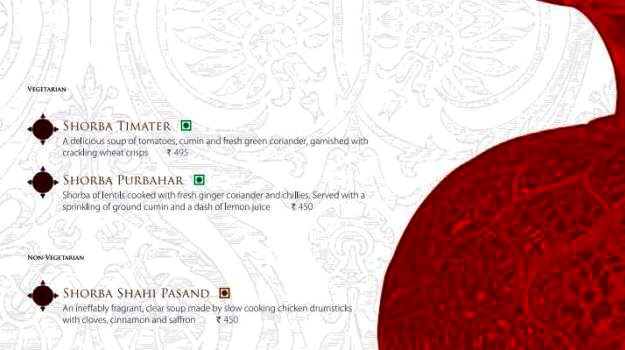 Dum Pukht's rich range of Shorbas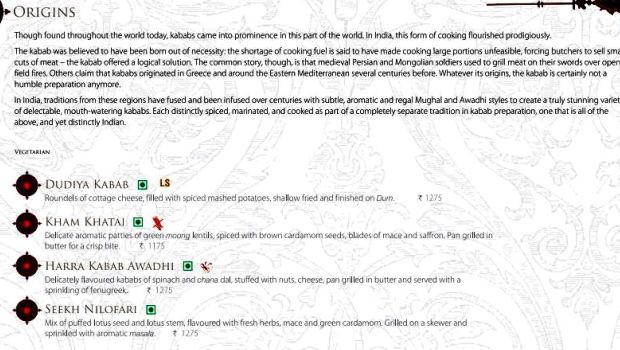 Try Dum Pukht's eclectic range of kebabs, with exotic recipes straight from kitchens of Awadh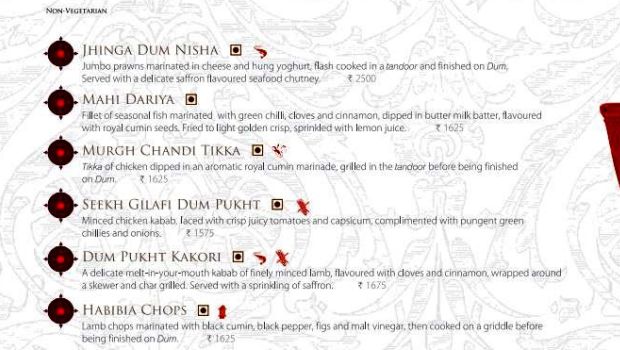 Some more exotic recipes from their Non-Veg variety of Kababs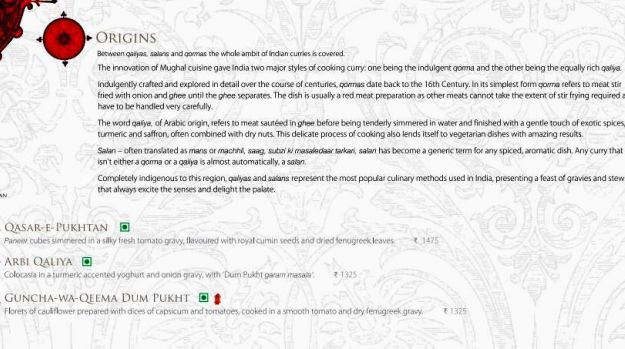 Dum Pukht's Qormas Salans and Qaliyas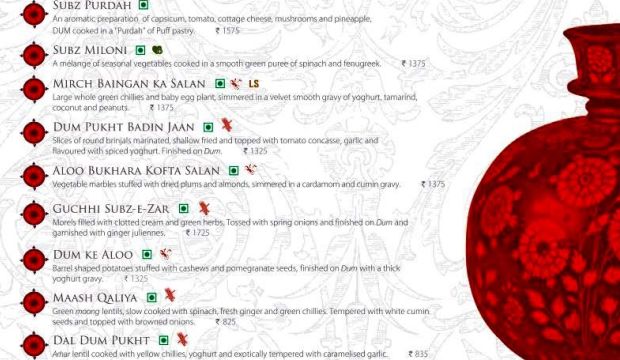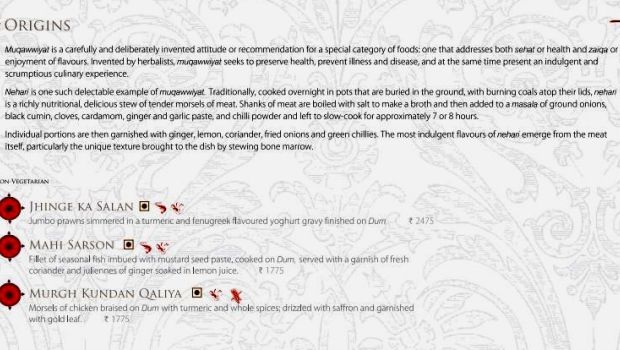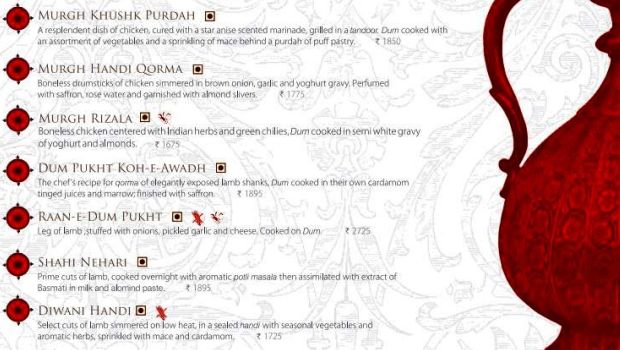 Dum Pukht's wide variety of naan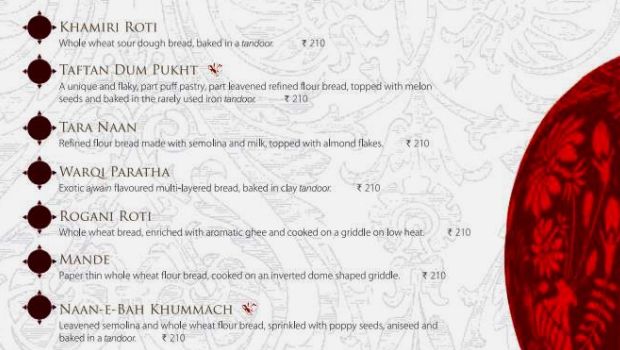 Dum Pukht's rich range of pulao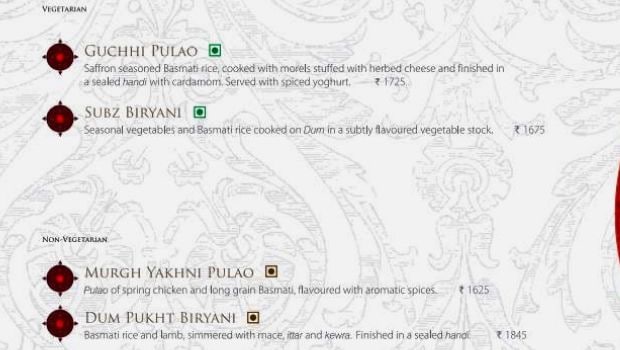 One must try Dum Pukht's melt in mouth desserts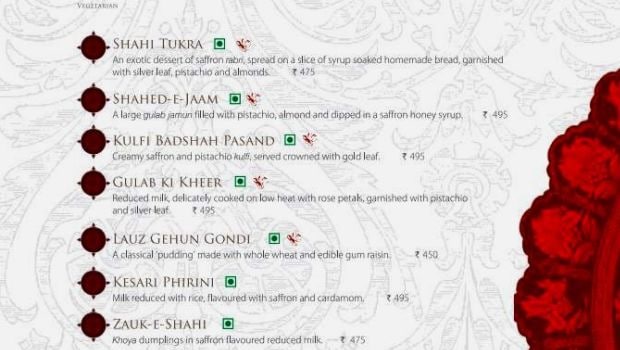 Contact Information of Dum Pukht
+(91) (11) 2611 2233
+(91) (11) 2611 3333

Other Details About Sushmita SenguptaSharing a strong penchant for food, Sushmita loves all things good, cheesy and greasy. Her other favourite pastime activities other than discussing food includes, reading, watching movies and binge-watching TV shows.