French president's chef says adieu
Associated Press | Updated: November 01, 2013 14:59 IST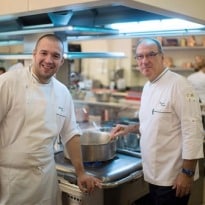 France's presidential chef is retiring after four decades of culinary service, having fed five French presidents and peppered the steaks tartare of some of the world's most powerful leaders.

Bernard Vaussion, 60, was filled with emotion while cooking his last lunch for the President Francois Hollande on Thursday at the Elysee Palace. The farewell meal included raspberry millefeuille, a rich pastry. Hollande has a well-known sweet tooth and has been mocked for his portly figure.

"It's easy to work with Francois Hollande. There are not many things that he doesn't like. He's somebody who loves eating," said Vaussion.

He said that over the years the most important skill for the job -- besides cooking -- was the ability to adapt to the tastes of each French leader.

Francois Mitterrand loved seafood. Jacques Chirac preferred snails and sauerkraut. More recently, Nicolas Sarkozy caused a stink by rejecting French gastronomy and asked Vaussion to serve him a healthier menu based on fish, vegetables and salad. Sarkozy also drinks no wine -- a revelation that initially caused controversy and offended Gallic pride.

France is one country where food and drink get political.

Sarkozy also said "non" to cheese and only allowed it on the menu during visits to Paris from a well-known cheese fan, German Chancellor Angela Merkel.

Vaussion noted that Hollande, Sarkozy's successor, was his polar opposite in food as well as in politics.

Hollande is a hearty eater who enjoys gastronomy as an art of living. Cheese is, of course, back on the table, which may be one reason Hollande has visibly gained weight since his May 2012 election.
But the leadership is not the only cause of change.

France's economic crisis has taken its toll on the Palace menu, as the kitchen tries to cut expenses.

"Some luxury foods have disappeared from the menu, such as truffles and lobster," said Vaussion.

Vaussion's deputy, Guillaume Gomez, is replacing him as presidential chef in the Elysee kitchen.

Underground and the size of two tennis courts, the famed kitchen is home to hundreds of copper pots that hark back to the time of 19th-century King Louis Philippe, France's last monarch. They're still in use.

As Vaussion retires, he will take with him insider information about the tastes of the famous. An example? Queen Elizabeth II loves foie gras.

Photo: Bernard Vaussion, right, retiring head chef at the Elysee Palace, poses for photographers with his successor Guillaume Gomez, in the kitchens at the Elysee Palace in Paris, France.