Happy Ganesh Chaturthi!
Lord Ganesha has graced everyone's home for a good 10 days as the devotees bring him home with all smiles and celebrations. The festival attains great significance especially in the state of Maharashtra. Ganesha Chaturthi celebrations are gigantic and larger than life. It is one of the most colourful festivals in India that is celebrated with various rituals and traditions. Devotees of Lord Ganesha ensure a 10-day long fiesta and play host to their deity.The pious festival starts with bringing Lord Ganesha's idol home and worshiping him for the next 10 days. This year,
Ganesh Chaturthi
or Vinayaka Chaturthi will start on 25th August and end on 5th September 2017. The
vidhi
to bring Lord Ganesha should follow certain rituals and use certain
samagri
(ingredients) for the special
Pooja
.
Rice
(or
askhat
) is an important part of the
Pooja samagri
and play a significant role in welcoming Gajanan.As you bring Ganeshji home, followers shower
Akshat
or unbroken rice slathered with
kumkum
or
turmeric
on the idol to signify the welcoming of prosperity and happiness. According to Chef Manjusha Sinha who runs Manjusha's Cooking Classes in Gurgaon, "Maharashtrians welcome Ganpatiji by showering k
umkum
laden rice. Once the idol is installed in the temple, we make the
swastika
with rice coated with turmeric or
kumkum
. Basically, we have to keep five important elements in front of the idol, which includes 11-21 betel leaves,
Akshat,haldi,roli
or
gulal
,
bukka
(black coloured powder used in various rituals) and a
Kalash
with a
coconut
in it. Along with these elements, a
diya
is lit for all the ten days to ensure there is no darkness around the idol."The place where Ganpatiji sits is known as the
Isthaan
and some people spread some rice grains around that place, along with
supari
and sprinkle some
haldi
on it. Not just this, a plate full of modaks as prasad or bhog is kept with these elements. After all,
Ganeshaji loved modaks
and it makes for one of the most important sweet offered to the deity.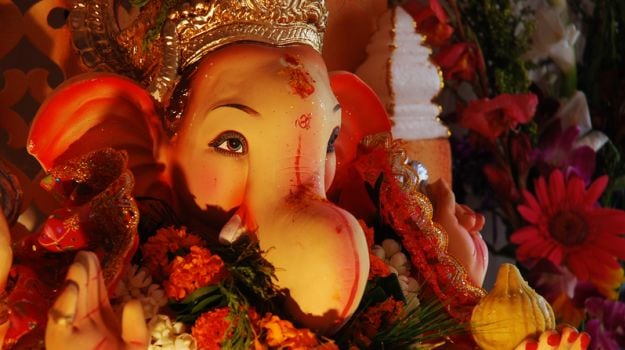 As you bring Ganeshji home, it is imperative to shower Akshat or unbroken rice mixed with kumkum
It is believed that the rice grains attract the positivity and energy from the five principal deities namely Lord Shiva, Shakti, Shri Ram, Shri Krishna and Shri Ganesha. It is also believed that using unbroken rice grains helps in increasing the ability of attracting good vibes from Gods and Goddesses. So, while you mix them with turmeric or
kumkum
, ensure you do it slowly so that they don't break the grains. It is also said that one should never offer plain white rice grains to the deity as it is not '
shubh
. Therefore, it is always good to mix them with either turmeric or
kumkum
which are considered holy.