The unearthing of excess monosodium glutamate and lead in Maggi noodles lead to the sad demise of the 'two-minute noodles' packs from the Indian market. Not only are local shops, supermarkets as well as household kitchen cabinets bereft of it, consumer's trust has also dwindled in one of their best loved food brands. Nestle India has announced recalling of all its current stock and has initiated the process of destroying close to 27,000 tonnes of Maggi noodles.(Nestle Milk Powder Sample Found Contaminated with Live Larvae)
Adding fuel to the current sentiments of disheartened customers, several instances of food contamination are being reported from across the country. The latest to join the bandwagon are Glucon-D, Mother Dairy, Nestle Cerelac, Complan and now KFC USA.(Worms Found in Nestle's Cerelac, Company Issues a Statement)
Devorise Dixon of Watts, California, United States, apparently found fried rat instead of what it should have been fried chicken strips. In what could be an expression to vent out his dissatisfaction, Dixon posted the images on his Facebook account that went viral with close to 10 lakh shares.
WENT BACK TO KFC YESTERDAY AND SPOKE TO THE MANAGER SHE SAID IT IS A RAT AND APOLOGIZED, IT'S TIME FOR A LAWYER!!! BESAFE DON'T EAT FAST FOOD !!!

Posted by Devorise Dixon on Friday, June 12, 2015
According to Dixon's post, he went to the restaurant manager who admitted the product to be a rat and apologized as well. Dixon's post also suggested that he planned to take legal action against KFC, which he hasn't till now.
The company's response
KFC, posted its official stance on the entire situation saying, "KFC takes customer claims very seriously, and we are continuing to investigate this matter. Our chicken tenders often vary in size and shape, and we currently have no evidence to support this claim. We are aggressively trying to reach Mr. Dixon, and we request that he return to the restaurant with the product for testing." The comment was posted under one of its timeline photos where another user had urged KFC to make clear whether the rat pictures were real or not. KFC has also admitted making "multiple attempts to contact the customer but he is refusing to talk directly or through an attorney."

(Beyond Maggi Noodles: Some of the Most Shocking Food Controversies)
The company also clarified the fact that it had already called for an independent lab testing of the product at their own expense, but the customer refused to provide the product in question. It also retorted that, "Our chicken tenders often vary in size and shape, and we currently have no evidence to support this claim."
The company also pointed out at another picture that had gone vital on the social media and showed the back side of the same piece where a bite appeared to be taken. KFC claimed it to be nothing but white meat chicken.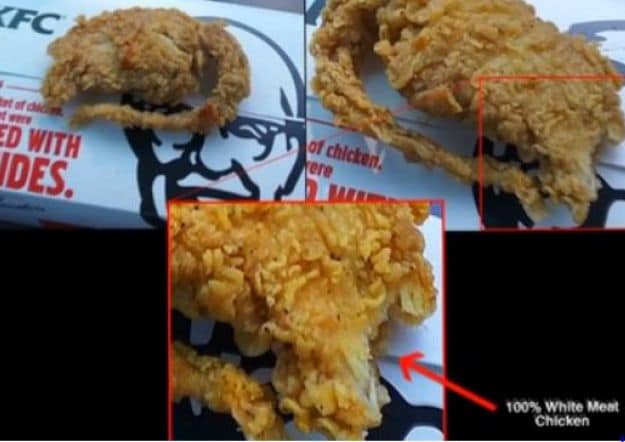 Image via CNN video
The affected customer in question, Devorise Dixon has been allegedly unavailable to handover the product for further testing and hasn't even posted anything online post the fried rat images. In the meanwhile KFC has finally come up with an official statement stating that their product is safe to eat and is contains 100% white chicken meat."Recently in the US, a customer questioned the quality of a KFC product which received considerable publicity given the sensational nature of his claim. The product has now been tested by a third-party independent lab, which confirmed it is definitely a piece of chicken, as we knew all along. The right thing for this customer to do is to apologize and cease making false claims about the KFC brand." – KFC Spokesperson.