If you are a breakfast enthusiast and love to experiment every morning in the kitchen, you would definitely know what a blessing it is to have eggs in your kitchen! From the classics like boiled eggs, omelettes, sunny side up to slightly tricky ones, you can make a plethora of dishes from eggs. And even though the tricky recipes might require time and patience, if you know them right, you are sorted.


There are some of the classic egg breakfast recipes from around the world that everyone is fond of. Egg benedict is one such tricky yet classic dish, which is extremely popular amongst breakfast enthusiasts. No wonder you can find it in any American café or restaurant around the world. A typical American egg benedict is a rich, creamy, open-faced sandwich like egg that has a tarty-buttery taste. The origin of egg benedict has many stories, out of which the most popular story is the one with New York-based restaurant chain Delmonico's. The restaurant claims that eggs benedict was first created in their kitchen in 1860.


(Also Read: Weight Loss Diet: 5 Oil-Free Egg Recipes You Can Try For Protein-Rich Breakfast)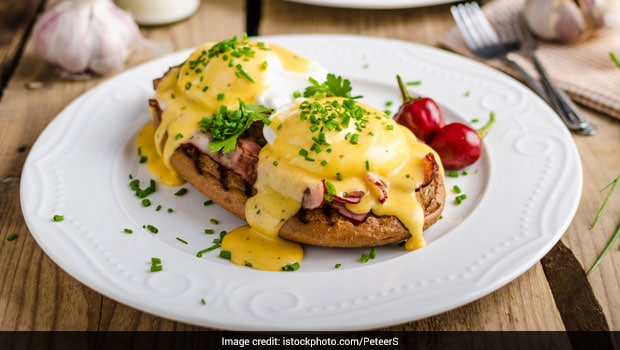 An American egg benedict is typically made with English muffins with bacon or ham and a poached egg on top with a topping of hollandaise sauce and some herbs. And while all of it is quite easy, the poached egg can be quite a tricky one to perfect. And we have a simple recipe that can help you make a stellar morning meal of egg benedict!


Egg Benedict Recipe:


In this recipe of egg benedict, eggs are poached in water for about 3-4 minutes and served over toasted bread with blanched spinach, smoked salmon. Right before serving the dish, hollandaise sauce along with a sprinkle of grated cheese and paprika is poured over it, lending a mouth-watering, distinct flavour to the otherwise subtle dish. This is a classic egg benedict recipe, however, over the years many people have given their own versions of it by using different meats (depending upon the availability), sauces and garnishing.


Click here for the full recipe of this American classic breakfast.


Try it at home and let us know if you master it in the first go!
About Aanchal MathurAanchal doesn't share food. A cake in her vicinity is sure to disappear in a record time of 10 seconds. Besides loading up on sugar, she loves bingeing on FRIENDS with a plate of momos. Most likely to find her soulmate on a food app.