Now, a Restaurant on Wheels on Mumbai Streets!
Mid-day , Mumbai | Updated: April 17, 2013 11:08 IST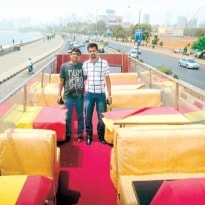 Hop on board The Moving Cart and let Hardik Shah and John Dias take you for a culinary ride. Apart from the three-course meal, they promise to offer an experience no other restaurant possibly can.

If you're in the habit of taking a stroll down Marine Drive, one of these days you're bound to spot a bright red double decker bus trudging along at 10km/hour. No, we're not announcing the comeback of BEST's much-missed 123. This is Chennai's The Moving Cart -- which serves food to patrons on board -- making its way along South Mumbai's coastline.

In Picture: Co-founders John Dias and Hardik Shah stand on the upper deck of The Moving Cart as it makes its way along Marine Drive.

The Moving Cart, founded in Chennai in 2011 by Hardik Shah and his wife Ami, began operations in the city about 10 days ago. Co-founder John Dias boards the bus with us at Marine Drive's Marine Plaza hotel, where the food is loaded onto the bus. "Marine Plaza's Chef Rishi Kapoor helped us work out the menu. We spoke to him about the disadvantages we would face while serving food on the move. The fact that we would reheat the food onboard, meant that we couldn't serve anything that would toughen on heating nor something crunchy," says Dias. Tying up with Marine Plaza made sense to the duo, who had their hearts set on plying their first bus along Marine Drive. "The hotel is conveniently located and serves good food," says Shah.


Their pantry is equipped with a bain-marie, which uses steam to heat the food, and a microwave. "In a few days, our electric cooler will also be in place. We will then begin serving soft drinks too," says Shah, who is surprised at Mumbaiites' affinity to aerated drinks. "No one in Chennai ever asked us for cold drinks. But here the requests are coming in, so we're making arrangements," he laughs. The bus, which takes diners from Marine Plaza to Wilson College and back, has already proven to be quite the hit with people throwing children's birthday parties and kitty parties on board, says Dias. And by the end of May, the duo hopes, a second bus will start plying on the Bandra-Worli Sea Link route. "People will have to hop on from Bandra reclamation," adds Dias.
The lower deck, which is air-conditioned and equipped with a music player, seats 20 people. Pics/Bipin Kokate

The bus they use currently, "a custom-made combination of a Tata, Mercedes and Volvo bus, which took months to build," will get a plastic covering on the upper deck in time for the monsoon. But Dias and Shah have bigger plans for their Bandra ride. While the lower deck, which Shah claims has a "limousine-like feel", will remain largely the same, the upper deck on the second route will get a toughened glass roof. "What a view you will get if you reserve a table on the upper deck with the rain beating down on the roof during the monsoon," exclaims Dias.

Over the coming months, The Moving Cart is hoping to take on three other routes, including Navi Mumbai's Palm Beach Road. "While the view may not be great, the idea is to get families to enjoy themselves and offer them a new experience," claims Shah. "And by December, we're off to Dubai," he concludes excitedly.


Reserve a spot

The Moving Cart offers lunch at 1 pm and dinner at 8 and 10 pm. Booking closes three hours prior to the meal. Log on to their website to reserve a table and choose between their Indian and Continental vegetarian (Rs 1200) and non-vegetarian (Rs 1400) three-course meal options. "We plan to change our fixed menu every 15 days so that patrons don't get bored of eating the same food every time they come on board," says Dias.
Log onto: www.themovingcart.com