What better use for plums than in a cake? Photograph: Lauren Bamford for the Guardian
A truly juicy fruit, all plums – even the tart – are delicious to eat straight from the tree, but come alive in baking/
The elephant heart plum is a dark purple, heart shaped plum, the Narrabeen plum has rich red skin but yellow flesh, while the Licola blood plum is purple skinned and very juicy. Plums vary dramatically in look and in flavour, ranging from very sweet and cherry-like to quite tart and green.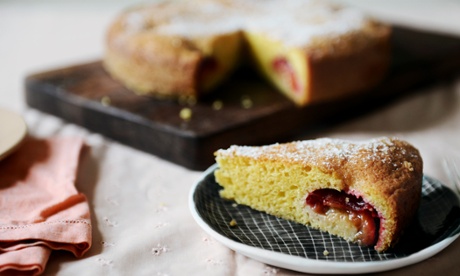 The tarter plums lend themselves wonderfully to savoury dishes and plum sauces. Others lend themselves more readily to desserts, baking or jams. All plums, even the tart, are delicious to eat straight from the tree, they're such a juicy fruit.
As plums come in so many colours – purple, yellow, red, green – colour is not a reliable way to tell ripeness. Instead look for firm-fleshed plums that give a little when pressed. They should not be bruised or feel overly soft, especially around the stem. Plums shouldn't be too shiny, but smooth-skinned with a cloudy or waxy bloom that is inherent to the fruit.
Available over late summer into early autumn, I like to take advantage of the cooling nights and turn the oven on to cook plum desserts or cakes. The recipe for the cake below is incredibly simple, and like all simple recipes the quality of ingredients used makes a difference. Good butter, organic free range eggs and delicious plums will take this cake to great heights.
A perfect cake for afternoon tea, it has a soft and buttery crumb, and hidden within it are the sweet pools of plum flesh. The plums will sink as the cake cooks, but they are revealed once the cake is cooled and sliced. Adorn the top of the cake with icing sugar and enjoy.
Plum cake
185g unsalted butter
185g caster sugar
3 free range eggs, beaten
1tsp vanilla essence
Pinch of salt
185g self-raising flour
6 small sweet plums, halved and pitted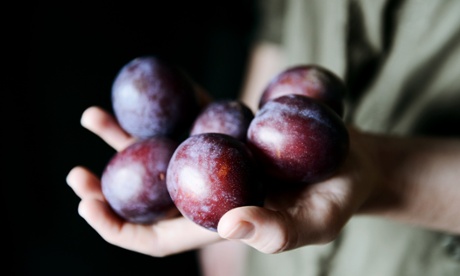 Preheat the oven to 180C, grease and line a 24cm springform tin. Cream butter and sugar until very light and fluffy. It should resemble firm meringues or cream frosting. Beat in eggs one at a time; this will curdle the butter mix. Carefully fold in flour and salt until combined. Spoon the mix into the prepared tin and smooth over with a spatula. Place the plums on the batter carefully, skin side up. Bake for 25 minutes at 180C or until firm to touch and a cake tester comes out clean. The plums will burrow down into the cake while cooking, which is perfectly fine!
Remove cake from the tin when cool to the touch and place on a wire rack, or serve warm with pure cream.