Green and yellow plantains at Carniceria Mimi in Canas, Costa Rica. Credit: Copyright 2015

I was intimidated by plantains. Having eaten them in Latin American restaurants, I knew they were good when served with roast chicken, rice and beans. But seeing them in the market, I had no idea how to cook them. A trip to Costa Rica changed all that when a chef demonstrated how plantains are easy to prepare and delicious.
Like bananas, their sweet cousins, plantains are naturally fibrous and a good source of potassium.
Although they look like large bananas, they are not edible unless cooked. Primarily starchy, especially when green, plantains also have a stiff, bark-like peel. Delightfully easy to cook, plantains are used to create delicious side dishes.
Available all year round and grown primarily in the southern hemisphere, plantains are cooked in a great many ways -- steamed, deep fried, sautéed, boiled, baked and grilled. The same fruit is prepared differently when it is green than when it is yellow or black. The first time I visited a Mexican market in Los Angeles, I noticed bunches of very large bananas with mottled yellow and black skin. I thought the blackened fruit was spoiled. In point of fact, when the peel turns yellow and then black, the starches in the fruit have begun to convert to sugars.
Plantains, yellow or black, will never be as sweet as a banana, but when cooked in this ripened state, they produce a deliciously caramelized side dish or dessert.
In his kitchen at Villa Buena Onda, an upscale boutique hotel on the Pacific Coast in Costa Rica's Guanacaste Provence, Chef Gabriel Navarette demonstrated in a cooking video how easy it is to prepare plantains. In fact, they are so easy to cook, now that I am home, I make them all the time.
The only difficulty with cooking plantains is finding a market that sells them. Not available in supermarkets in many U.S. cities, markets serving the Spanish-speaking community will have plantains. Seek them out because besides selling plantains, the markets will also be a good source of mangoes, papayas, tomatillos, chayote, fresh chilies, Latin spices and a good selection of dried beans and rice.
Navarette demonstrated how to prepare plantains three ways. He stuffed green plantains with cheese and baked them in the oven. He flattened green plantains and fried them twice to make patacones, thick, crispy chips served with pico de gallo, black beans, guacamole or ceviche. And, he caramelized yellow plantains to serve alongside black beans and rice on the wonderful Costa Rican dish called casado, which always has a protein such as chicken, fish, pork or beef.
Villa Buena Onda, or VBO as it is known locally, is an intimate destination. With only eight rooms, the hotel fells like a private home with a personal chef. The price of the room includes all three meals. Navarette and his fellow chefs make each dish to order.
Navarette studied at Instituto Nacional de Aprendizaje, a prominent school training professionals in many fields. He worked in resort and hotel kitchens, moving up the ranks from server to line cook, then as a sous chef and finally as the head chef at VBO for the past eight years.
What attracted me to his food, as well as that of his cousin Diego Chavarria on the weekend and Rosa Balmaceda in the morning, was that each dish tasted home cooked but was plated in the most beautiful, five-star way.
Aided by César Allonso Carballo to translate, Navarette was happy to show me how to cook plantains. I was amazed at how easy they are to cook.
Cooking yellow plantains to use as a side dish or dessert is the essence of simplicity. Simply peel each plantain, heat a half-inch of safflower or corn oil in a carbon steel or cast iron pan over a medium flame, cut the plantain into rounds or in half lengthwise and then cut into 5-inch long sections, fry on either side until lightly browned, drain on paper towels and serve. All that can be done in five to eight minutes and the result is delicious.
The crisp and savory patacones are slightly more complicated to prepare but not much more so.
Patacones from the kitchen of Villa Buena Onda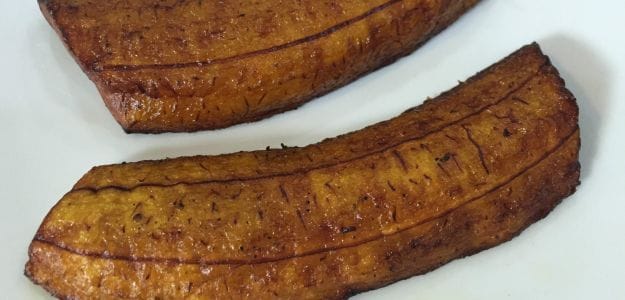 Cooked yellow plantains. Credit: Copyright 2015 David Latt
Yellow or black plantains should not be used to make patacones because they are too soft.
In the restaurant, Navarette uses a deep fryer to cook plantains. That is fast and easy so he can keep up with the orders, but I discovered at home that by using a carbon steel pan I was able to achieve the same result using less oil with an easier clean up.
The oil may be reused by straining out cooked bits and storing in a refrigerated, air-tight container.
Enjoy the patacones with an ice-cold beer and, as the Costa Ricans say, Pura vida! Life is good because everything is OK.
Prep time: 5 minutes
Cooking time: 10 minutes
Total time: 15 minutes
Yield: 4 servings

Ingredients:
2 green plantains, washed
1 cup corn or safflower oil
Sea salt and black pepper to taste (optional)

Directions:
1. Cut the ends off each green plantain. Using a sharp knife, carefully cut along the length of the tough peel being careful not to cut the flesh of the plantain. Pry off the peel and discard.
2. Preheat oil in a deep fryer to 350 F or a half-inch of oil in a large sauté pan over a medium flame.
3. Cut each plantain into 5 or 6 equal sized rounds.
4. Place the rounds into the deep fryer for 3 to 4 minutes or until lightly browned. In the sauté pan, turn frequently for even cooking, which should take about 5 to 8 minutes.
5. Remove, drain on paper towels and allow to cool.
6. Prepare one round at a time. Put the round on a prep surface. Place a sturdy plate on top of the round. Press firmly in the middle of the plate until the plantain round flattens, then do all the other rounds.
7. Place the flattened plantains back into the deep fryer for 2 minutes, or 4 minutes in the oil in a sauté pan as before. Turn as necessary in order to cook until lightly browned on all sides.
8. Remove from the oil, place on paper towels to drain and cool.
9. Season with sea salt and black pepper (optional).
10. Serve at room temperature with sides of black beans, pico de gallo, sour cream or ceviche or all four so guests can mix and match.
Copyright 2016 David Latt via Zester Daily and Reuters Media Express
© Thomson Reuters 2016