Eating fruits daily can cut the risk of diabetes by 12%
Eating healthy meals everyday is the best thing you can do to reduce your risk of diabetes. A bowl of fresh fruits can be a refreshing addition to your daily meals. They are full of fiber and
antioxidants
and supply you the essential micro-nutrients that your body needs. A new study published in the journal PLOS Medicine shows that eating fruits daily may also help in reducing the risk of
diabetes
significantly. Diabetes is a chronic disorder which occurs when either the pancreas is not able to secrete enough
insulin
or when the cells of the body become resistant to insulin. According to researchers, eating a bowl of fresh fruits every day can lower the risk of developing diabetes by 12%. The study assessed 500,000 people from China to ascertain this claim. We know that fresh and seasonal fruits are good for our health, but most people may often be recommended to stay away from them because of their high sugar content. Fruits contain natural sugar in the form of fructose and some people believe that too much fructose can be harmful. However, this study proves that a bowl of fresh fruits every day can actually help in reducing the risk of diabetes and also diabetes-related complications like
heart trouble
, stroke, kidney diseases and eye diseases by 13 to 28 per cent.(Also read:
10 Diabetic-Friendly Fruits You Must Have
)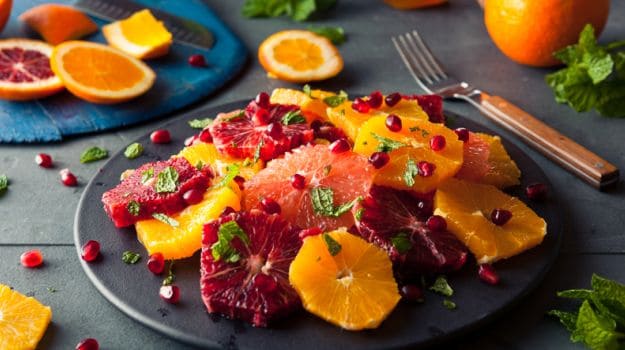 Berries, oranges, papayas and grapes are good for diabetics
During their study, researchers found that people with diabetes who consumed fresh fruits more than three days in a week had a 17 per cent lower relative risk of dying early. The study also noted that people who consumed fruits regularly has an estimated 0.2 per cent reduction in the absolute risk of diabetes over a period of five years. Neha Sehwani And Ann Kritika Mathew from Truweight suggest that you should eat at least 100 grams of fresh fruits as a filler between your breakfast and lunch because it is important for diabetics to eat frequently yet control their calories. According to Shilpa Arora, a renowned health practitioner and nutritionist, "the best fruits for diabetics include
pomegranates
, grapes, apples, blueberries, strawberries, guava,
watermelon
, cherries,
papaya
and oranges".